This month is my First Blogiversary! Yay! (For food).
It's been an adventure learning about all aspects of composing a recipe, blogging (especially all the behind the scenes tech/coding stuff), taking pictures (how do angles and lighting work?), and using social media.
I'm still learning (boy, am I ever!) about well… everything, but I'm excited about where the blog is at and where it's headed.
For all the readers/recipe seekers out there, thank you so much for reading my posts, commenting, and for trying out my recipes! I get so excited that someone would want to make one of my recipes. It's like I'm the kitchen with you. Is that creepy?
Basically, it makes my heart feel super happy.
I've gained so much feedback, both positive and not-so-positive… It's all good because it gives me the opportunity to improve and create recipes that I hope that even more people will enjoy. Seasonal, quick and easy recipes! 🙂
As always, if you have any suggestions or questions, feel free to reach out on social media or send me an email!
Just for fun (by page views):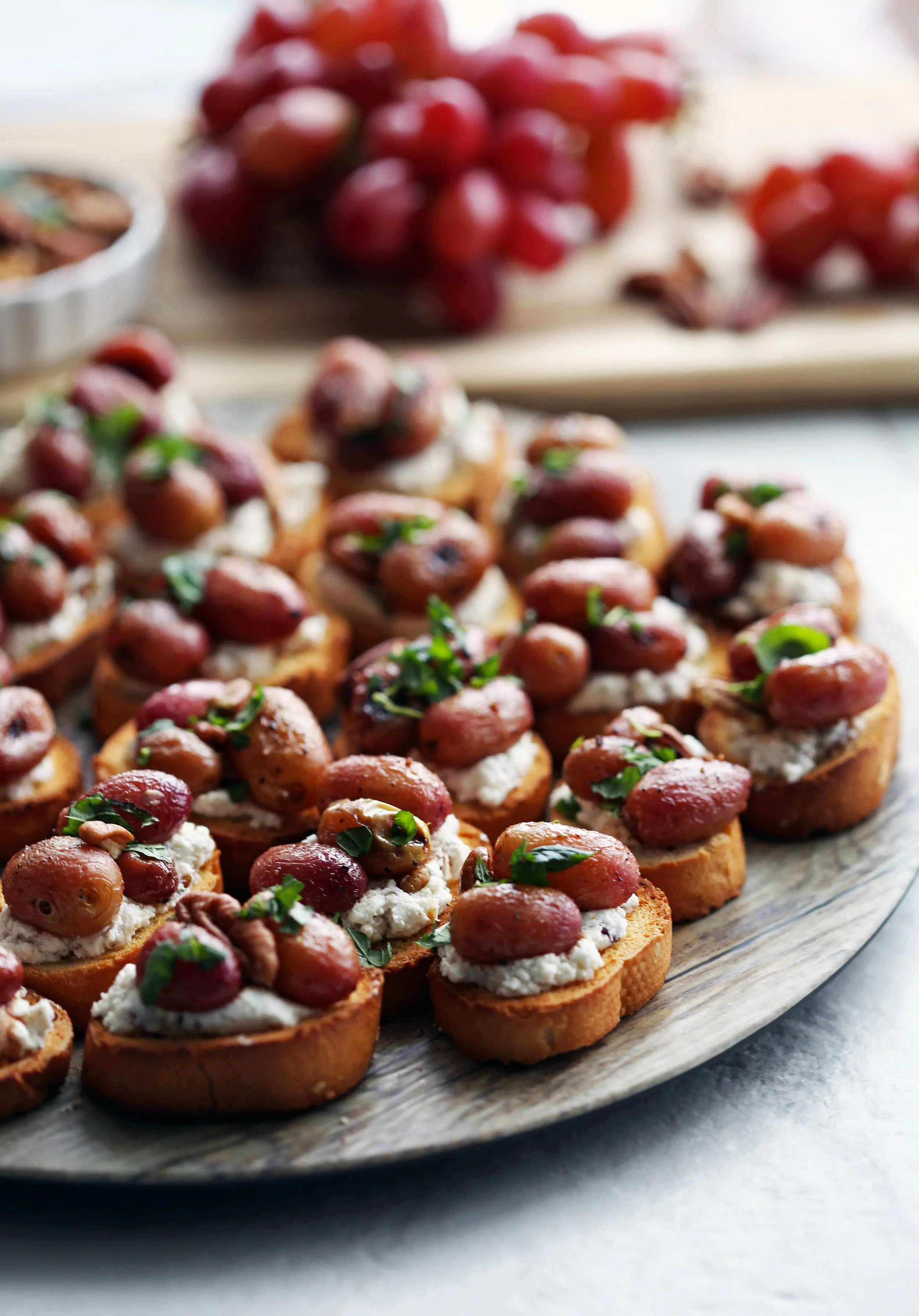 Anyway, back to the recipe. Let's celebrate with Balsamic Roasted Grape and Goat Cheese Crostini!
A lovely appetizer, party snack, or tasty finger food if I say so myself.
It's sweet, salty, tangy, bread-y, and full of flavours and textures! Plus, they look fancy without having to put in too much hard work.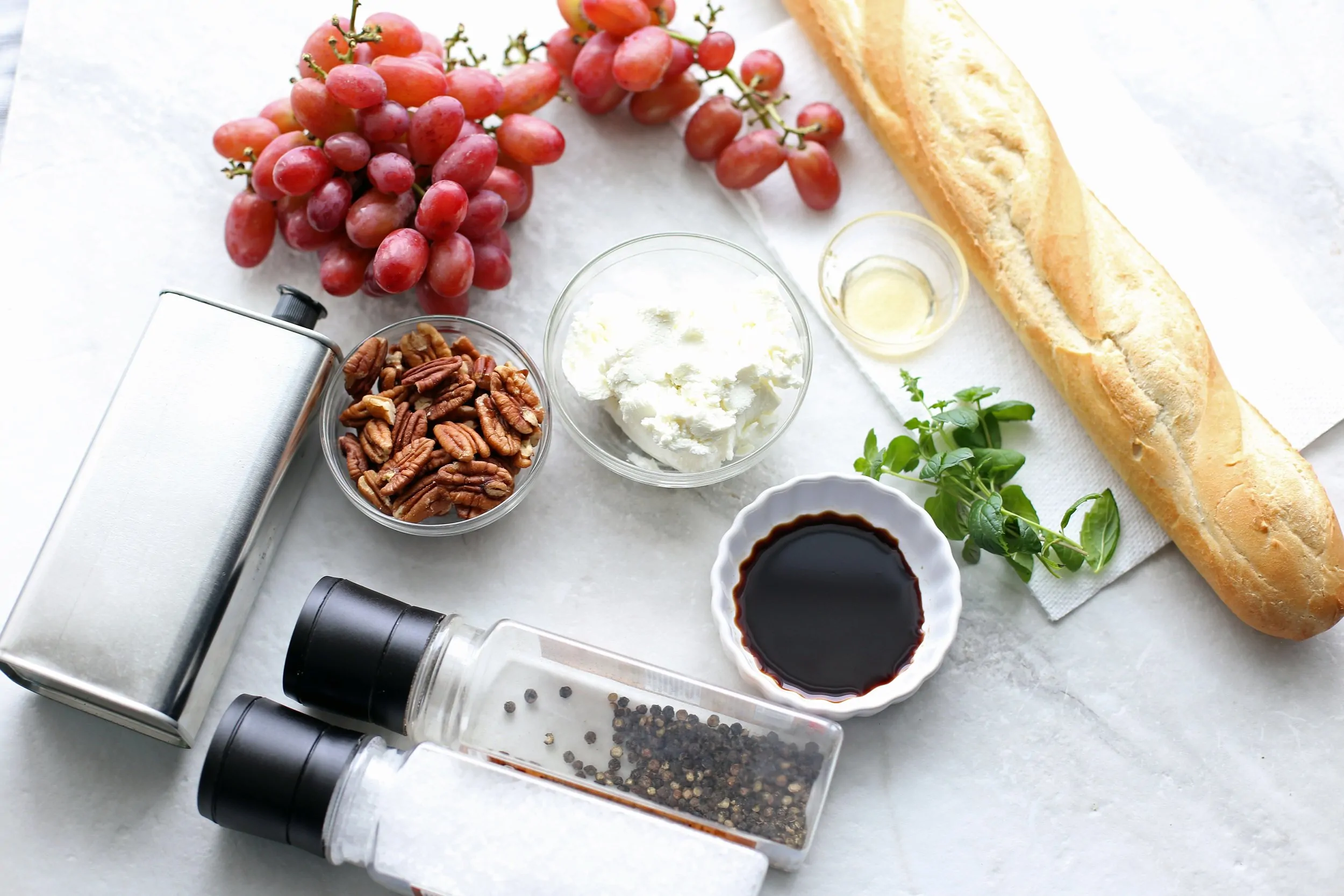 (All the ingredients! Amounts and instructions are listed below).
By roasting the grapes with balsamic vinegar, it softens them, they get really juicy on the inside, and brings out their natural sweetness. The balsamic vinegar gives it a nice mild sweet and tangy flavour too.
The soft goat cheese is creamy and tangy. I added some sweet, nutty pecans, and honey to the goat cheese as well. The flavours contrast beautifully with the roasted grapes.
The mint on top adds a nice fresh, herb flavour and colour.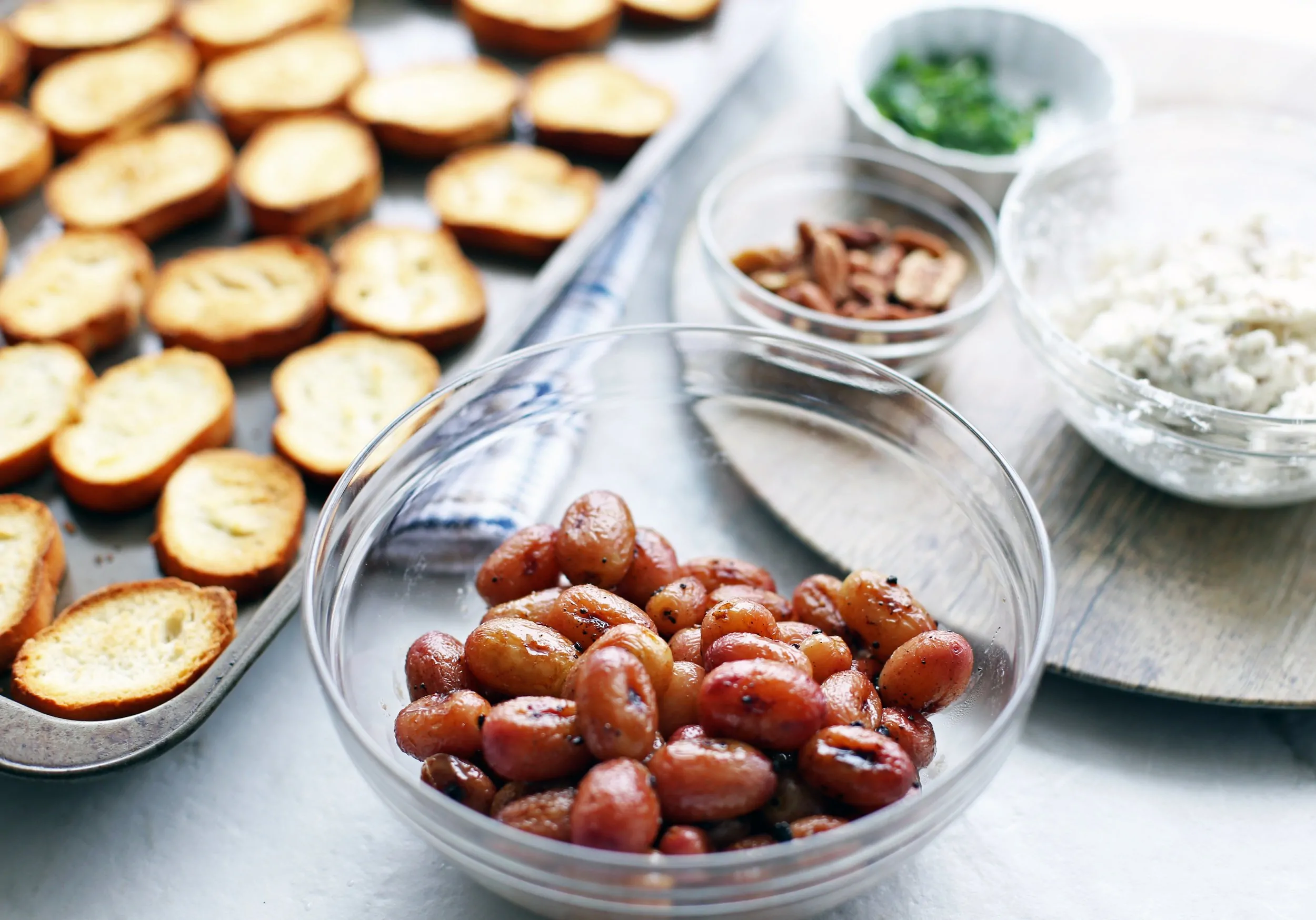 (Photo above: The red grapes are roasted, the baguette slices are toasted, and the goat cheese mixture is combined together).
The quick oven-toasted bread is golden-brown and perfectly crunchy. I like to cut the baguette slices relatively thick (about 1/2 inch) so the crostini is easy to pick up (it stays intact) and eat with your hands.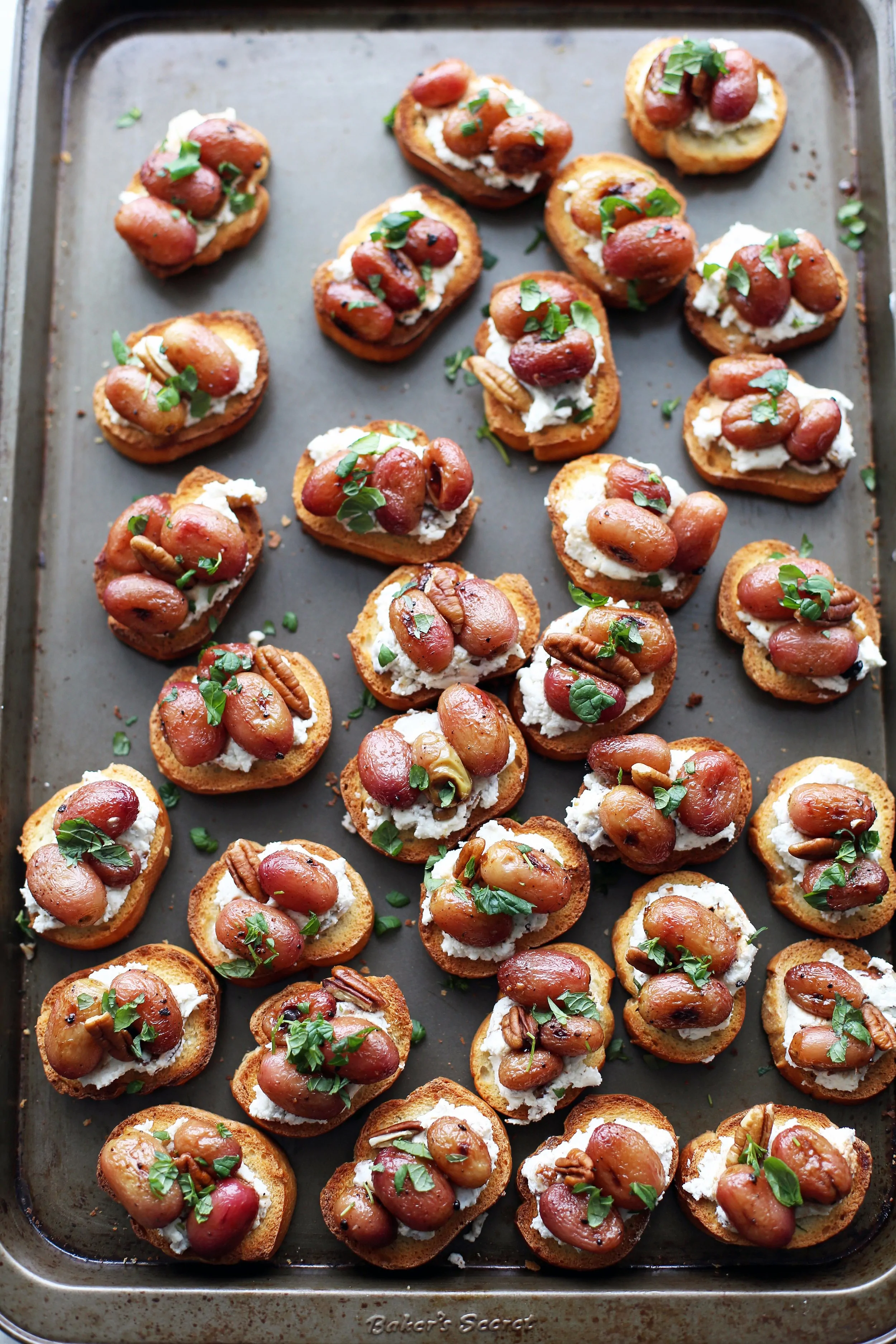 Now, this recipe tastes best warm, but the great thing is that you can heat up any leftovers.
We had a few crostini with dinner one night and warmed the rest up in the oven for a few minutes the next day. Even though this recipe only takes 30 minutes, it's one of those appetizers that's okay to make ahead.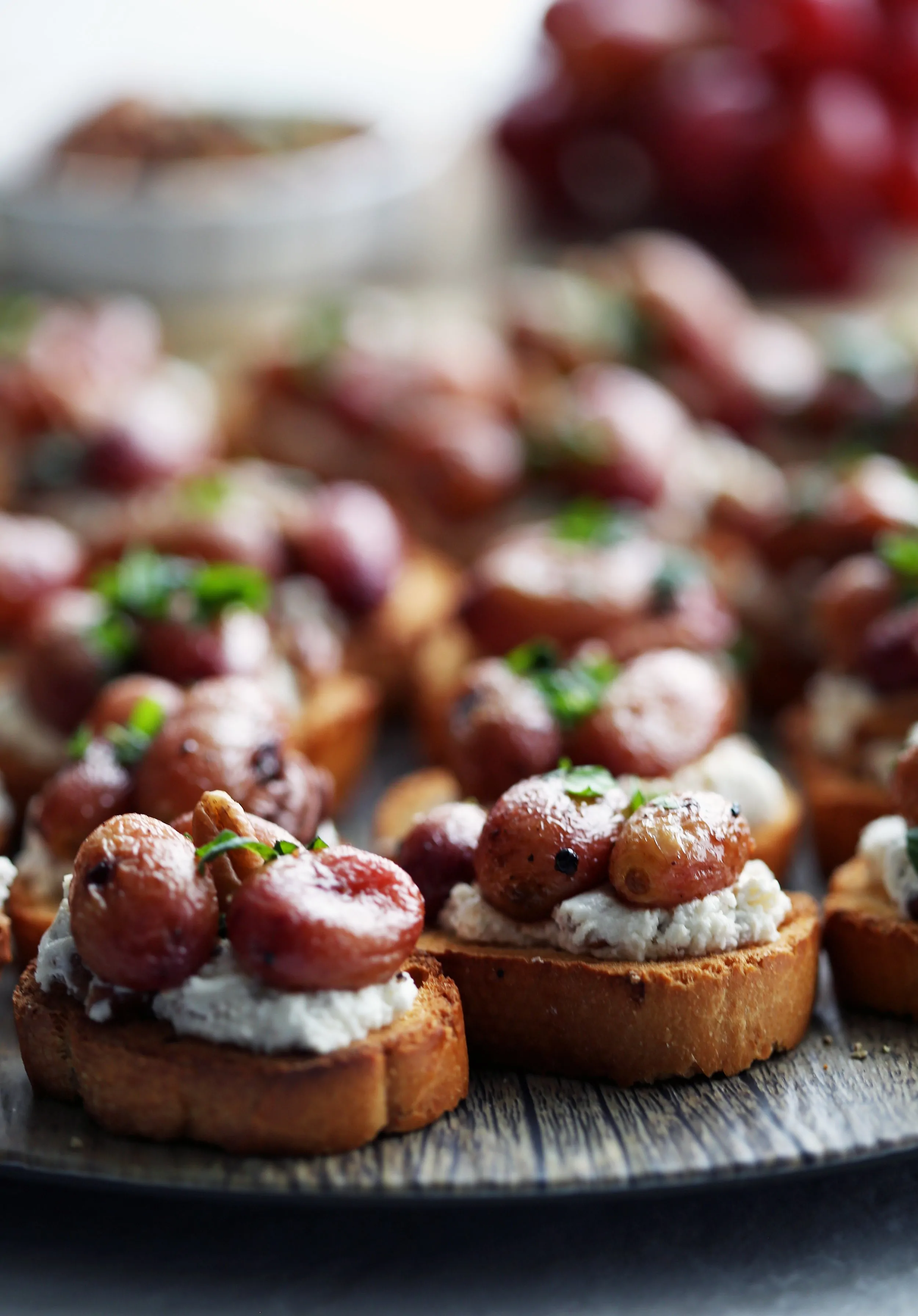 I hope you enjoy this recipe!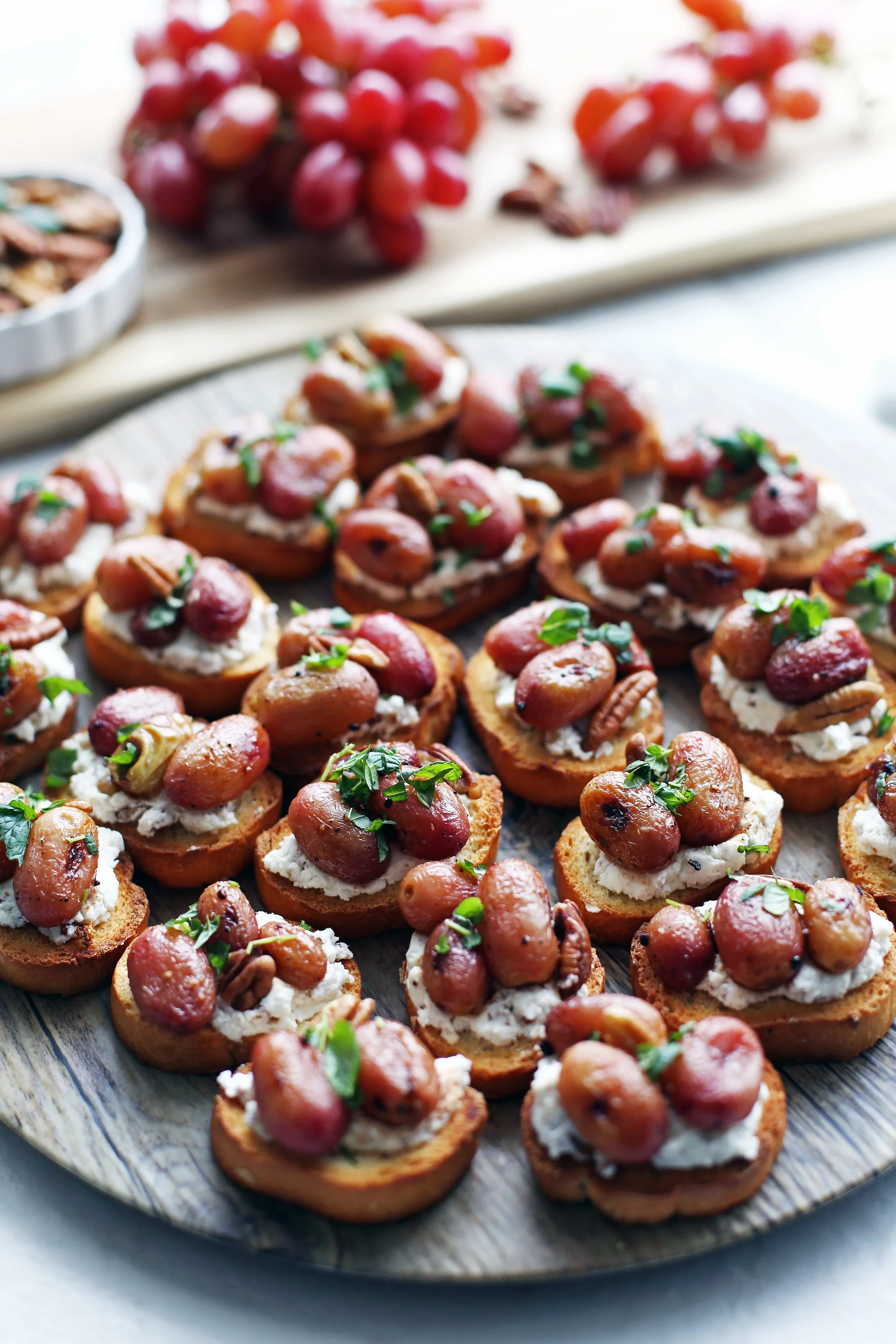 If you try this grape crostini, please leave me a rating and comment down below or tag me on any of my social media. I'm @yay_for_food on Instagram. Please share your recipe pictures!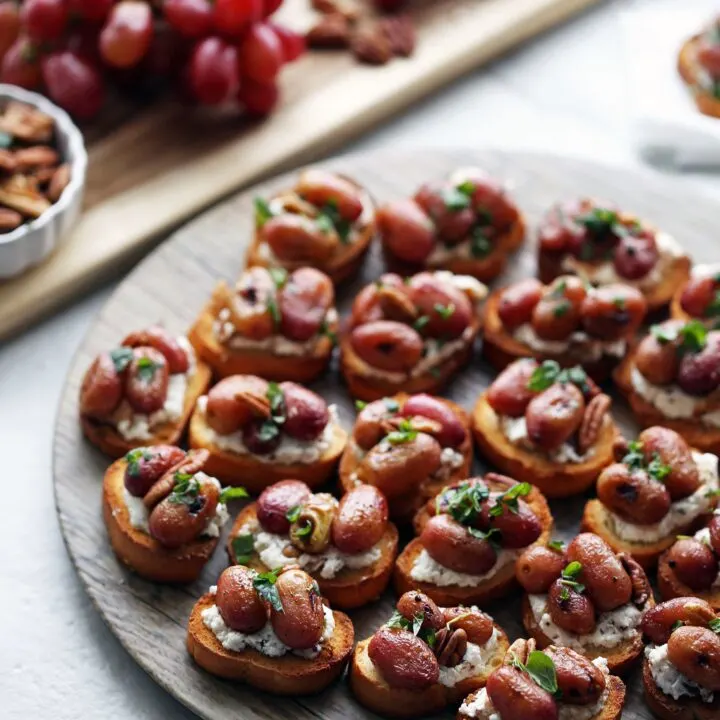 Balsamic Roasted Grape and Goat Cheese Crostini
Check out this delicious appetizer featuring balsamic roasted sweet grapes, creamy goat cheese and nutty pecans on a crunchy crostini. It's ready in only 30 minutes!
Ingredients
1 baguette, sliced into ½ pieces**
1 lb. red grapes, seedless and stems removed
7 oz. soft unripened goat cheese
¼ cup pecans, chopped, plus more for topping
2 tbsp extra virgin olive oil, divided
1 tbsp fresh mint, chopped
2 tsp balsamic vinegar
1 tsp pure honey
Salt and pepper, to taste
Instructions
Preheat the oven to 425 degrees F. Line a baking sheet with parchment paper.
Toss the grapes with one tablespoon of olive oil, balsamic vinegar, salt, and pepper. Spread on the baking sheet in a single layer and roast for 17-20 minutes, shaking the sheet halfway. The grapes will soften and shrivel a little. Some may burst slightly.
As the grapes roast, slice the baguette into ½ inch pieces and brush the remaining olive oil over the top of each slice. Place on another baking sheet and bake for 4-6 minutes (at 425 degrees F), until the bread is golden-brown and crispy. Check frequently to make sure the bread does not burn.
In a small bowl, combine the goat cheese, pecans, honey together. Spread a thin layer of the goat cheese mixture on each piece of bread before topping with 2-3 roasted grapes, depending on size. Finish with a light sprinkle of mint and pieces of pecan if you like. Best served immediately*.
Notes
*You can keep the crostini in the fridge for up to a day. Heat them up in the oven for a few minutes prior to serving.
**1 used an 18-inch baguette.
Nutritional calories represents one crostini.
Recommended Products
As a participant in the Amazon Services LLC Associates Program, I only link to products that I use and/or highly recommend. As an Amazon Associate, I earn from qualifying purchases if you purchase through these links at no additional cost to you.
Nutrition Information:
Yield:

32
Serving Size:

1
Amount Per Serving:
Calories:

68
Total Fat:

3g
Saturated Fat:

1g
Trans Fat:

0g
Unsaturated Fat:

2g
Cholesterol:

3mg
Sodium:

99mg
Carbohydrates:

8g
Fiber:

0g
Sugar:

3g
Protein:

2g