Happy New Year! I hope you all had a good holiday!
I have over-indulged in all the fatty foods and I have "no regerts"(the spelling mistake is intentional). A week ago, the amount of chocolate that we had in our house could have fed the whole neighbourhood, and we still have a fair bit left, but somehow this household of two will eat the rest of the chocolate by the end of the month, probably sooner.
That being said, a New Year brings new resolutions and I have resolved to BE MORE BRAVE and GET THINGS DONE! Those that know me are aware that I worry about the littlest things so I avoid situations because I don't want to fail.I end up spending hours in a blanket fort eating cheese and watching YouTube videos and thus getting nothing done. As fun as blanket forts can be, I know I just have to go-for-it! This definitely includes making this blog better; not only by working to improve the blog from behind-the-scenes (my husband, Scott, is a life-saver in helping me figure out the tech stuff), but most importantly, I love hearing feedback from YOU!
Easy, minimal ingredients, few instructions, classics with a twist! As always, I appreciate your comments, questions, and any feedback!
Here is my first recipe for 2017! I hope you like it! One of my new favourite salads!
This winter salad has fresh, peppery arugula, crunchy celery, zingy radish, and sweet red apples. Toss in toasted walnuts, sharp gouda cheese, and sweet and tangy balsamic honey mustard dressing and you get a flavourful, filling salad. It is extremely easy to put together and the dressing can be made ahead of time and stored in the refrigerator up to 3 days prior to using it. Just whisk prior to adding to the salad.
Now onto the recipe.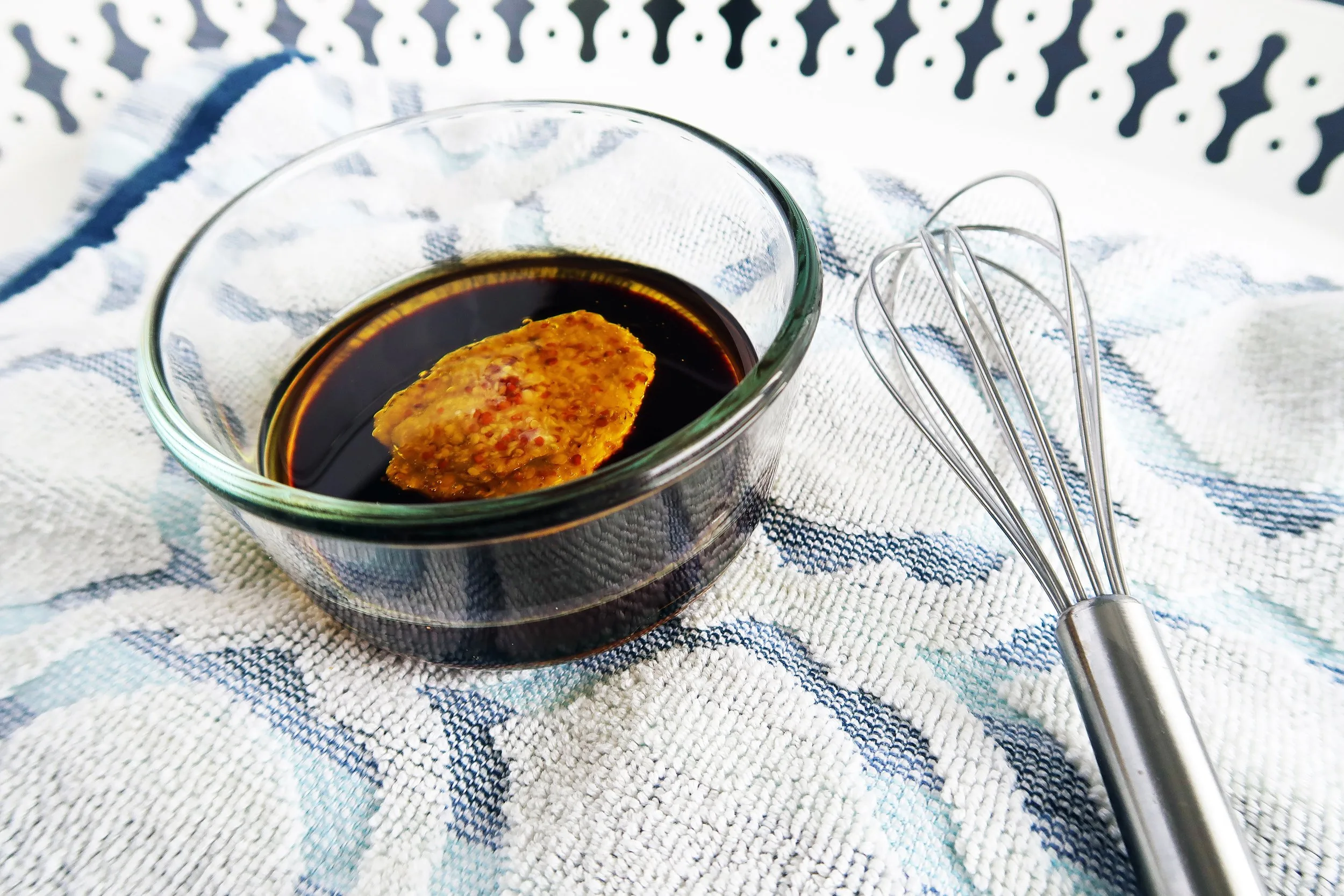 Whisk together the dressing ingredients.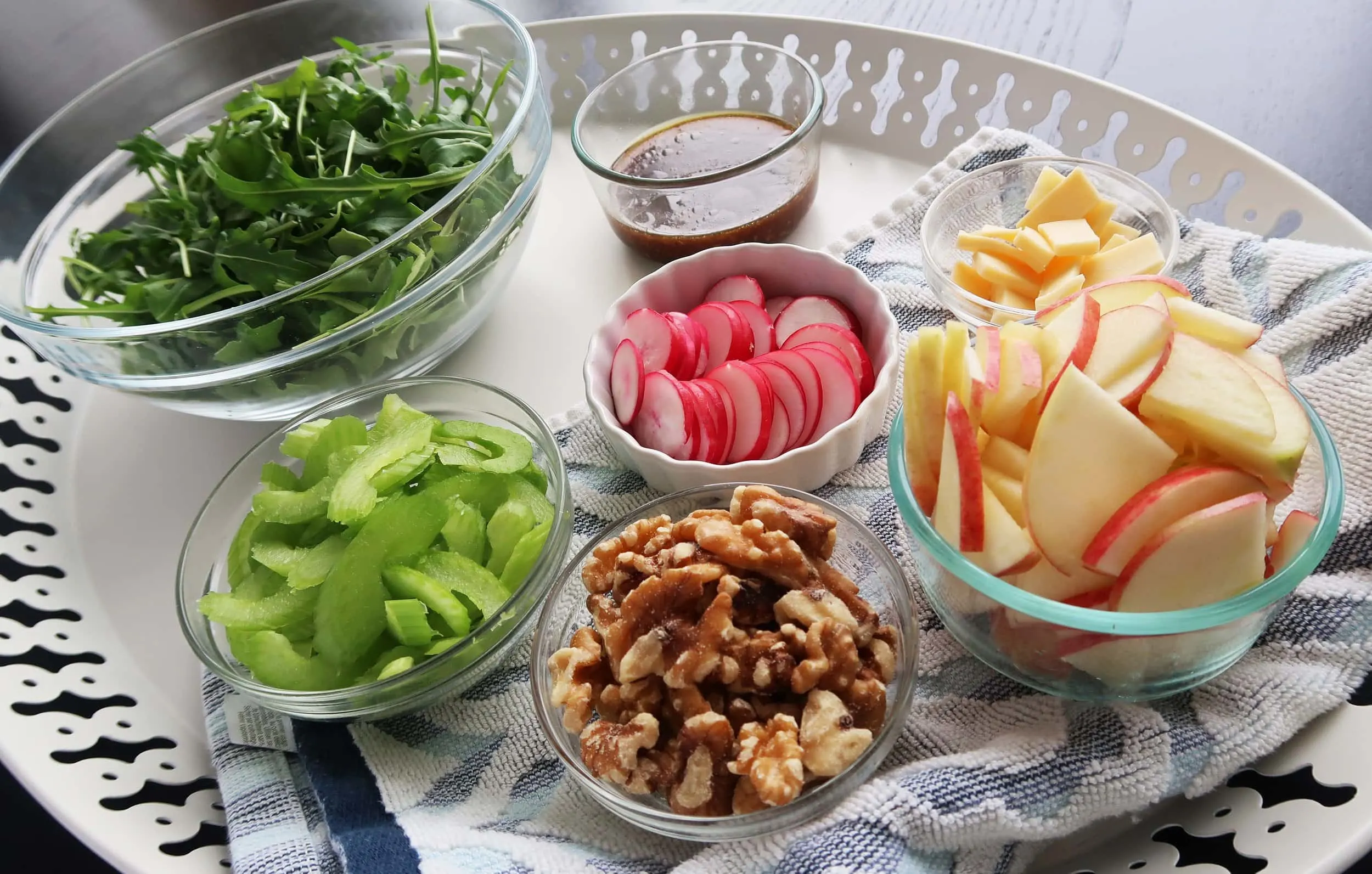 Slice and chop the salad ingredients (except the arugula).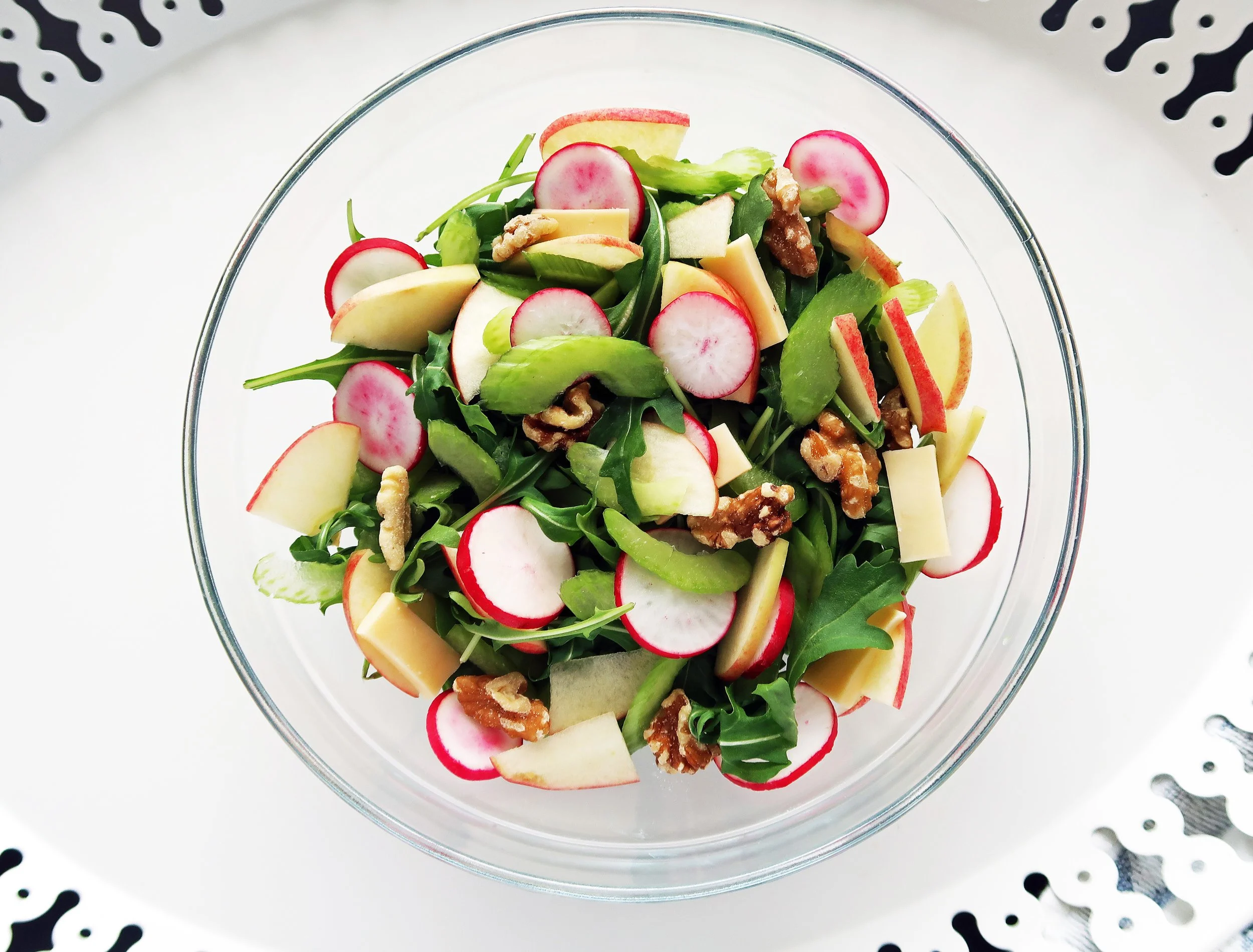 Combine all salad ingredients together in a large bowl.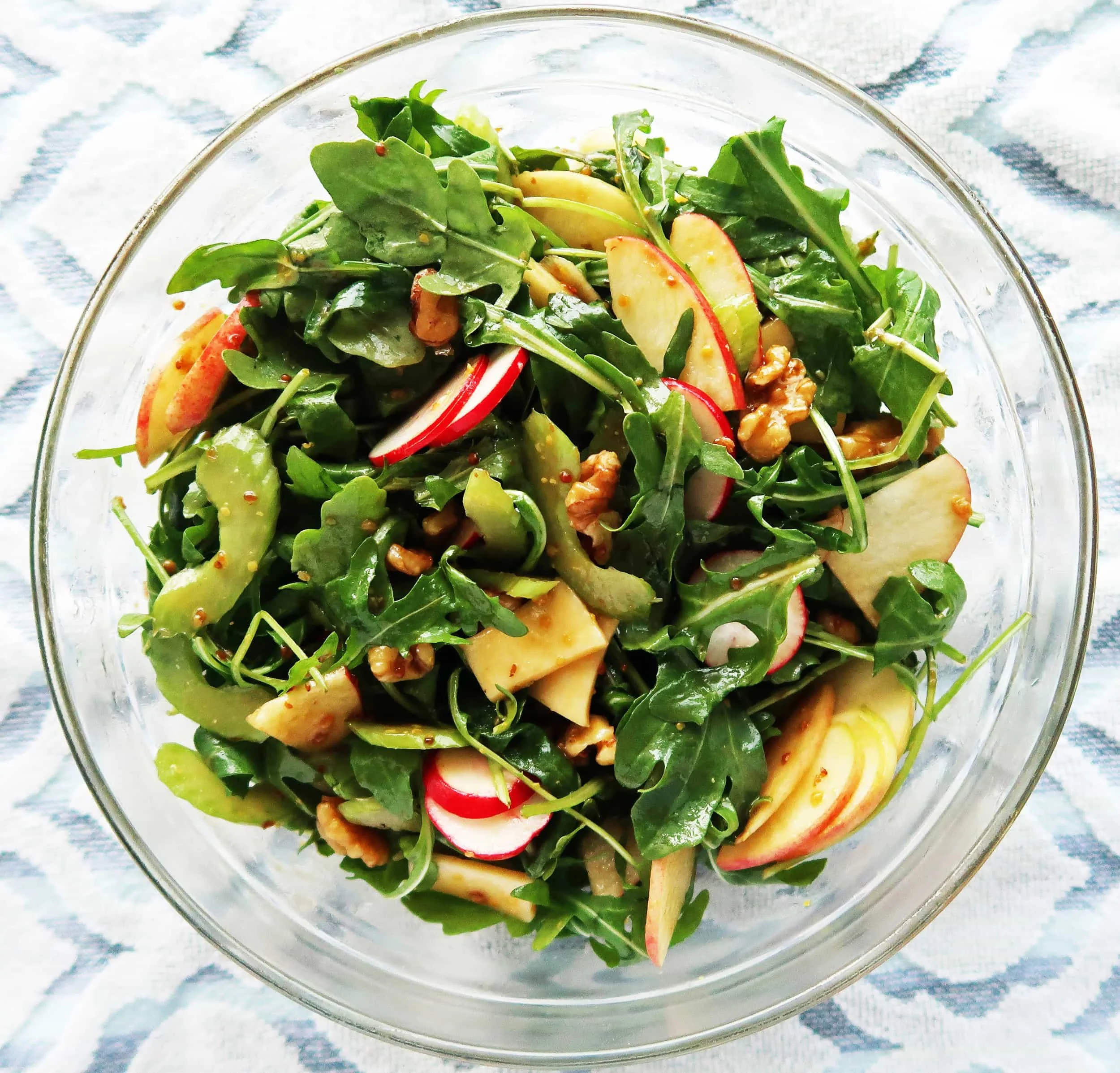 Drizzle with dressing and toss to combine. Enjoy!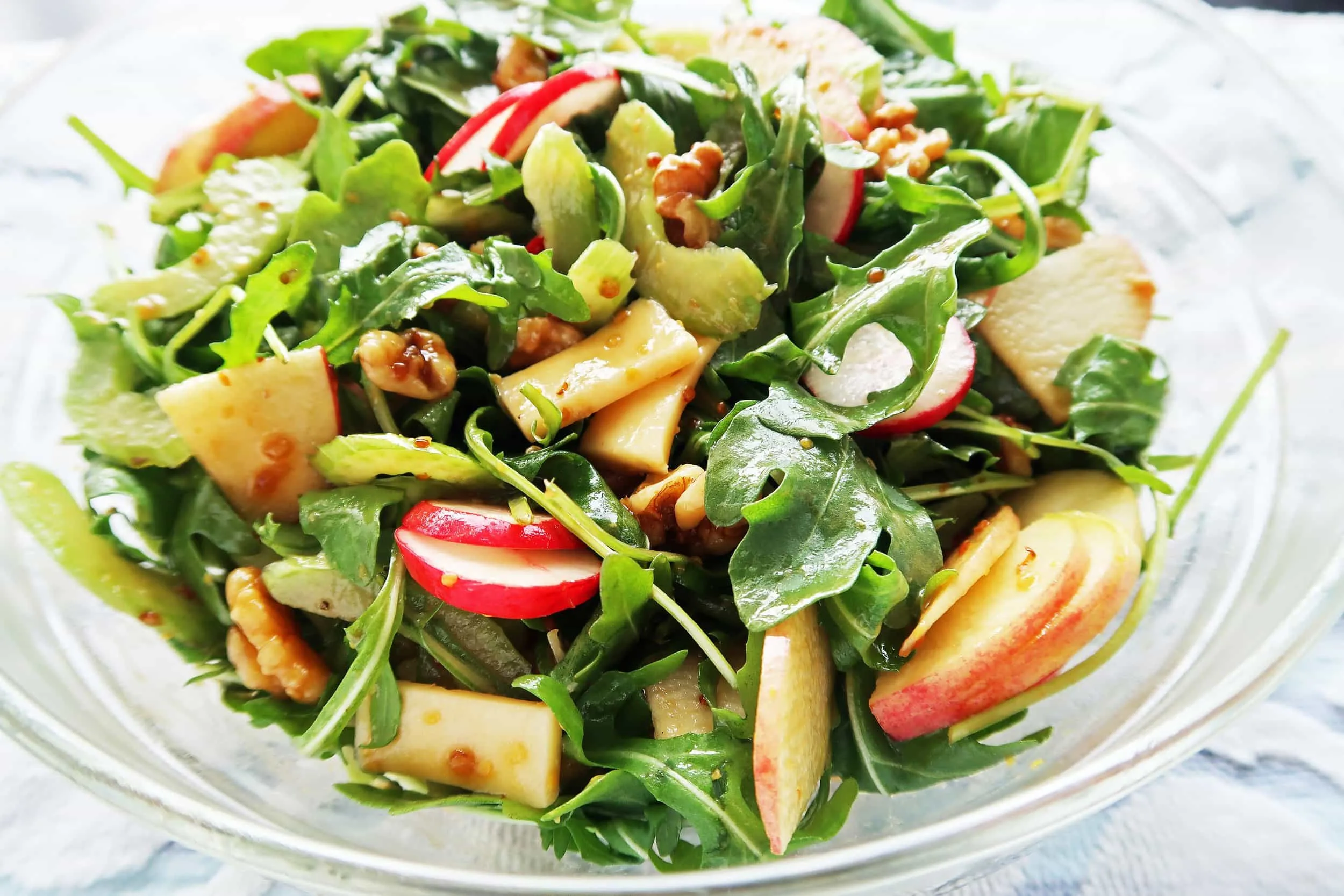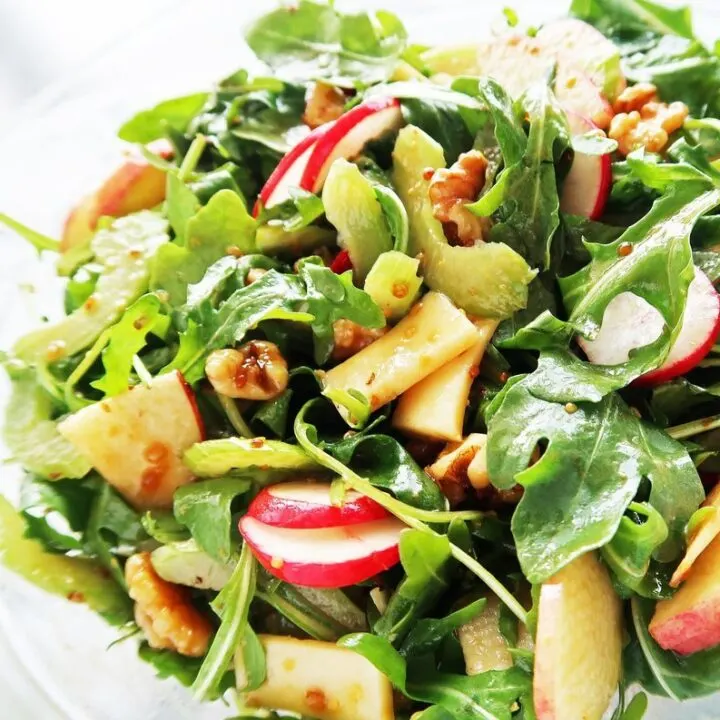 Crunchy Winter Salad with Balsamic Honey Mustard Dressing
Yield:
2 as a meal, 4 as a side
This healthy, delicious crunchy winter salad is paired with a homemade balsamic-honey mustard dressing. Easy to prepare and ready in 10 minutes or less!
Ingredients
For the salad:
2 packed cups arugula
2 celery sticks (about 1 cup), thinly sliced on the diagonal
4 radishes (about ½ cup), thinly sliced
1 apple, cored and thinly sliced
¼ cup gouda (or any cheese), sliced (or grated)
½ cup toasted walnuts, roughly chopped
For the dressing:
3 tbsp extra virgin olive oil
1½ tbsp pure honey
1 tbsp honey dijon mustard
1 tbsp balsamic vinegar
pinch of salt and pepper
Instructions
In a small bowl, whisk together the dressing ingredients until well combined. Taste and adjust the dressing to your preference. Set aside.
In a large bowl, combine the salad ingredients and then drizzle the desired amount of dressing on top. Toss to combine. Serve immediately.
Notes
Store leftover dressing in an airtight container in the refrigerator for up to a week. Re-whisk prior to using on a salad.
Recommended Products
As a participant in the Amazon Services LLC Associates Program, I only link to products that I use and/or highly recommend. As an Amazon Associate, I earn from qualifying purchases if you purchase through these links at no additional cost to you.
Nutrition Information:
Yield:

2
Serving Size:

1
Amount Per Serving:
Calories:

515
Total Fat:

42g
Saturated Fat:

7g
Trans Fat:

0g
Unsaturated Fat:

33g
Cholesterol:

15mg
Sodium:

395mg
Carbohydrates:

33g
Fiber:

5g
Sugar:

26g
Protein:

9g