I have a small obsession with lemons. I love it in sweet and savoury dishes. They are sweet, tart, and can be mildly bitter, but brightens every dish it is put into. Raspberries are my favourite berries. They are gorgeous, bite-sized, and sweet. They are both so good for you too; full of vitamin C. I also love buttery, flaky puff pastry. Let's put it all together. Delicious and easy.
Now onto the recipe.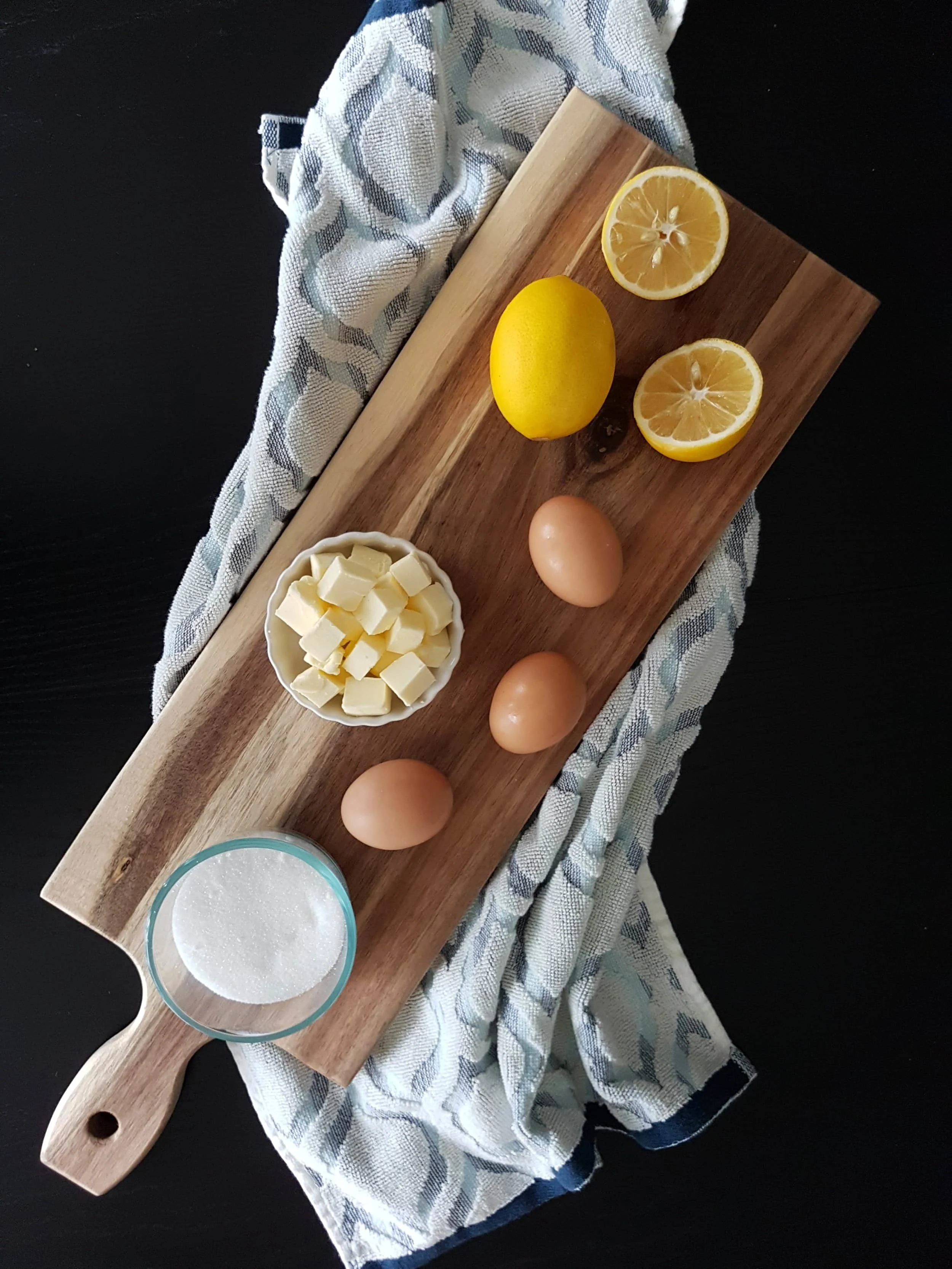 Prepare the lemon curd ingredients by measuring out sugar, cutting the butter into cubes, and zesting then juicing lemons.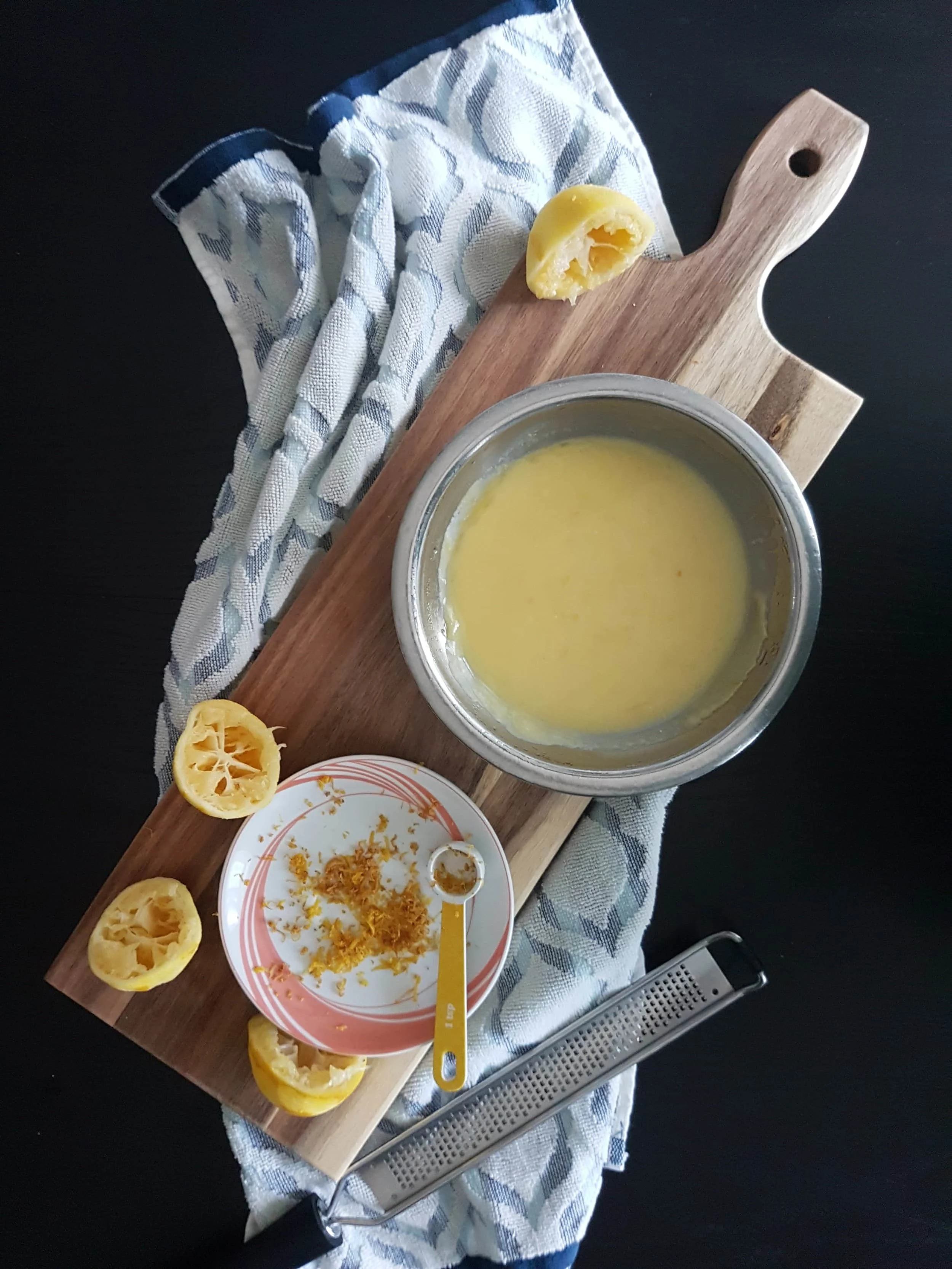 Over low heat, whisk together lemon curd ingredients until thick. Transfer to another bowl, cover, and refrigerate for a hour until the curd is cold. In the meantime, roll out the puff pastry and bake until puffed and golden-brown.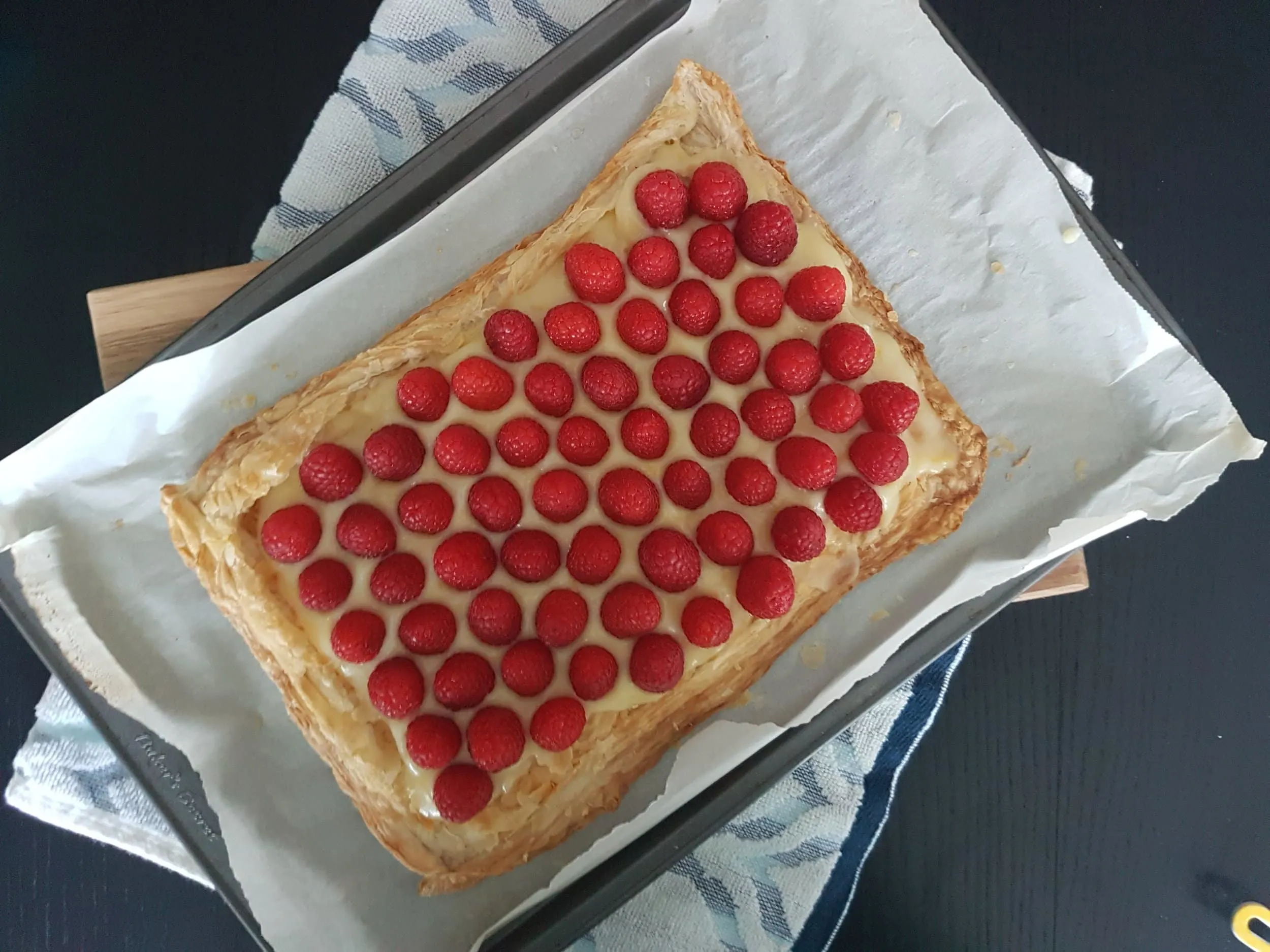 Top with lemon curd and fresh raspberries. Sprinkle with confectioner's sugar and lemon zest. Enjoy!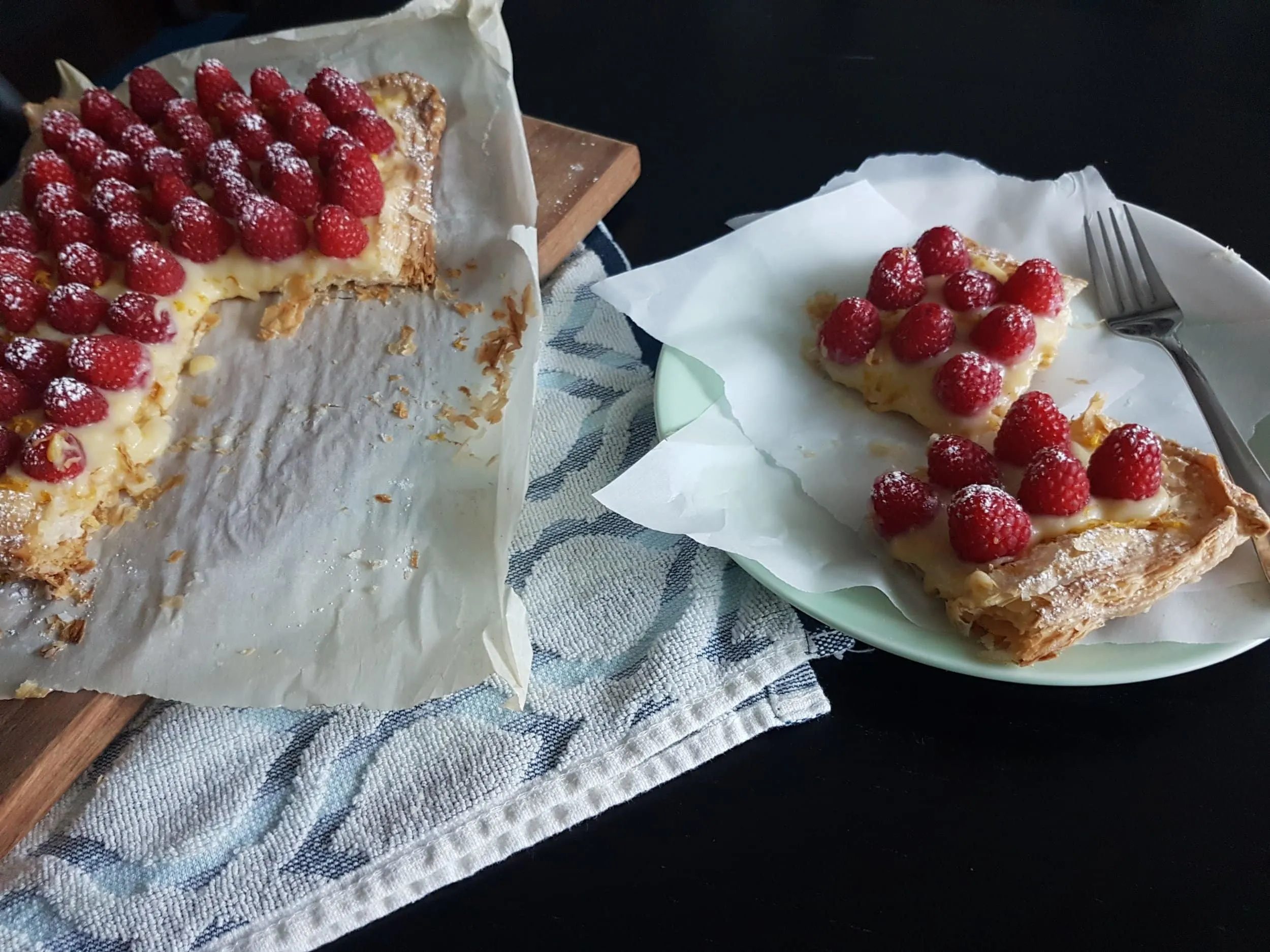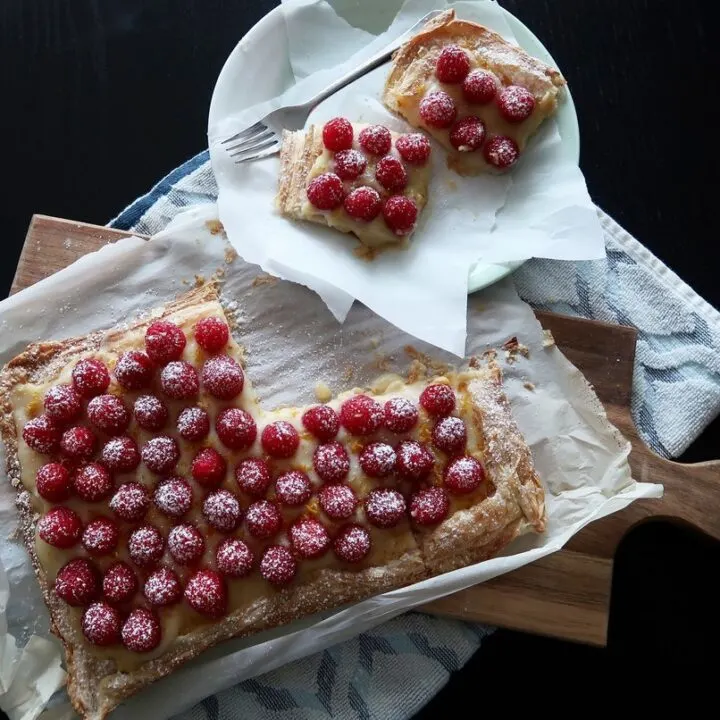 Fresh Raspberry Lemon Curd Tart
Total Time:
2 hours
40 minutes
Flaky, buttery puff pastry is topped with freshly made lemon curd, sweet raspberries, and dusted with confectioner's sugar and lemon zest.
Ingredients
1 store-bought puff pastry
1/2 cup fresh lemon juice (about 2 lemons*)
1 tbsp lemon zest (2-3 lemons*), plus 1-2 tsp for topping
1/2 cup white sugar
3 large eggs
6 tbsp (3 oz.) unsalted butter, cut into little cubes
12 oz. fresh raspberries
Confectioner's sugar, for topping
Instructions
Thaw puff pastry for 1 hour in room temperature, until defrosted, or in the refrigerator overnight.
Prepare the Lemon Curd. Heat a small saucepan on medium-low heat. Add lemon juice, zest, sugar, and eggs and whisk together until sugar melts into the mix. Add butter and whisk regularly. The lemon curd should begin to thicken and small bubbles will begin to form on the surface, about 6-8 minutes. Remove from heat once the lemon curd is thick enough for the whisk to leave marks on the surface.
Transfer the lemon curd into another bowl, cover with plastic wrap, and refrigerate for 1 hour, or until the lemon curd is cold.
In the meantime, prepare the puff pastry. Roll out the puff pastry to about 10 inches by 14 inches.
Bake at 425 degrees F for 8-10 minutes, until the pastry is puffed. Decrease temperature to 375 degrees F and continue baking until the pastry is crisp and golden-brown, about 5-7 minutes. Cool for 3 minutes.
Layer the cooled lemon curd onto the top of the tart. Top the tart with raspberries. Dust with a light coating of confectioner's sugar on top and a small sprinkling of lemon zest. Serve immediately. Store any leftovers in the refrigerator.
Notes
*I used Meyer lemons. They have less tang and are generally sweeter than regular lemons.
I used Epicurious' Lemon Curd recipe. This recipe works great! Lemon Curd can be chilled up to a week.
If you prefer to have a defined border, cut a shallow line (do not cut through) about 1-2 inches in from the edge of the puff pastry so that the puff pastry will bake with a raised border.
Recommended Products
As a participant in the Amazon Services LLC Associates Program, I only link to products that I use and/or highly recommend. As an Amazon Associate, I earn from qualifying purchases if you purchase through these links at no additional cost to you.
Nutrition Information:
Yield:

8
Serving Size:

1
Amount Per Serving:
Calories:

347