Happy Friday! Today's recipe is a heart-warming soup made easily in the Instant Pot.
I like eating soups year-round, but I crave cozy, hot soup when it's cold and snowy outside like it has been all this month. It's an instant pick-me-up after spending time outside in the blowing frosty snow.
I hope you enjoy this recipe for Instant Pot Turmeric Cauliflower Potato Soup.
What's in this recipe?
As you probably guessed from the recipe title, the main ingredients are cauliflower and potatoes.
Cauliflower has a pleasant mild flavour with slightly sweet and nutty notes.
It's also nutrient-rich, full of vitamins and minerals. For example, it's an excellent source of vitamin C and K as well as folate and a good source of potassium and magnesium.
Look for cauliflower that are creamy white, have a compact curd, and green stem. Avoid spotted, dull cauliflowers.
Russet Potatoes (aka Idaho potatoes) make up a large amount of this soup.
These have a mild, earthy flavour, are high in starch and low in moisture, which greatly helps this soup thicken and become creamy when blended together.
These tubers are high in carbs, but also contain a good amount of fiber, vitamin C, and potassium.
Choose russet potatoes that are firm, have none to minor surface blemishes and are free of wrinkles, green spots, or dark spots.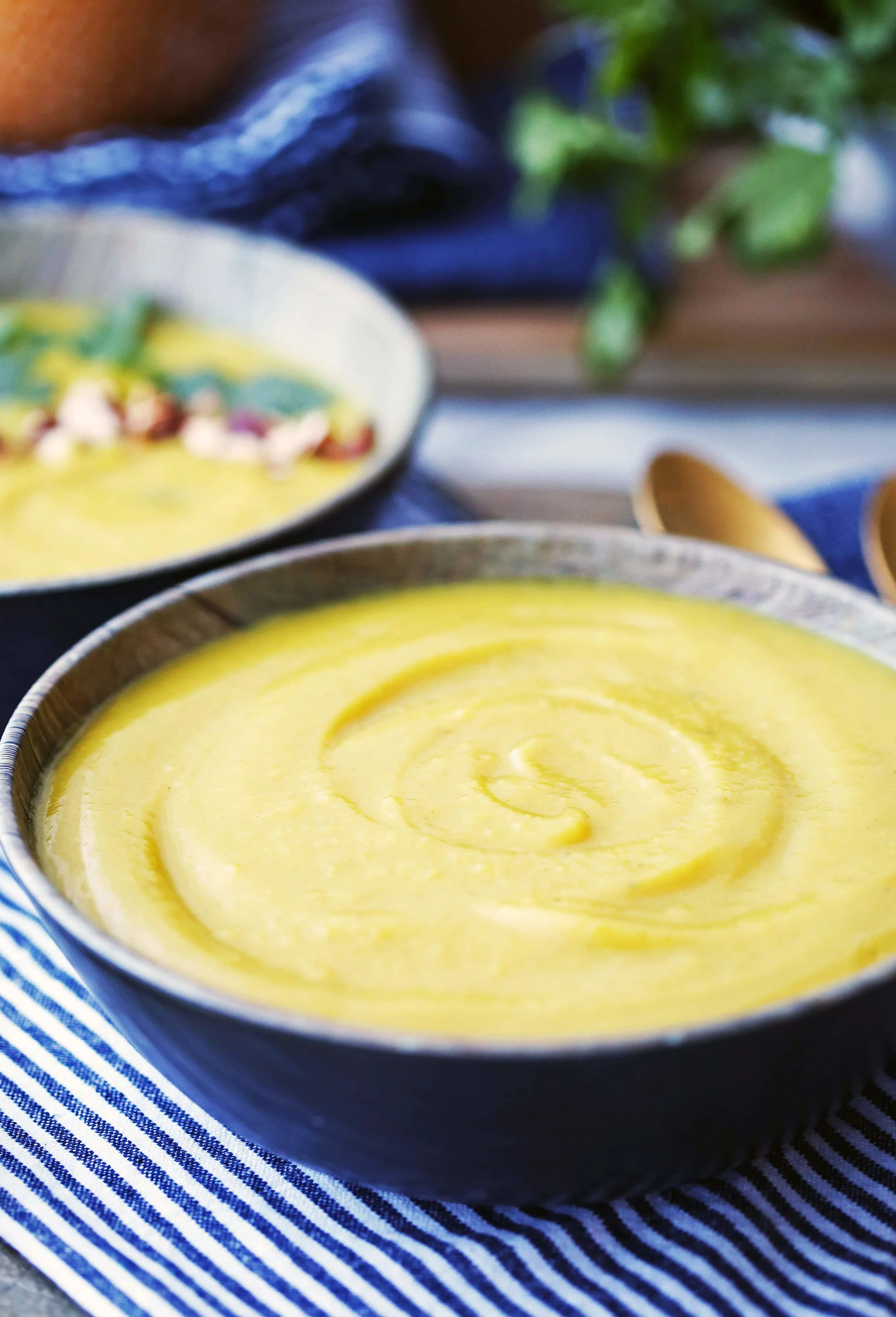 Then there's the awesome combination of onions, garlic, and ginger, which provide a flavourful base to this soup that's sautéed to bring out their umami flavours.
The above base ingredients are briefly sautéed with the following spices: ground turmeric, ground cumin, curry powder, and of course, salt and black pepper (l prefer sea salt and freshly ground black pepper).
Turmeric is known for its bright golden-yellow colour, pungent, earthy-sweet taste, and antioxidant and anti-inflammatory properties. This spice gives this soup its pretty bright yellow colour.
It pairs wonderfully with the distinctive earthy, spicy flavour of cumin and the sweet and savoury notes in curry powder.
Vegetable broth is the liquid of this recipe and gives the soup depth of flavour. I like to use a low sodium brand if homemade broth or stock is unavailable. If you prefer, you can substitute with a combination of broth and water.
I like to finish the soup with cilantro for freshness and coarsely chopped roasted almonds for a salty crunch. Do you like cilantro? Or does it taste like soap to you?
Of course, adding these two toppings is completely optional. This soup would also be great topped with roasted chickpeas, croutons, sunflower seeds, and/or pepitas too.
How do you make this Instant Pot soup?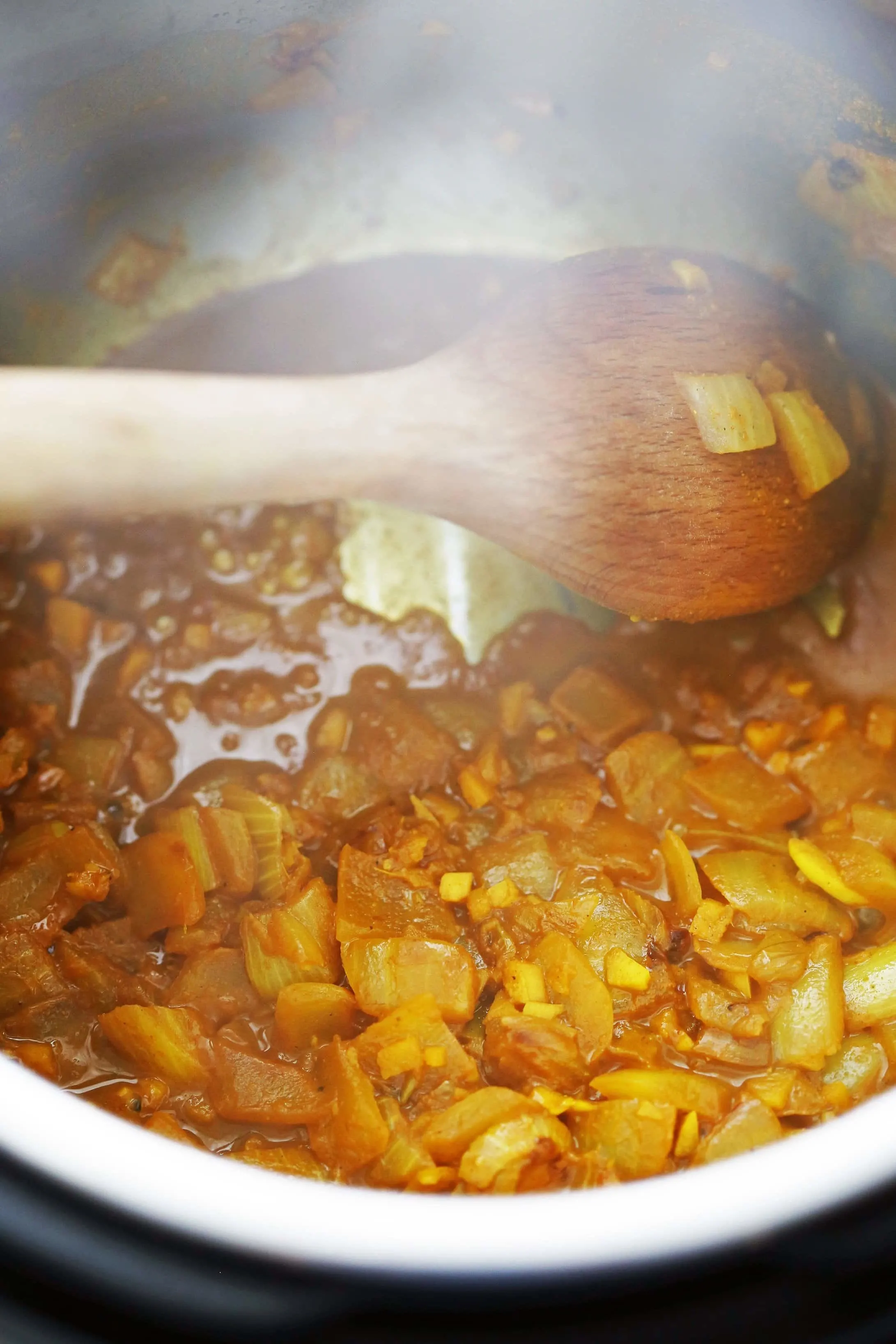 Sauté onions until softened. Then stir in garlic, ginger, and spices for another minute or two. Deglaze with vegetable broth. Full recipe ingredients and instructions in the recipe card down below.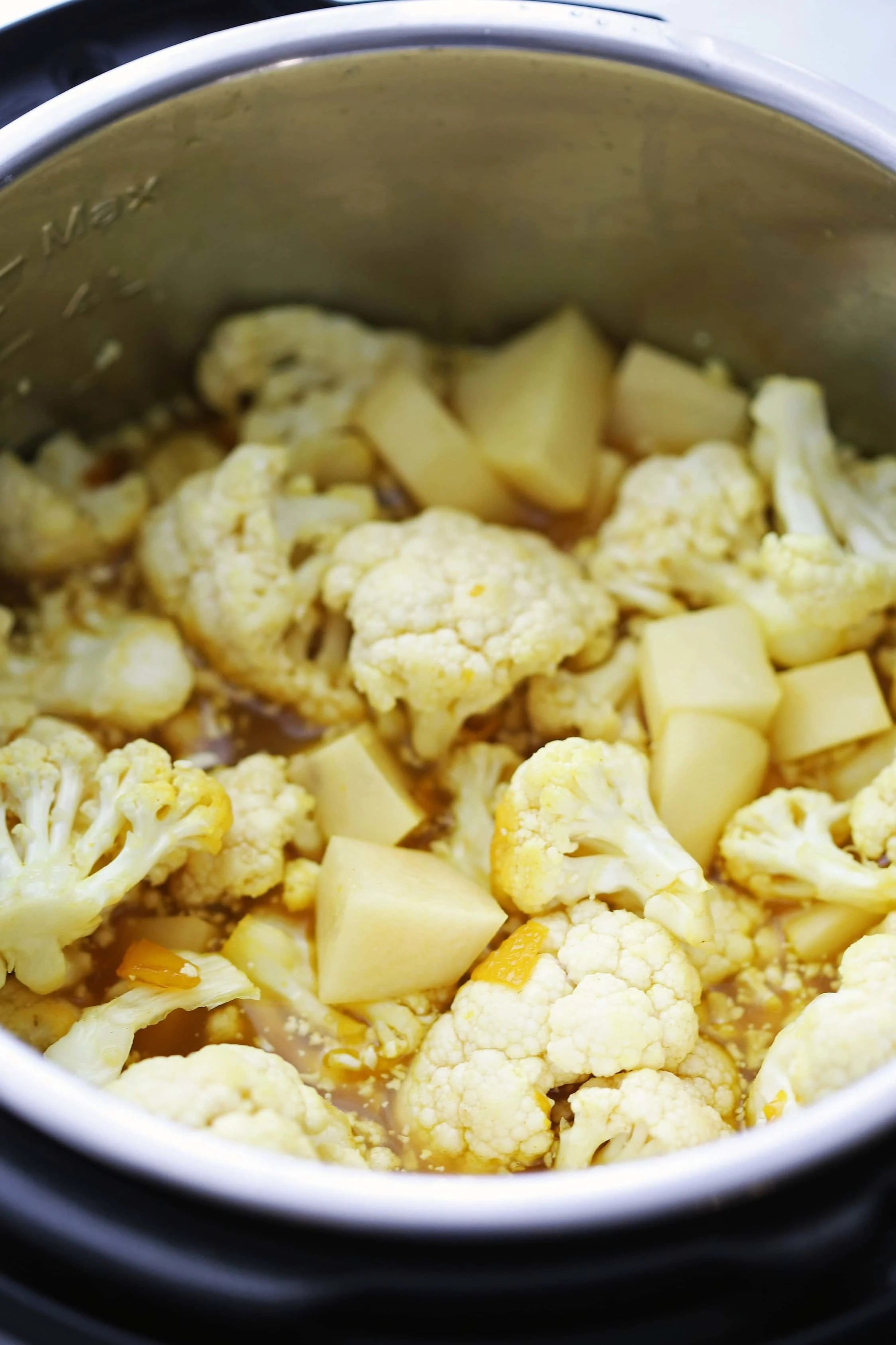 Add the remaining ingredients: cauliflower, potatoes, and broth. Give the ingredients a stir.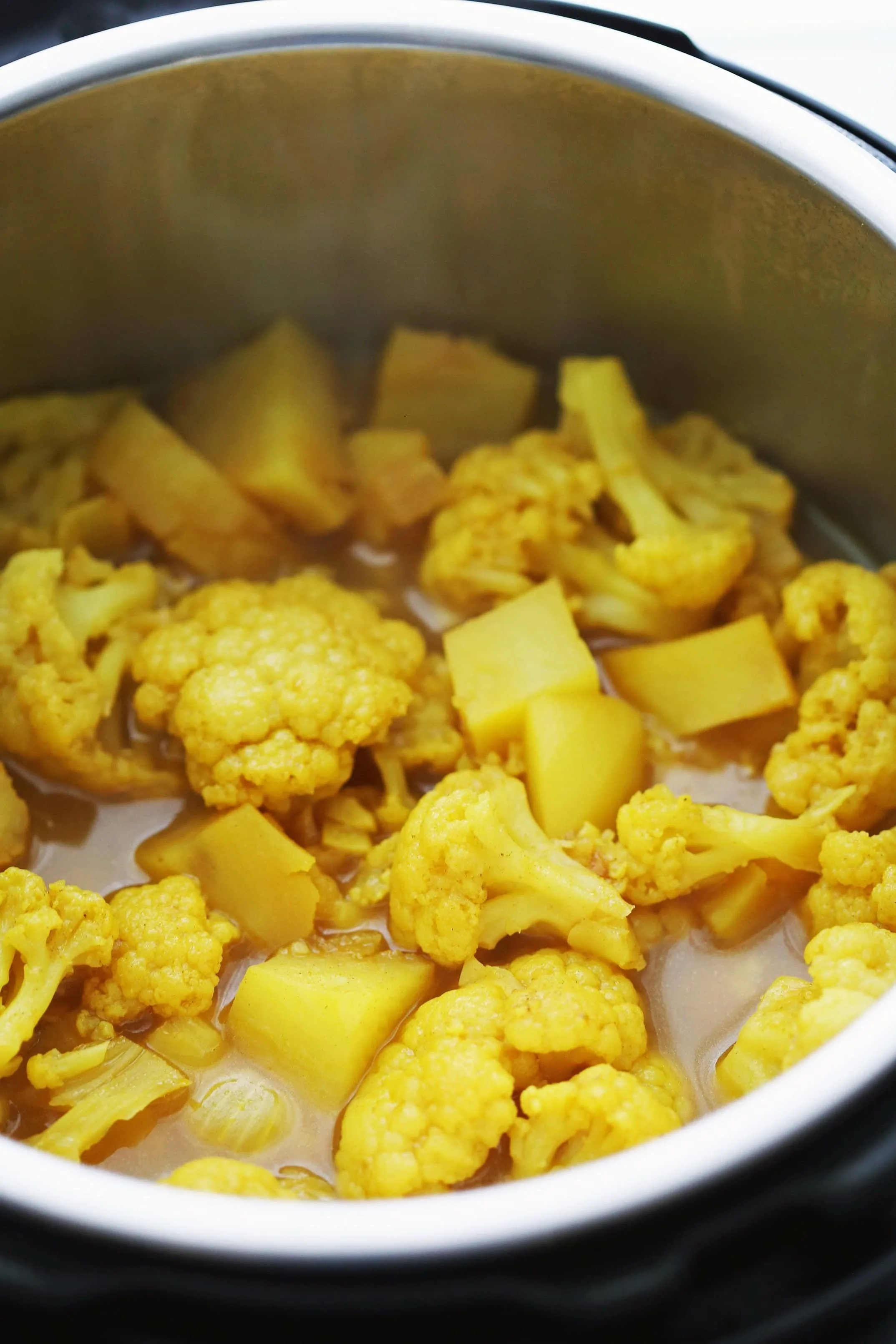 Cook at high pressure for 8 minutes before applying a quick release.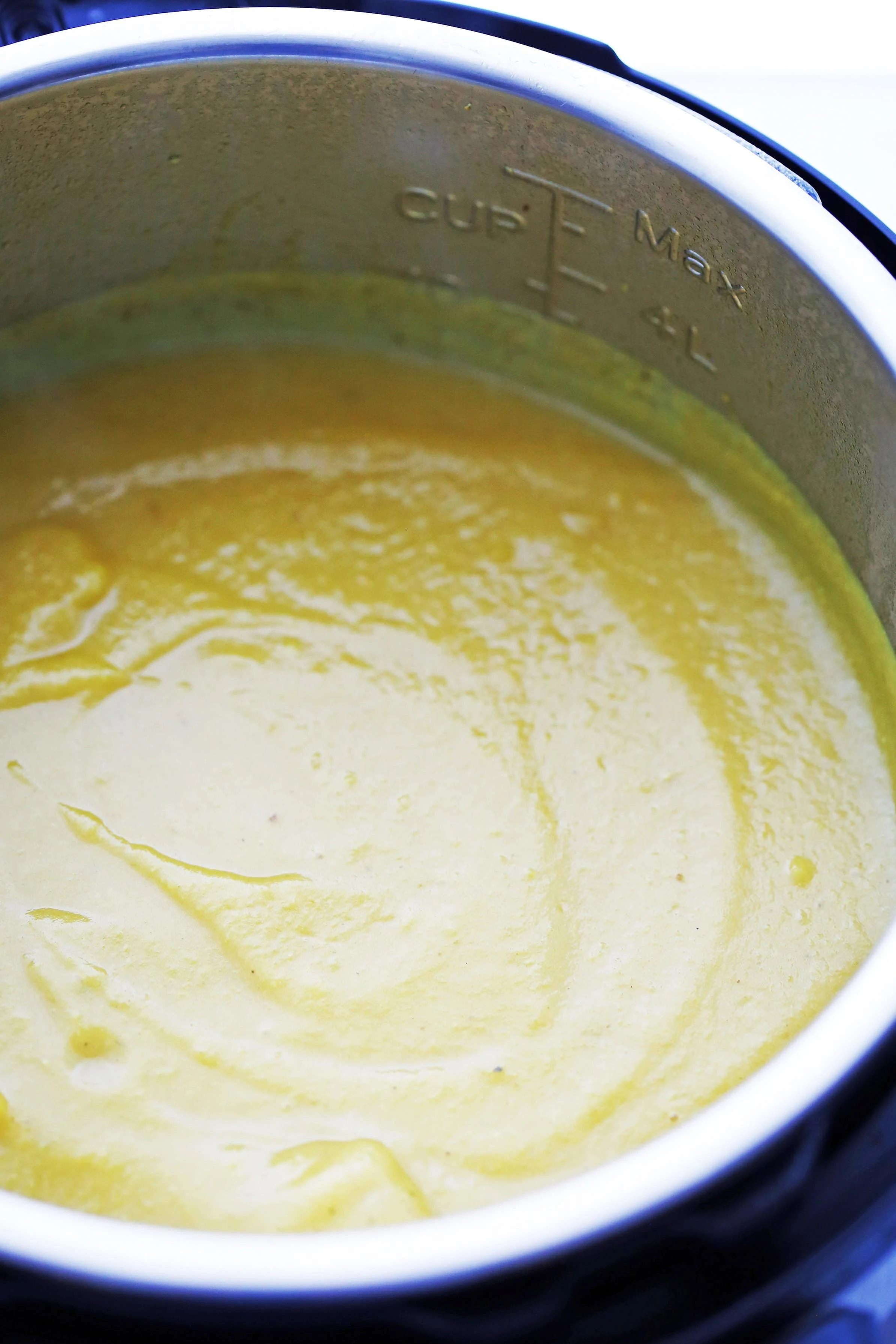 Use an immersion blender or high-powered blender to blend the soup until it is completely smooth. Taste for additional salt and pepper (or other seasonings).
Place in a bowl and top with fresh cilantro and chopped almonds if you like. Enjoy!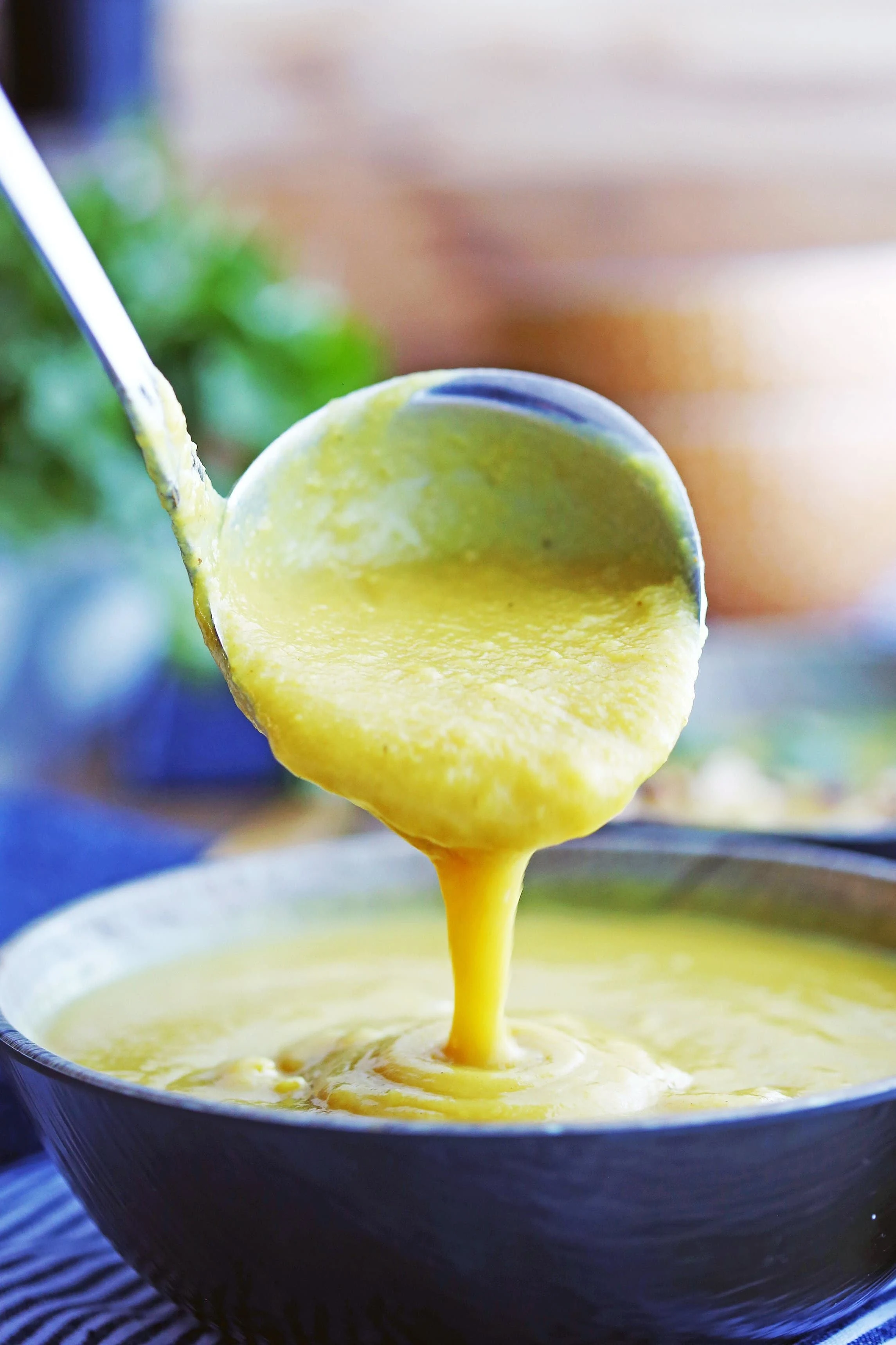 Do you love vegan Instant Pot soup recipes? Here are four more!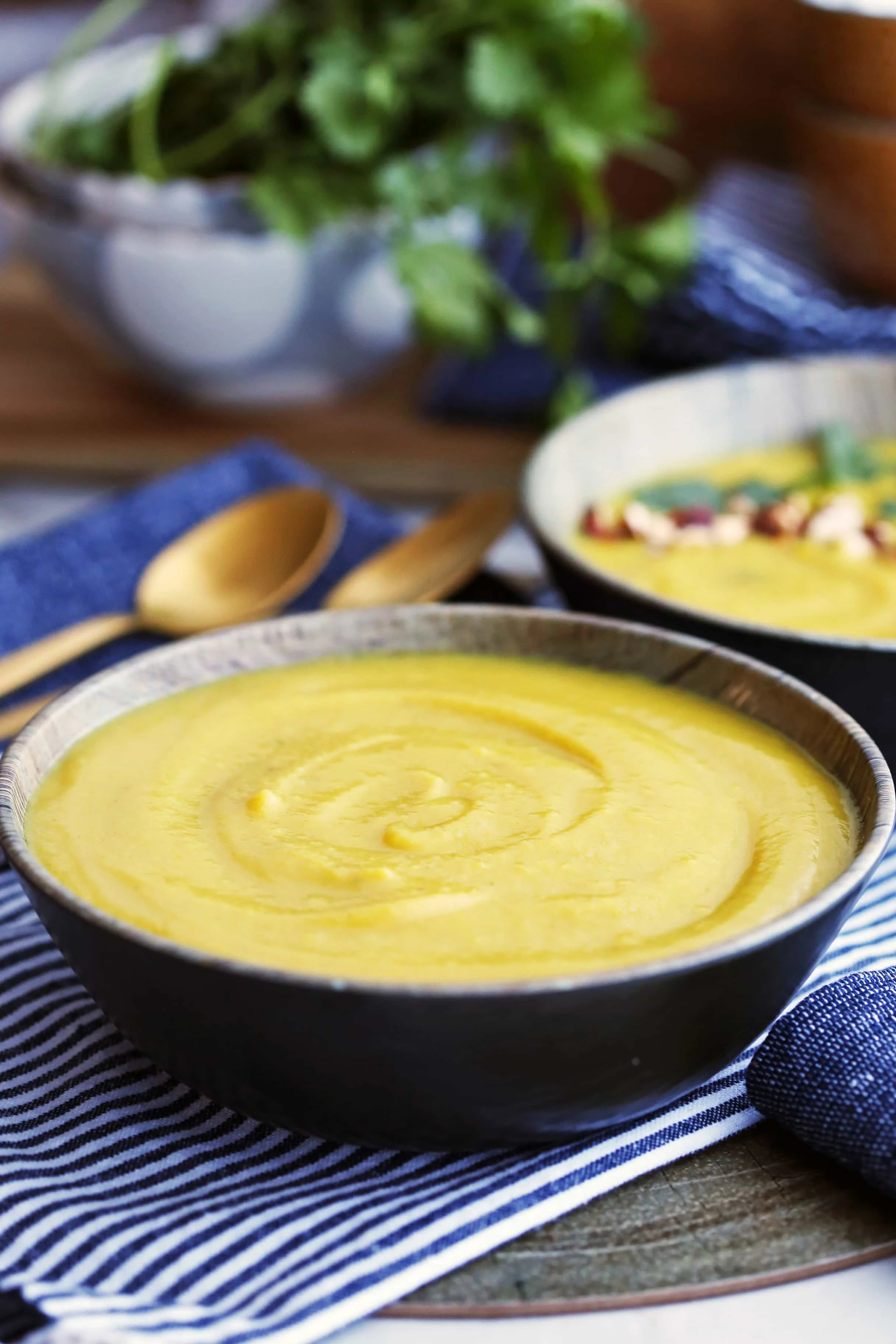 To sum up, this tasty cauliflower potato soup is:
Tasty and good-for-you too.
Filling and satisfying, but doesn't feel heavy.
Thick and creamy (without the cream): The addition of potatoes gives it an extra creamy texture.
Simple and easy to make: Everything is made in the Instant Pot so clean-up is easy.
Plentiful as it makes about 8 cups.
Great to have as leftovers: It tastes just as good the next day or two.
Vegan and gluten-free too.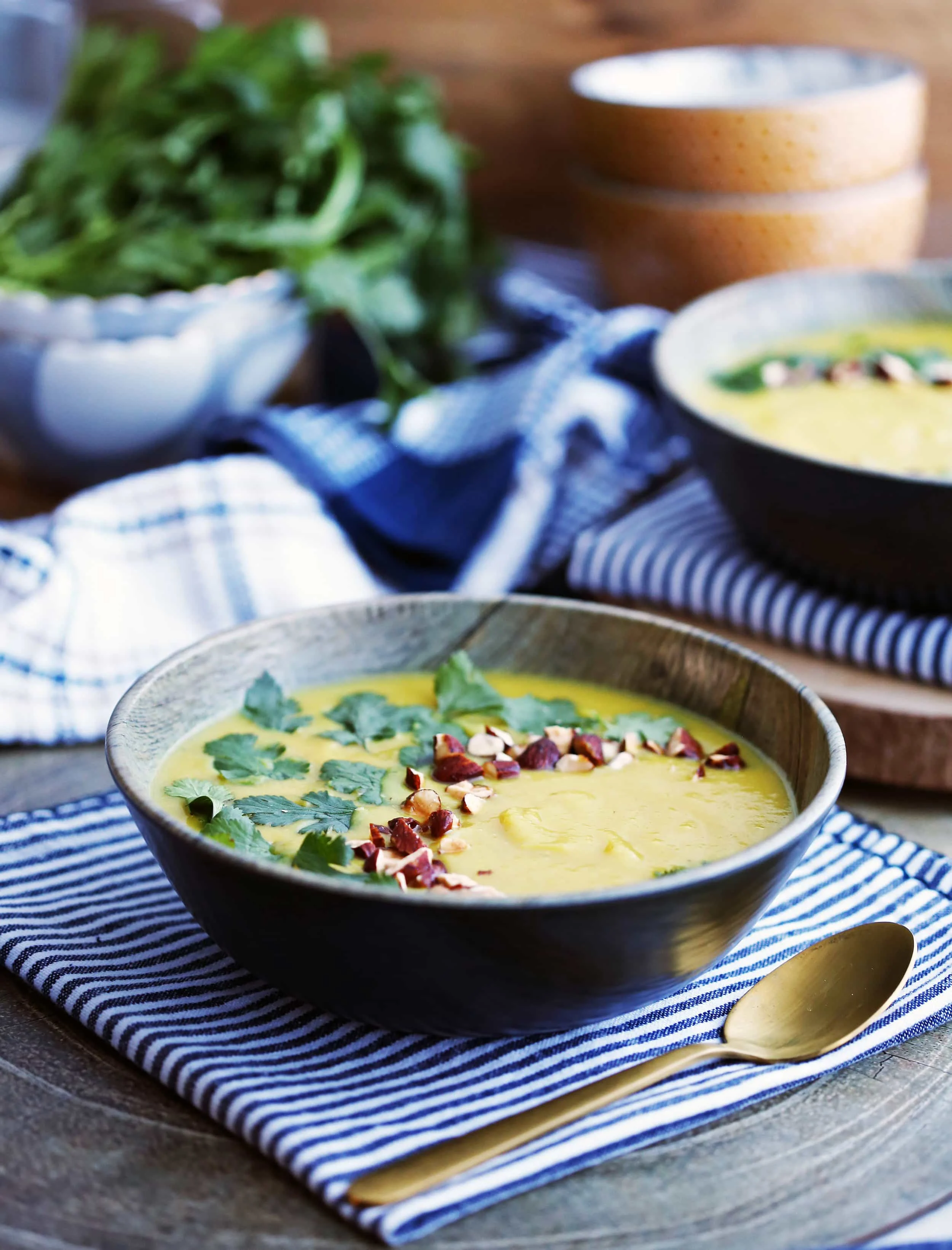 I hope you try this Instant Pot soup recipe! If you do, please leave me a rating and comment down below or tag me on any of my social media. I'm @yay_for_food on Instagram. Please share your recipe pictures!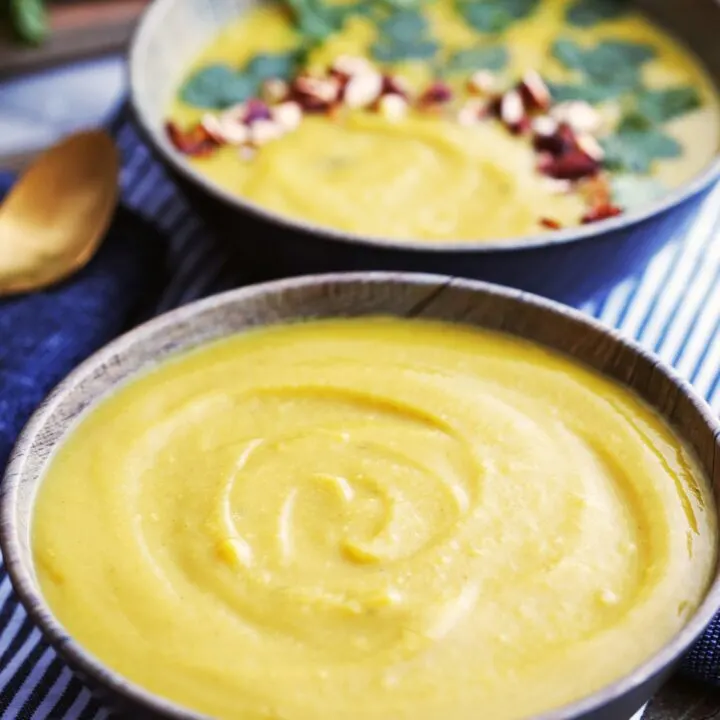 Instant Pot Turmeric Cauliflower Potato Soup
Yield:
6-8 people (makes 8 cups)
Additional Time:
20 minutes
Creamy, colourful, and delicious! Turmeric brings a bright, earthy flavour to this gluten-free and vegan Instant Pot cauliflower and potato soup recipe.
Ingredients
2 lb. cauliflower florets
1½ lb. russet potatoes, peeled and chopped into 1-inch pieces
1 tbsp vegetable oil (or olive oil)
1 large onion, chopped
2 garlic cloves, minced
1-inch fresh ginger, minced
1 tsp ground turmeric
½ tsp curry powder
¼ tsp cumin powder
Salt and pepper, to taste
5 cups vegetable broth (or a mixture of water and vegetable broth), divided
Optional toppings:
Fresh cilantro
Roasted chopped almonds (I used Tamari almonds)
Instructions
Set the Instant Pot to "sauté". Add the olive oil and onion to the pot, stirring until softened, about 3-4 minutes. Add in the garlic, ginger, and spices (including salt and pepper) and stir for another 1-2 minutes, until fragrant.
Add ½ cup of vegetable broth to deglaze the pot, stirring and scraping the bottom of the pot to remove/dissolve all the brown bits.
Press "cancel" to turn off the Instant Pot. Add the remaining ingredients: cauliflower, potatoes, and remaining 4½ cups of vegetable broth to the pot. Give the mixture a good stir to distribute the ingredients.
Seal the Instant Pot and cook at high pressure ("manual"/"pressure cook" function) for 8 minutes *(see first note). After it is ready, apply quick pressure release to completely depressurize (until floating valve drops).
Open the Instant Pot and give the soup a stir **(see second note). Using an immersion blender or high-powered blender ***(see third note), blend the soup until it is completely smooth. Taste for additional salt and pepper (or other seasonings).
Top with cilantro and almonds if you like. Best served immediately.
Notes
*It takes 15-20 minutes for the Instant Pot to come to pressure.
**If you find that there is too much liquid in the pot, carefully ladle out excess liquid before blending. You can always add it back in to thin out the soup if needed.
***If you are using a blender, blend in small batches. Careful as the soup is hot and it may splatter.
Makes 8 cups. Nutritional calories represent one serving with eight servings total.
Recommended Products
As a participant in the Amazon Services LLC Associates Program, I only link to products that I use and/or highly recommend. As an Amazon Associate, I earn from qualifying purchases if you purchase through these links at no additional cost to you.
Nutrition Information:
Yield:

8
Serving Size:

1
Amount Per Serving:
Calories:

234
Total Fat:

10g
Saturated Fat:

1g
Trans Fat:

0g
Unsaturated Fat:

9g
Cholesterol:

0mg
Sodium:

689mg
Carbohydrates:

30g
Fiber:

7g
Sugar:

6g
Protein:

8g