Updated with new pictures, updated recipe, and additional text (originally posted December 1, 2016).
Who doesn't love a big bowl of hearty, filling chili on a cold day? As we head into autumn in just a few short weeks, I'm already thinking about all things fall! Have you checked out my last recipe for Chai Spiced Pumpkin Overnight Oats?
This recipe is a delicious and hearty recipe that comes together in just an hour! I hope you like this recipe for Roasted Butternut Squash and Black Bean Chili!
How do you make this chili?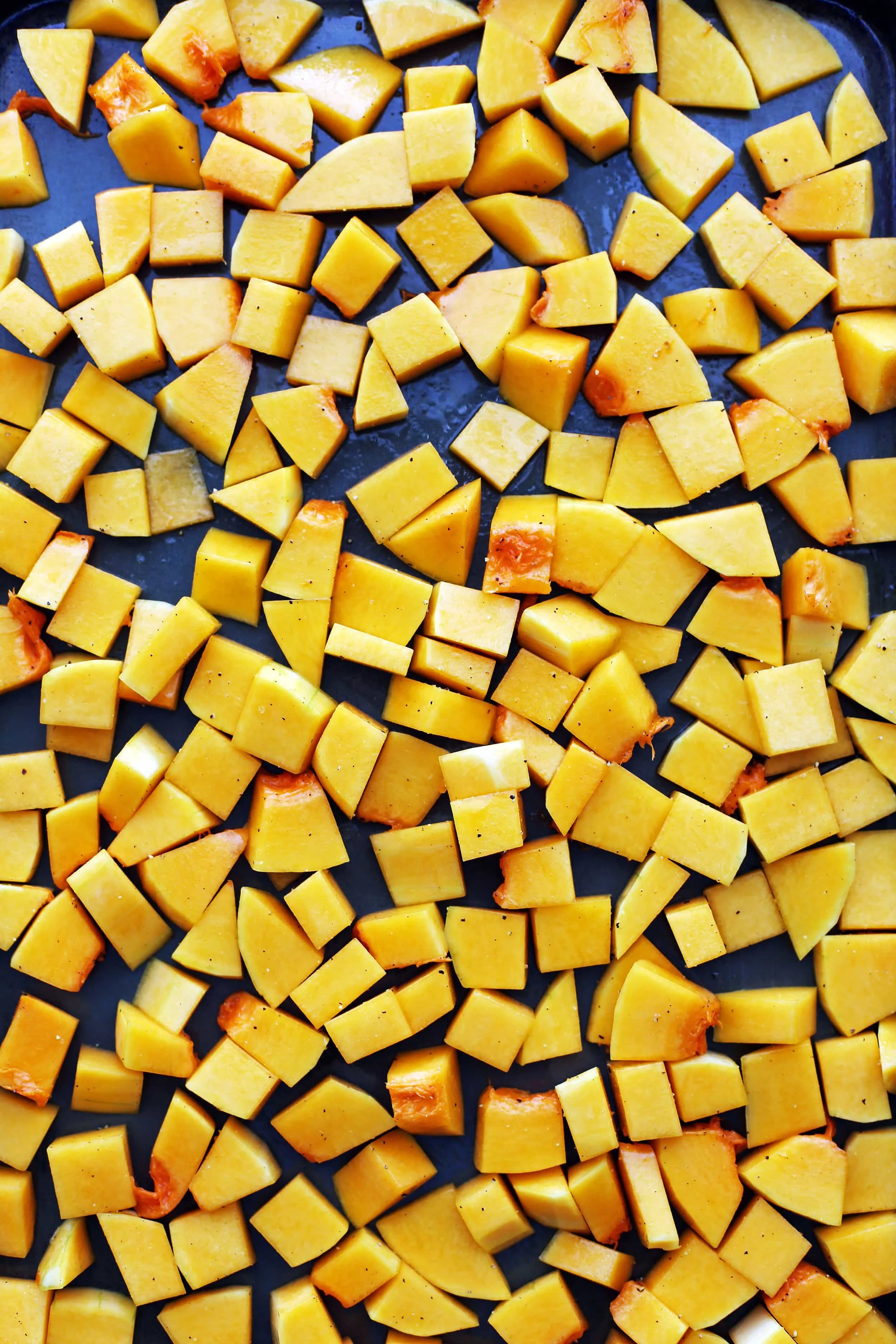 In an oven preheated to 425 degrees F, roast the butternut squash for 25-30 minutes, until tender. Full ingredients amounts and complete instructions listed down below in the recipe card.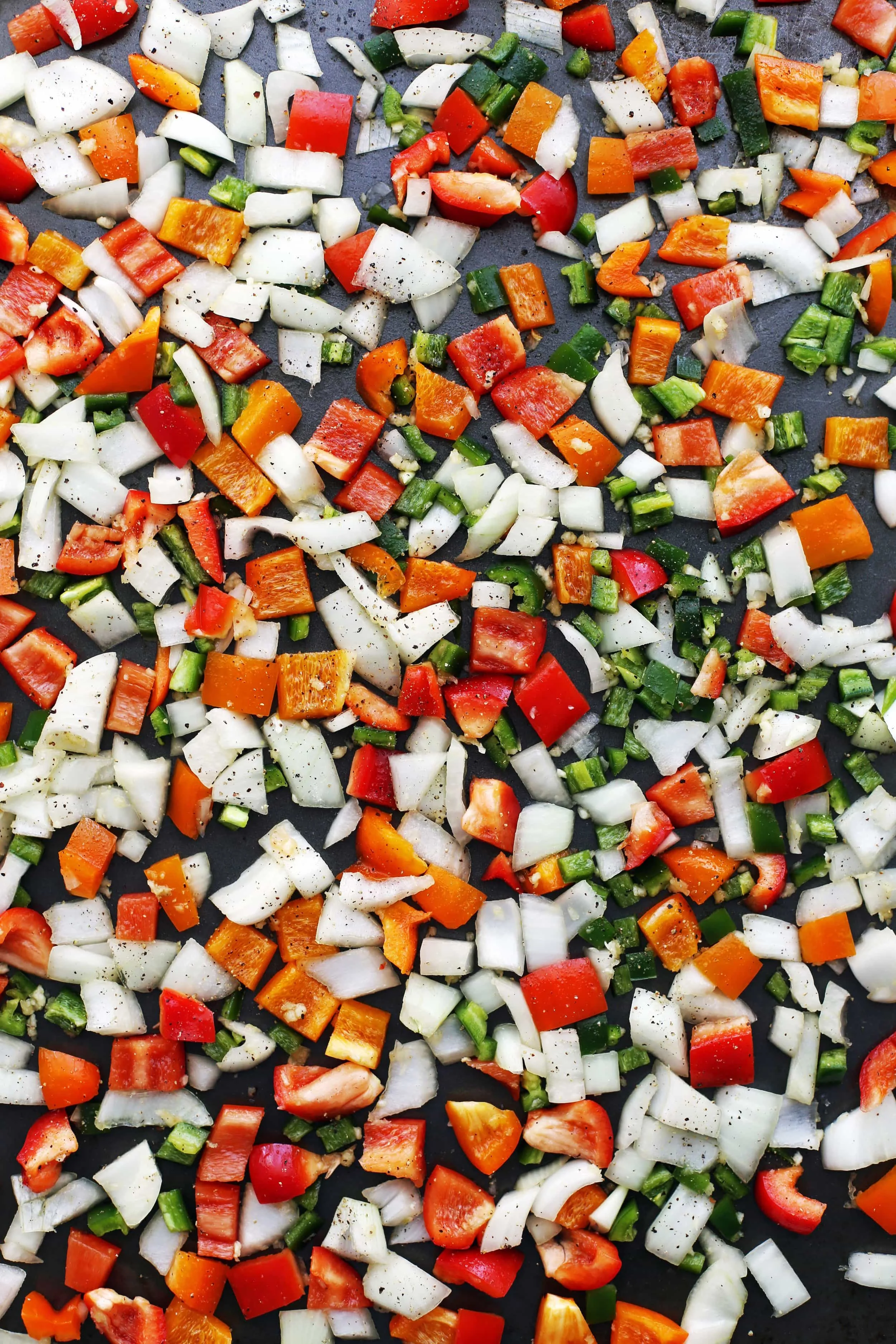 On another baking sheet, roast the peppers, onion, and garlic for 15-20 minutes, until tender and lightly charred.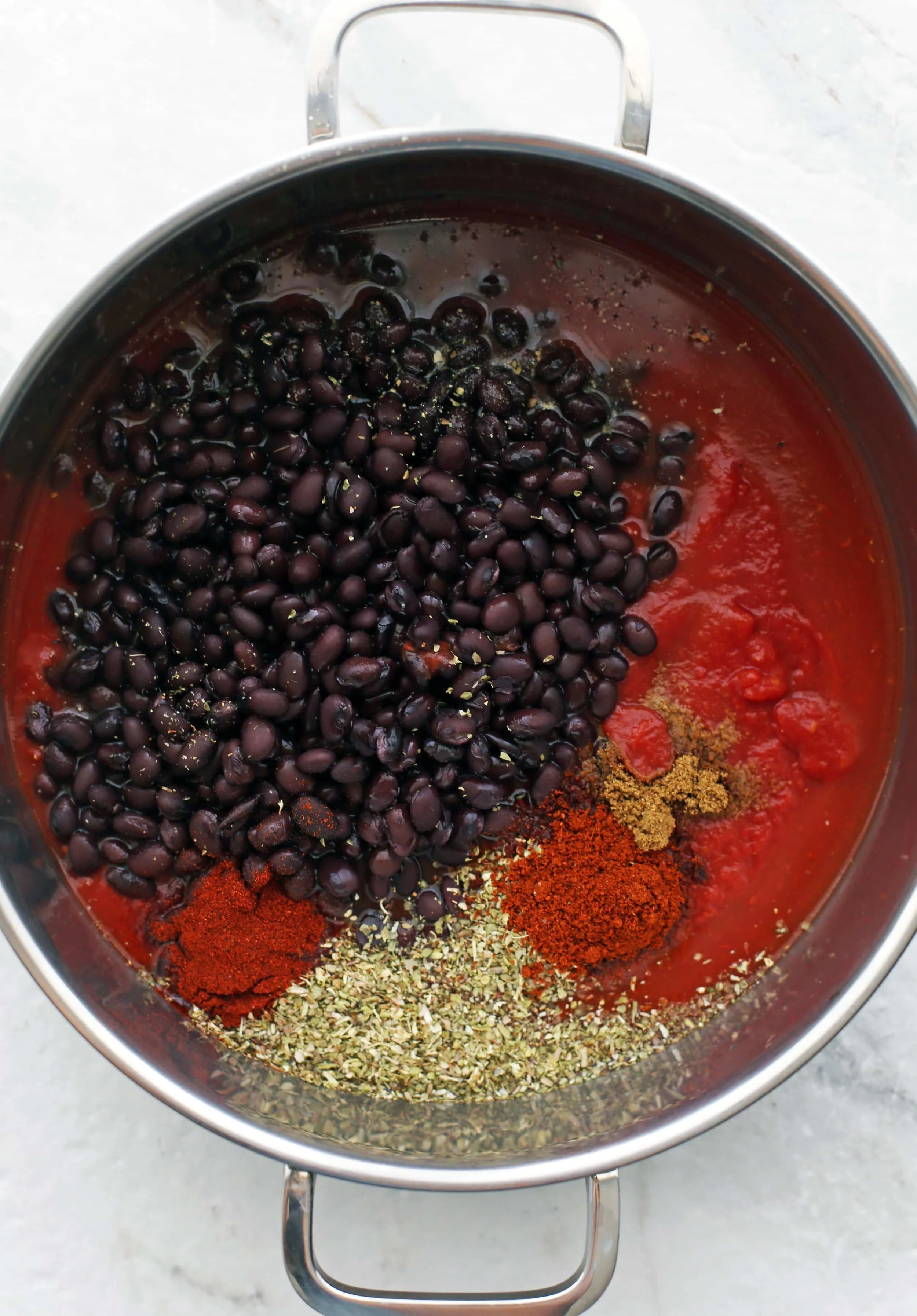 Drain and rinse your black beans, measure out the crushed tomatoes, vegetable broth, and spices and place in a large pot.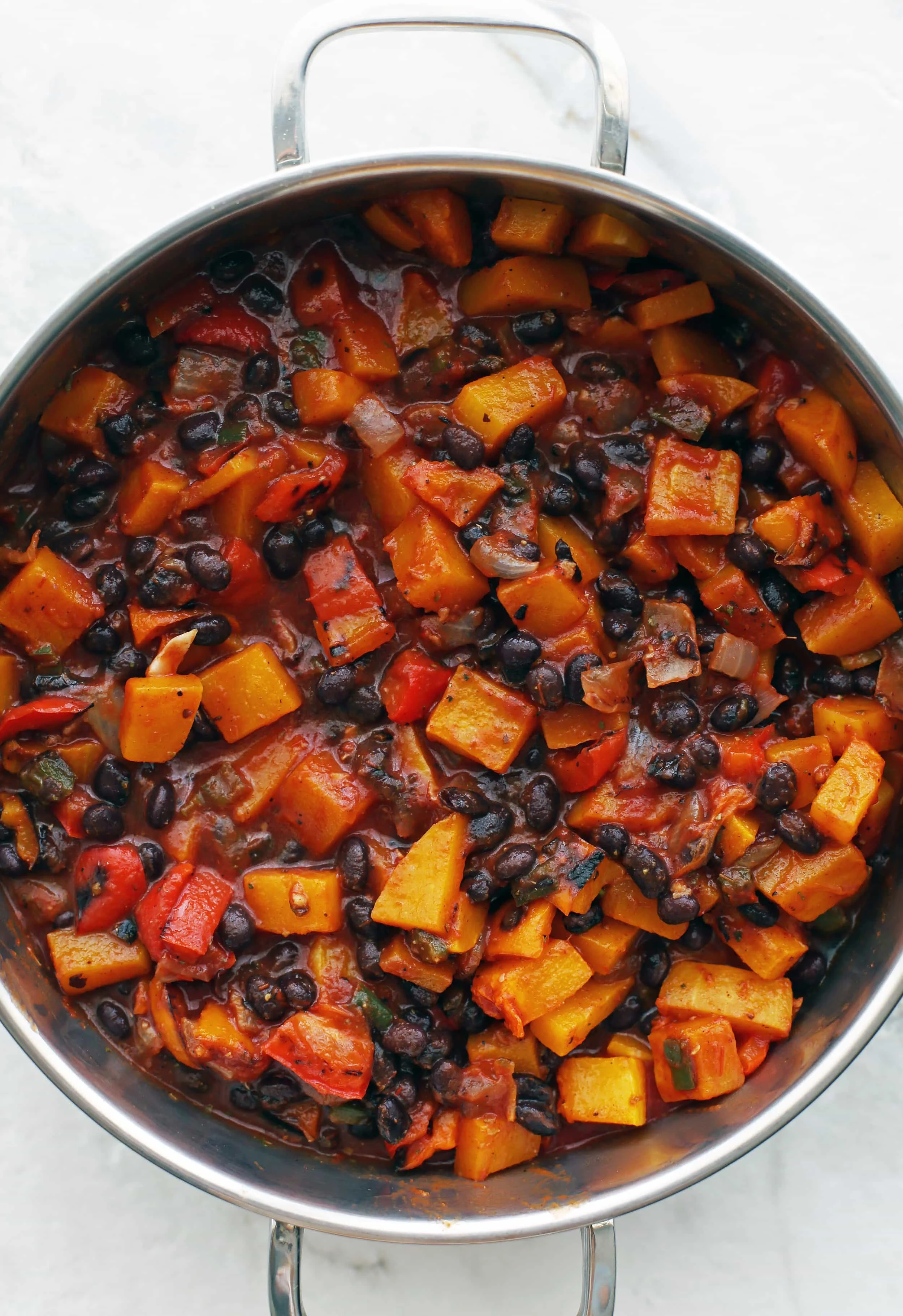 Combine the roasted butternut squash and vegetables with the rest of the ingredients. Bring to a boil before reducing the heat to a simmer for 15-20 minutes. Taste for additional salt pepper, and other spices.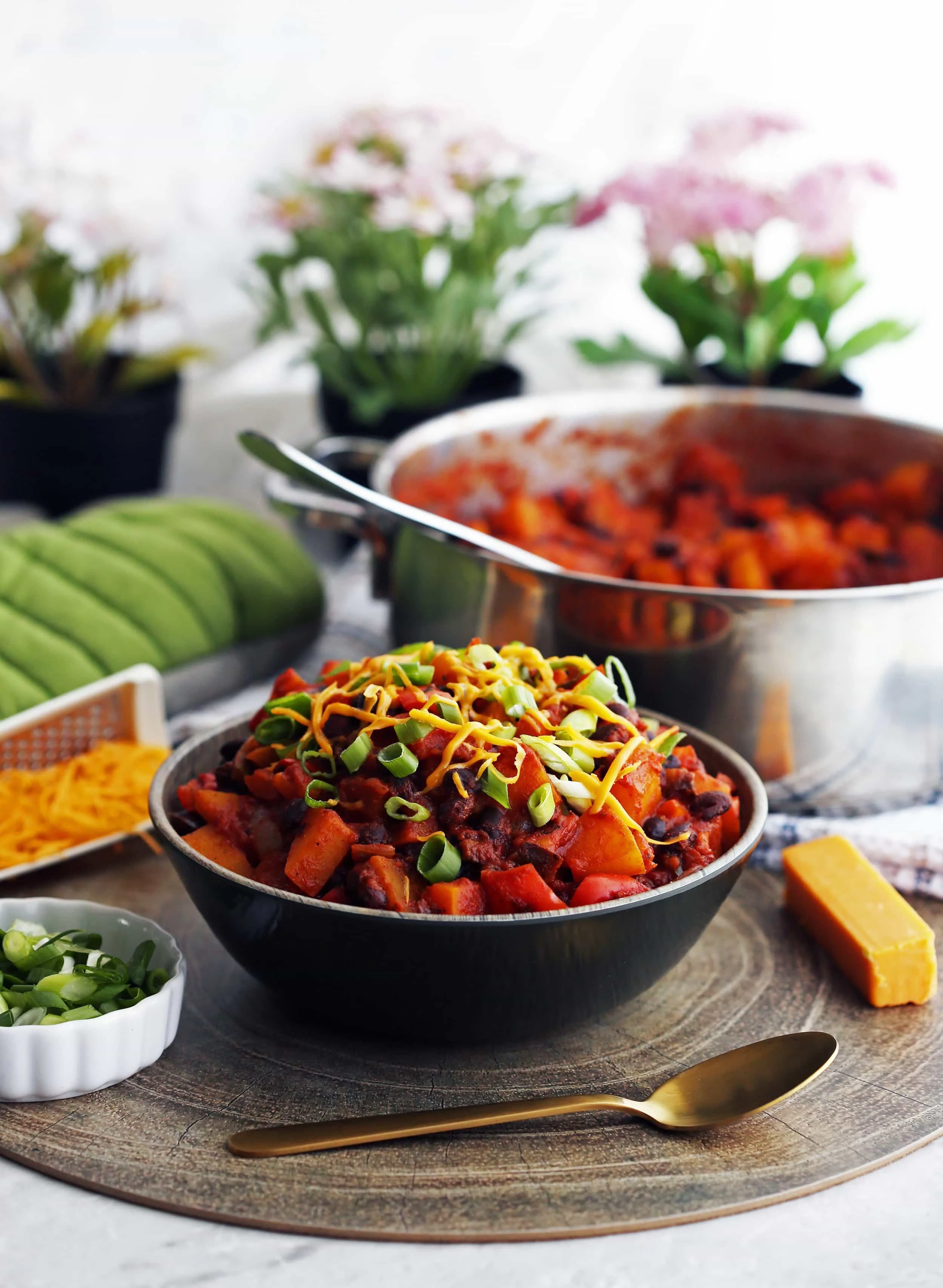 Scoop into bowls and add your desired toppings such as shredded cheese and green onions. Best served warm. Enjoy!
What's in this vegan chili recipe?
The main ingredient in this recipe is butternut squash.
This winter squash has a sweet, nutty flavour that is enhanced by roasting. Did you know that butternut squash is technically a fruit because it has seeds?
Not only does it have a lovely flavour when cooked, it is also healthy for you. For instance, it is rich in vitamin A, potassium, and dietary fiber.
The fibre and protein-rich black beans add bulk to the dish (you won't miss the meat), and the spices give the chili an extra hit of mild heat.
I like to use canned black beans. Since the beans are precooked, you save quite a bit of time in making this chili, as you don't have do the additional step of soaking and cooking dry beans. Simply drain the liquid and give the black beans are good rinse under cold water before adding to the chili.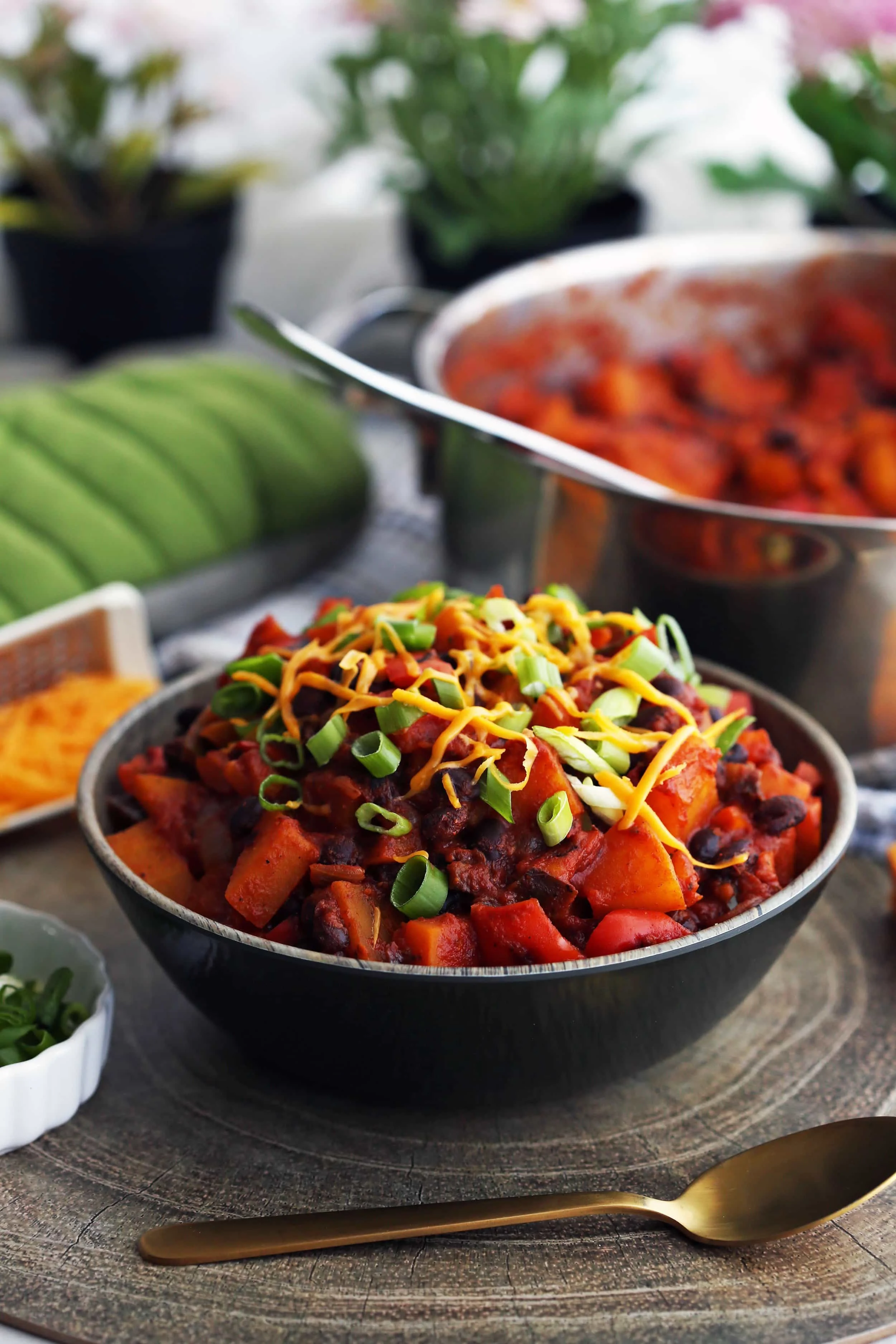 In addition, the accompanying roasted vegetables add a depth of flavour, a combination of sweet and spicy that's just so delicious!
Jalapeño peppers give this dish additional light spiciness (leave the seeds and ribs in for more heat if you like), while the bell peppers have a nice vegetal sweetness and mild flavour. I used red and orange ones, which have more sweetness than a green bell pepper.
The addition of fresh garlic and onion gives this chili that classic underlying savoury flavor and a subtle sweetness while crushed tomatoes, which is sweet and slightly sour, is so delectable.
A combination of dried spices gives this chili a little spicy kick, especially from the chili powder and cumin. The amount of spices I have in this recipe results in a mild (in spiciness) chili, but it's easy to ramp up the heat level according to your preferences.
Scoop in bowls and sprinkle with cheese and green onions if you like.These are optional ingredients, but it's sure tasty to add these toppings.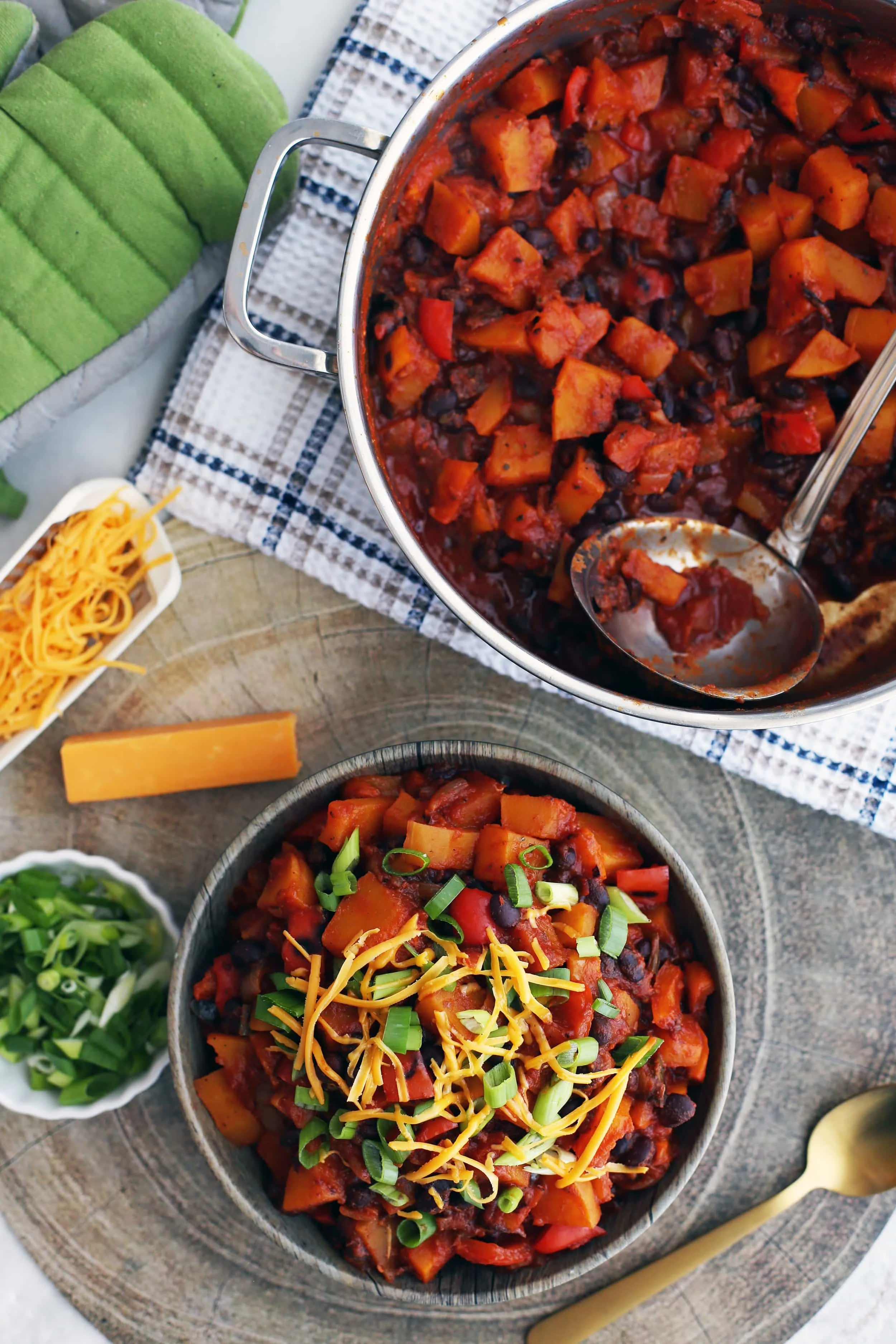 Check out these other chili and soup recipes that'll warm you up on cold day!
This flavourful butternut squash and black bean chili is:
Hearty and comforting
Filling and delicious
Quick and easy to make
Great for leftovers
Vegan and gluten-free
I hope you enjoy this vegan chili recipe!If you try out this recipe, please leave me a comment and rating below or tag me on any of my social media.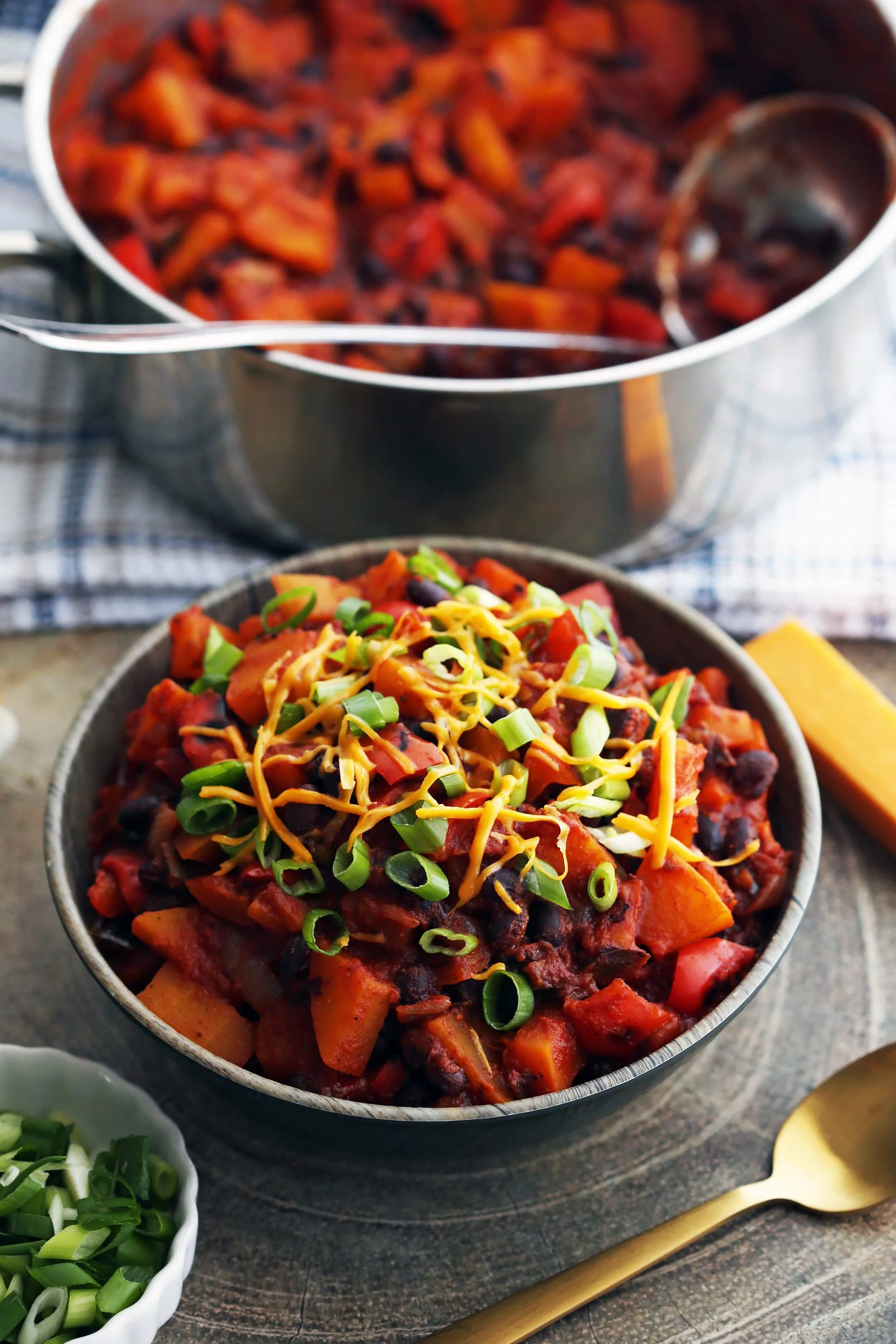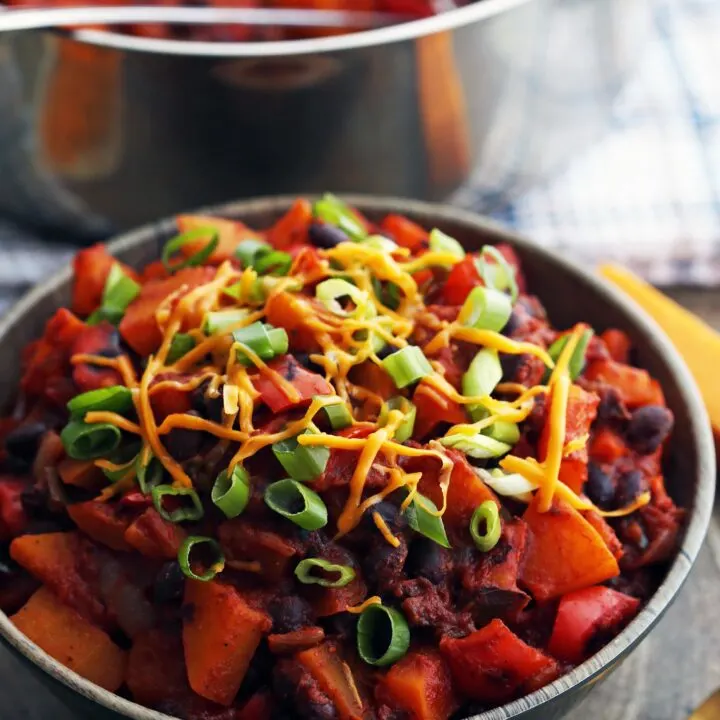 Roasted Butternut Squash and Black Bean Chili
Total Time:
1 hour
5 minutes
A hearty and healthy vegetarian chili recipe where roasting makes all the difference. Featuring sweet butternut squash, protein-rich black beans, and a mild spicy kick of jalapeno.
Ingredients
2 lb. butternut squash, peeled and chopped into ½ inch chunks
2 bell peppers, seeded and chopped
1 medium onion, chopped
2 jalapeño peppers, seeded and diced
3 garlic cloves, minced
3 tbsp olive oil
540 ml (19 fl oz) canned black beans, drained and rinsed
2 cups crushed tomatoes
1½ cups vegetable broth
2 tsp dried oregano
2 tsp chili powder
1 tsp sweet paprika
½ tsp cumin
Salt and pepper, to taste
Optional toppings: shredded cheddar cheese and chopped green onions
Instructions
Preheat oven to 425 degrees F.
Place the butternut squash on a baking sheet. Place the bell peppers, onions, jalapeños, and garlic on another large baking sheet.
Drizzle the vegetables with olive oil and season with salt and pepper. Mix the ingredients so that everything is coated and scatter the vegetables so that they do not overlap.
Roast the peppers and onions for 15-20 minutes and the butternut squash for 25-30 minutes, flipping and stirring once, until vegetables are tender and lightly charred on the edges.
After removing the vegetables from the oven, place the roasted vegetables into a large pot, and add the black beans, crushed tomatoes, vegetable broth, and remaining spices over top the vegetable. Stir carefully to combine the ingredients.
Bring the chili to a boil and then reduce the heat to a simmer for an additional 15-20 minutes.
Taste for additional salt and pepper. Serve immediately with shredded cheddar cheese, diced green onions, or other desired toppings.
Notes
The heat level in this recipe is mild. Adjust the spice levels according to your preferences.
Nutritional information represents one serving for a total of six servings.
Recommended Products
As a participant in the Amazon Services LLC Associates Program, I only link to products that I use and/or highly recommend. As an Amazon Associate, I earn from qualifying purchases if you purchase through these links at no additional cost to you.
Nutrition Information:
Yield:

6
Serving Size:

1
Amount Per Serving:
Calories:

267
Total Fat:

7.3g
Carbohydrates:

44.8g
Protein:

9.2g