Thursday means it's one day until Friday! The best day of the week! 😉 Then it's the weekend.
What are you up to? Party time? Netflix binge-watching? Sleeping all day? Celebrating Canadian Thanksgiving with your family and friends?
Whatever you're doing, I hope you have a wonderful weekend. I'll be spending Thanksgiving with the family as well as participating with Scott and his mom in a charity walk for the local Alzheimer Society in memory of Scott's grandpa.
Why not enjoy the weekend with some Applesauce Muffins?
These muffins were a big hit! They are warmly spiced and not-too-sweet. In addition, they're soft and tender with a little crunchiness from the chopped pecans on the inside.
The topping has a nice crunchy texture from the coating of sweetened and spiced pecan streusel. So so good!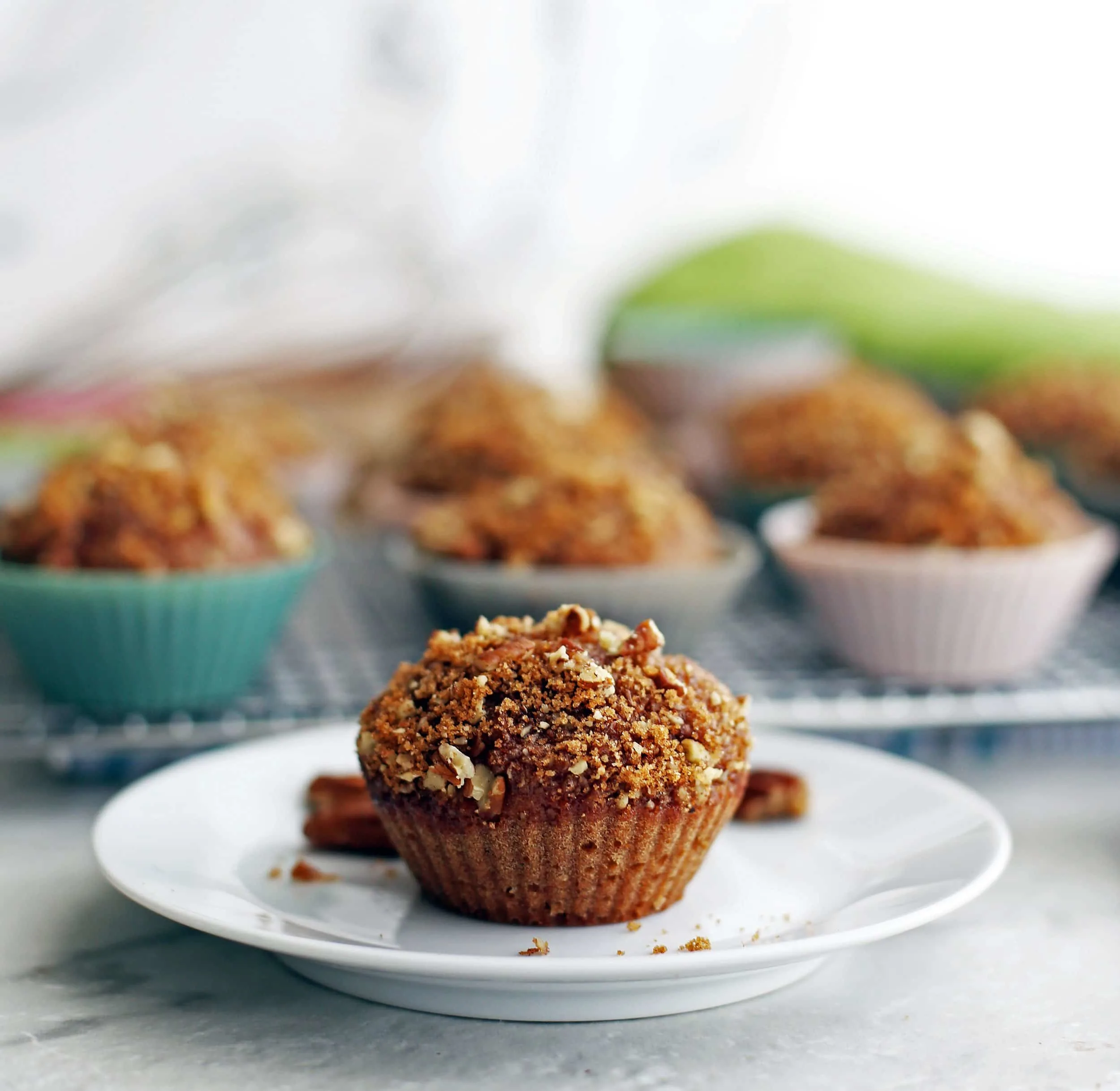 Besides the taste, these applesauce muffins are awesome because:
They are bit more healthier than regular muffins: Each muffin is around 190 calories and that includes the very tasty, crunchy, spiced brown-sugar pecan topping!

Why? No butter or eggs are used this recipe. Instead, there is a good amount of applesauce, which cuts down the fat and keeps the muffin nice and fluffy. It's also great for those that who allergic to eggs.

The unsweetened applesauce adds a nice sweetness and slight apple flavour to the muffins, but the spices are the most dominant flavour.
No stand mixer/electric mixer is required: Besides the ingredients, just a few mixing bowls, a whisk, a muffin pan or two, and of course, a heated oven, and a little patience. Not that much though, they only need to bake for around 20 minutes.
It is so shareable: It's really easy to pack up and bring to a get-together or to work.

To prevent myself from sitting down at home with a cup of coffee and a glass of milk and then going to town on eating all the muffins, I made Scott bring them to work. I heard that they were successfully delivered to work and given a big thumbs-up.
It's simple to put together.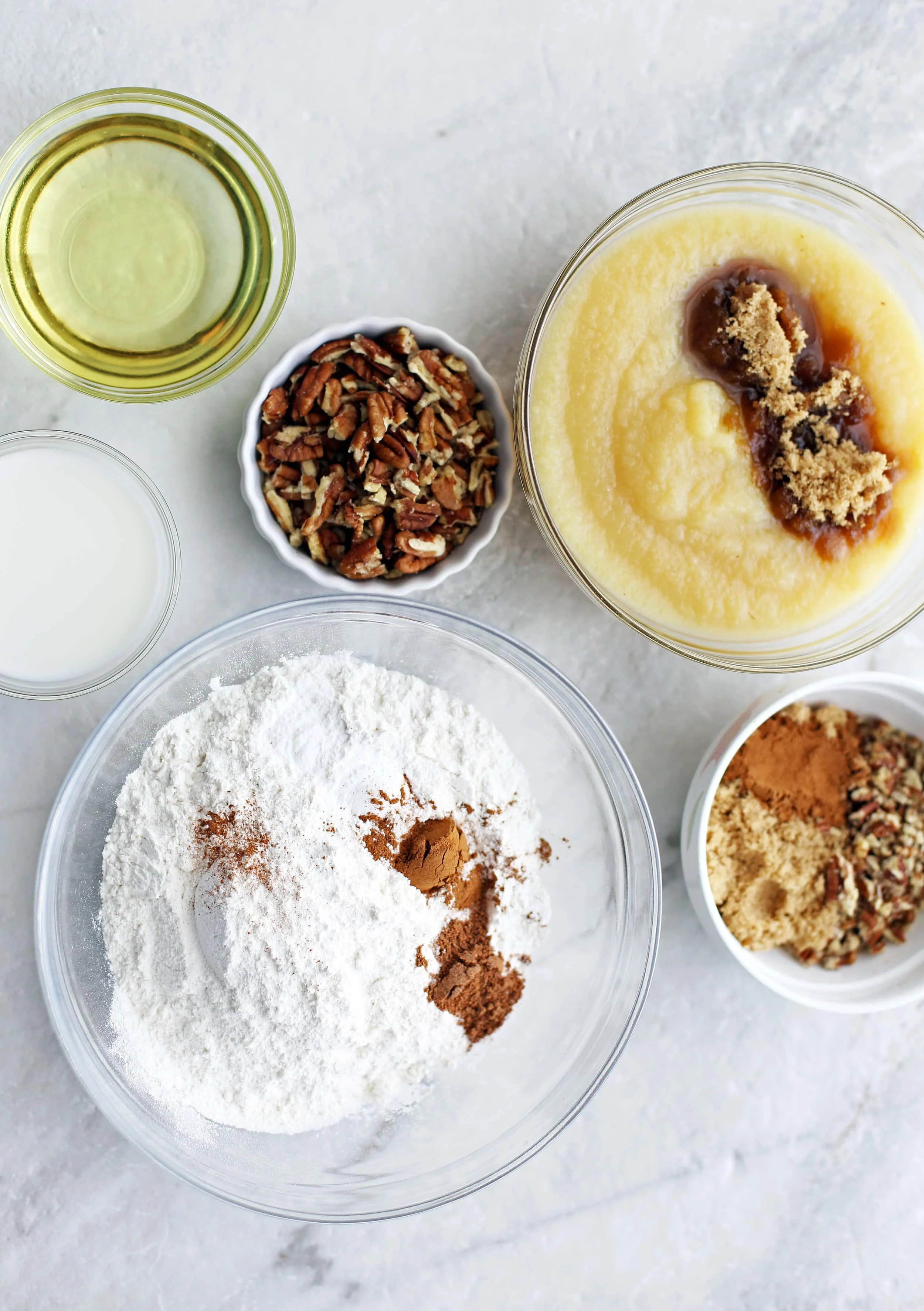 All the ingredients for these scrumptious muffins. (Exact amounts are listed below in the "Ingredients" list).
Measure out the ingredients into separate bowls. (Full instructions in the recipe card down below).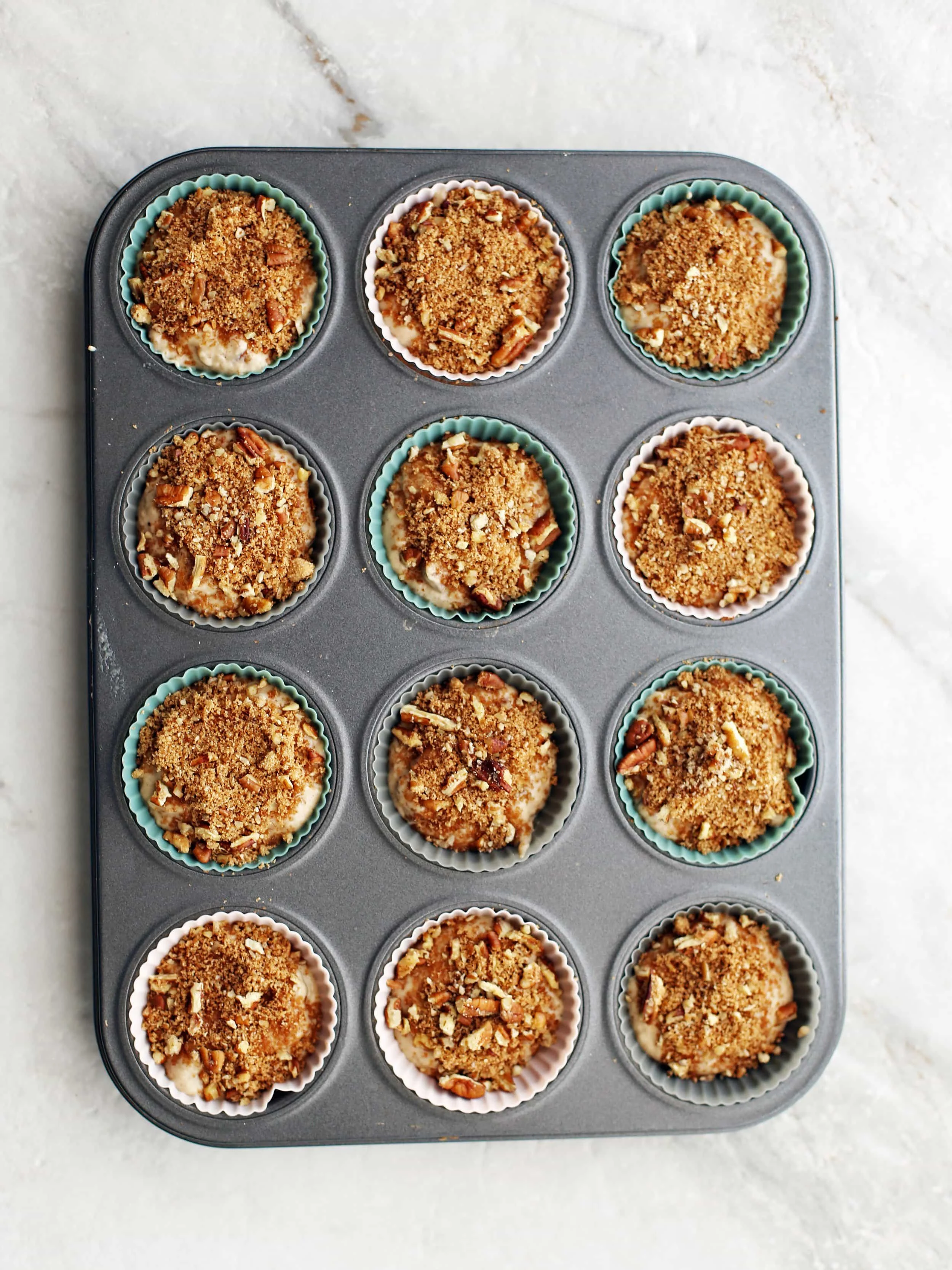 After the ingredients are combined together and the topping is placed on top, bake for 18-22 minutes until ready.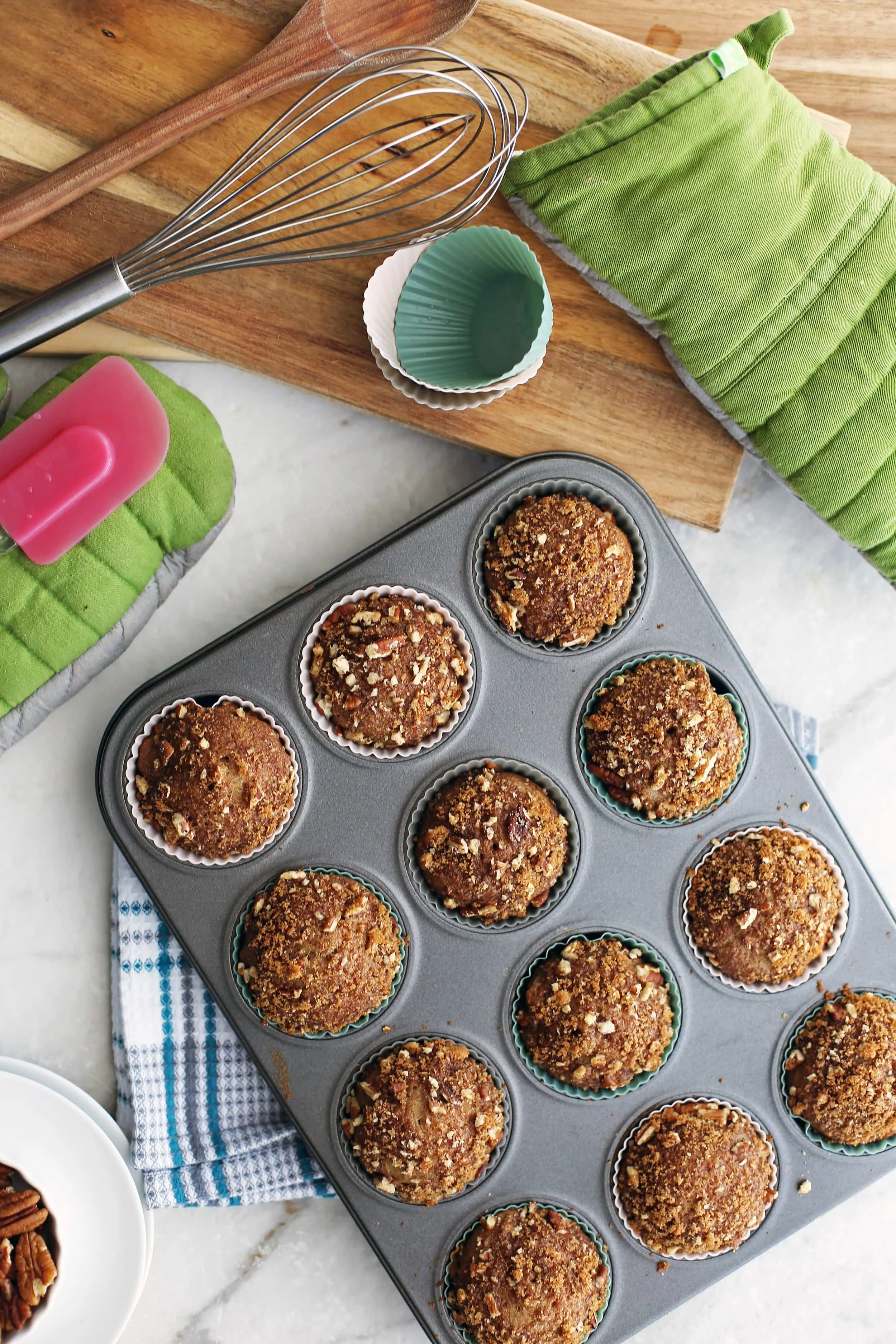 Let cool slightly before devouring one!
Here are a couple of helpful tips!
An important tip when baking these muffins is to use silicone cupcake/muffin liners. I almost always use silicone liners since I find that the muffins can be easily removed using them. They also tend to be inexpensive (I got a pack of 24 at IKEA), reusable, and easy to clean.
If you opt to use a paper liner, spray the inside of the liner with cooking spray or a light coating of oil before placing the batter into the cups.
It will make it easier to peel the liner away from the muffin without the muffin sticking to the liner. If you don't, half of the muffin will stick to the liner making it not fun to eat at all. Believe me.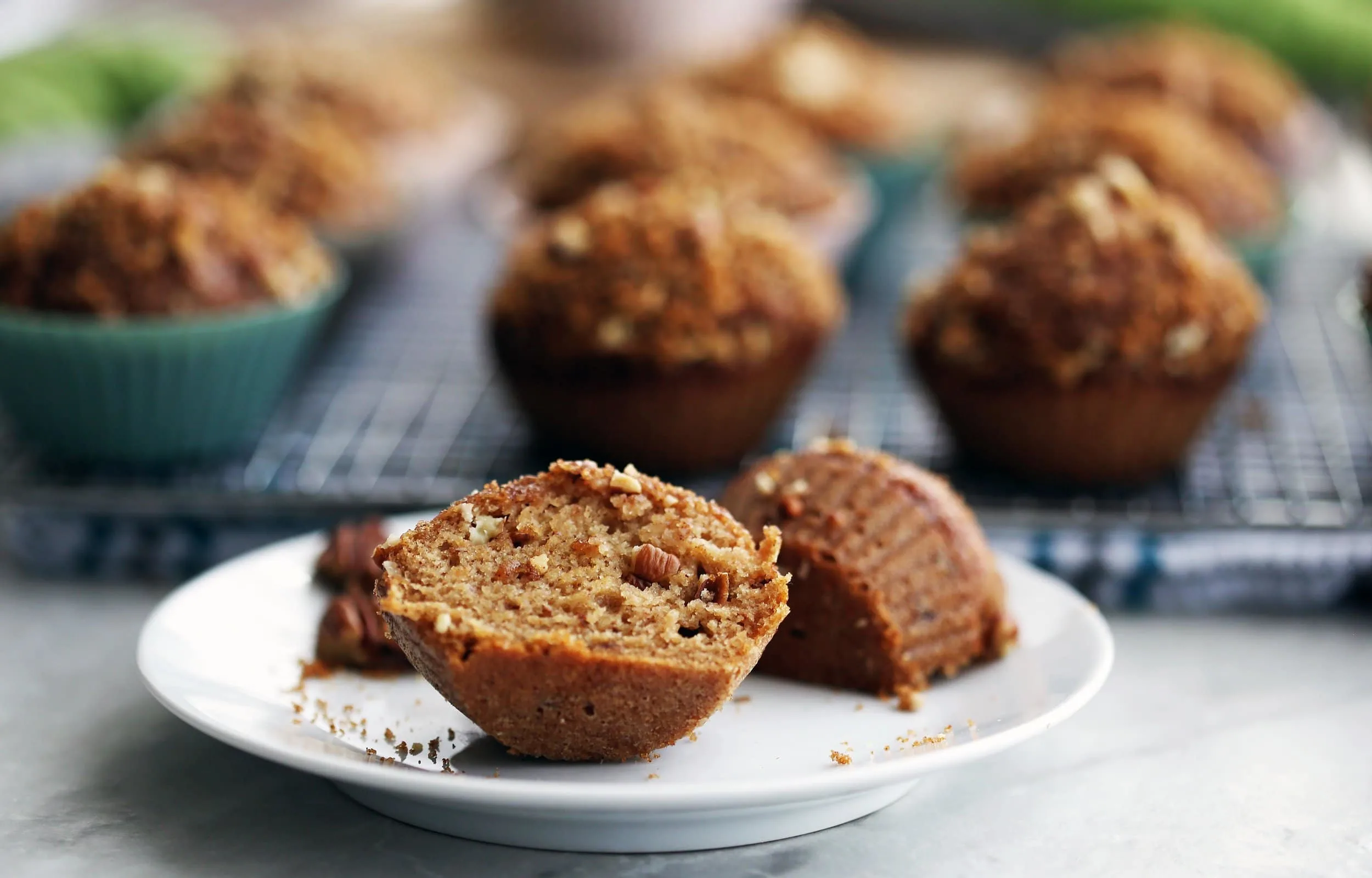 Want to check out more muffin recipes?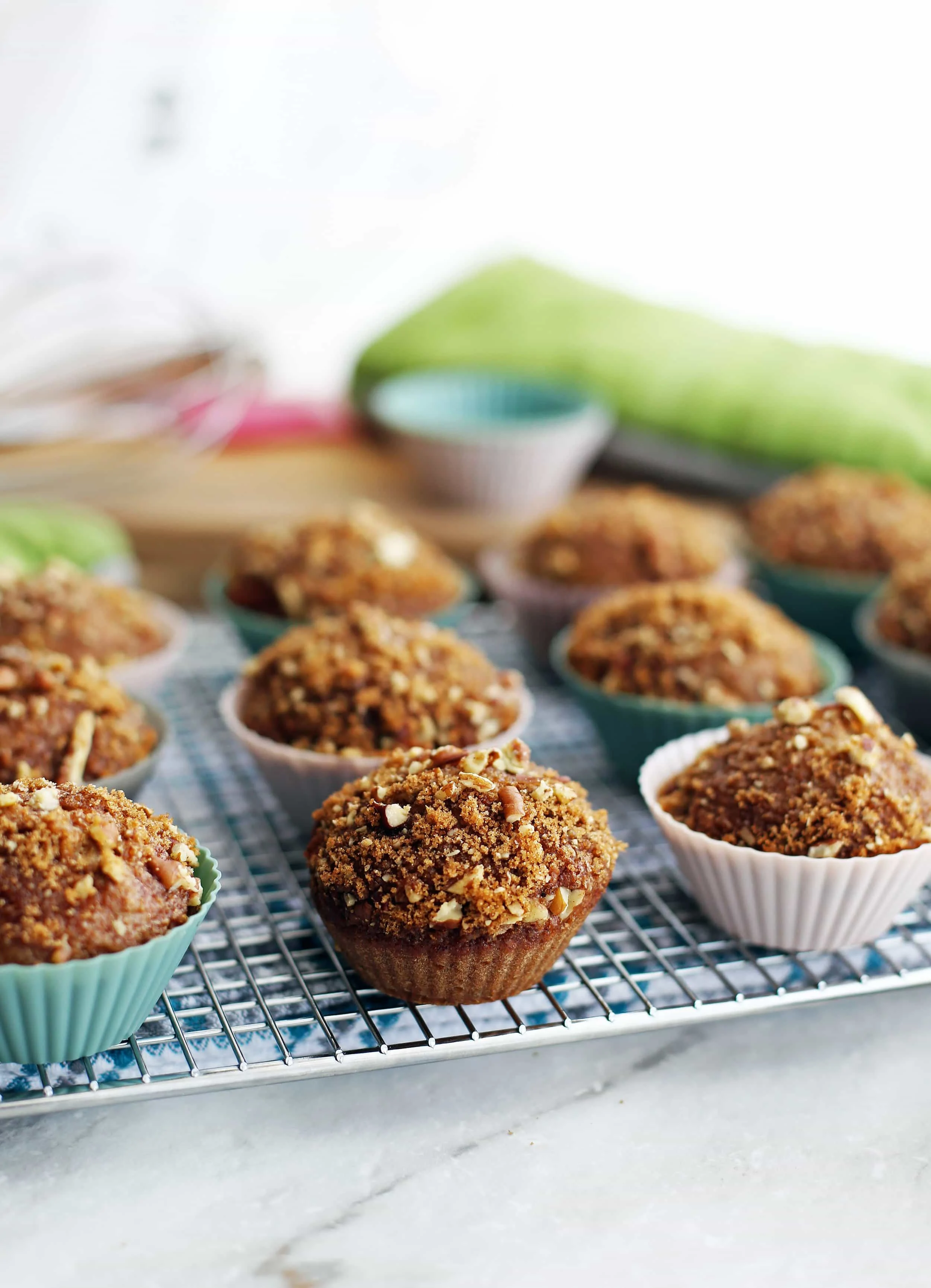 I hope you enjoy this recipe for applesauce muffins! If you make it, please comment below and let me know what you think of them! Or share with me on any of my social media.I'd love to see a picture!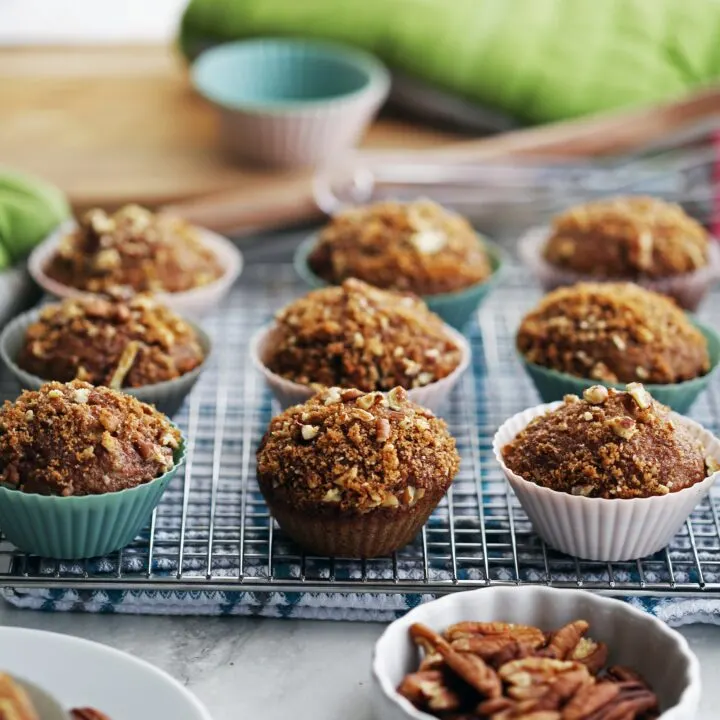 Crunchy-Top Cinnamon Pecan Applesauce Muffins
Check out these easy and delicious spiced muffins with crunchy pecan-brown sugar topping. It's made with applesauce and no butter or eggs! No electric mixer required and ready in under 35 minutes too.
Ingredients
For the muffins:
2 cups all-purpose flour
1½ tsp baking soda
1 tsp ground cinnamon
½ tsp ground nutmeg
¼ tsp salt
1¾ cup unsweetened applesauce
½ cup brown sugar, packed
½ cup vegetable oil
¼ cup milk
¾ cup pecans, chopped
For the topping:
¼ cup pecans, finely chopped
¼ cup brown sugar, packed
½ tsp ground cinnamon
Instructions
Preheat the oven to 350 degrees F. Line a large muffin pan with baking cups (liners). If using paper liners, spray the insides of the liners with cooking spray.*
In a large bowl, whisk together the flour, baking soda, cinnamon, nutmeg, and salt until well combined. Set aside.
In another bowl, whisk together the applesauce, brown sugar, oil, and milk until uniform in appearance. Then, pour the applesauce mixture into the dry ingredients and stir until the batter is smooth.
Fold in the pecans into the batter. Scoop the batter into each muffin pan cup until the cup is ¾ full.
In a small bowl, combine the topping ingredients together. Then evenly sprinkle the tops of each muffin with the topping.
Bake for 18-22 minutes, until a wooden skewer (or cake tester) comes out clean in the center. Let cool slightly before eating.
Notes
*Due to the nature of the batter, the muffin will stick to paper liners after it's baked unless you grease the insides of the liners with cooking spray or oil. I recommend getting silicone liners (they don't need to be greased). They're inexpensive, reusable, and easy to clean.
To store muffins 2-4 days: Completely cool the muffins, line an airtight storage container or a large Ziploc bag with a paper towel, place the muffins in a single layer, and then top with another paper towel before sealing. Store the bag at room temperature.
To store muffins for longer than 4 days: Completely cool the muffins, wrap each muffin with plastic wrap or aluminum foil, and place in a freezer bag before freezing. Thaw at room temperature or reheat in the microwave before eating.
Recommended Products
As a participant in the Amazon Services LLC Associates Program, I only link to products that I use and/or highly recommend. As an Amazon Associate, I earn from qualifying purchases if you purchase through these links at no additional cost to you.
Nutrition Information:
Yield:

18
Serving Size:

1
Amount Per Serving:
Calories:

185
Total Fat:

10g
Saturated Fat:

1g
Trans Fat:

0g
Unsaturated Fat:

9g
Cholesterol:

0mg
Sodium:

142mg
Carbohydrates:

22g
Fiber:

1g
Sugar:

10g
Protein:

2g