Happy New Year! I can't believe that it's already 2018!
I've set some personal goals: eat healthier, stay active, and don't sweat the small stuff.
All these goals are hefty, especially the last goal as I'm a compulsive worrier. As I get older, I'm getting a little bit better at letting things go and seeing that things are often not as bad as they seem.
What goals or New Year's Resolutions do you have for the New Year?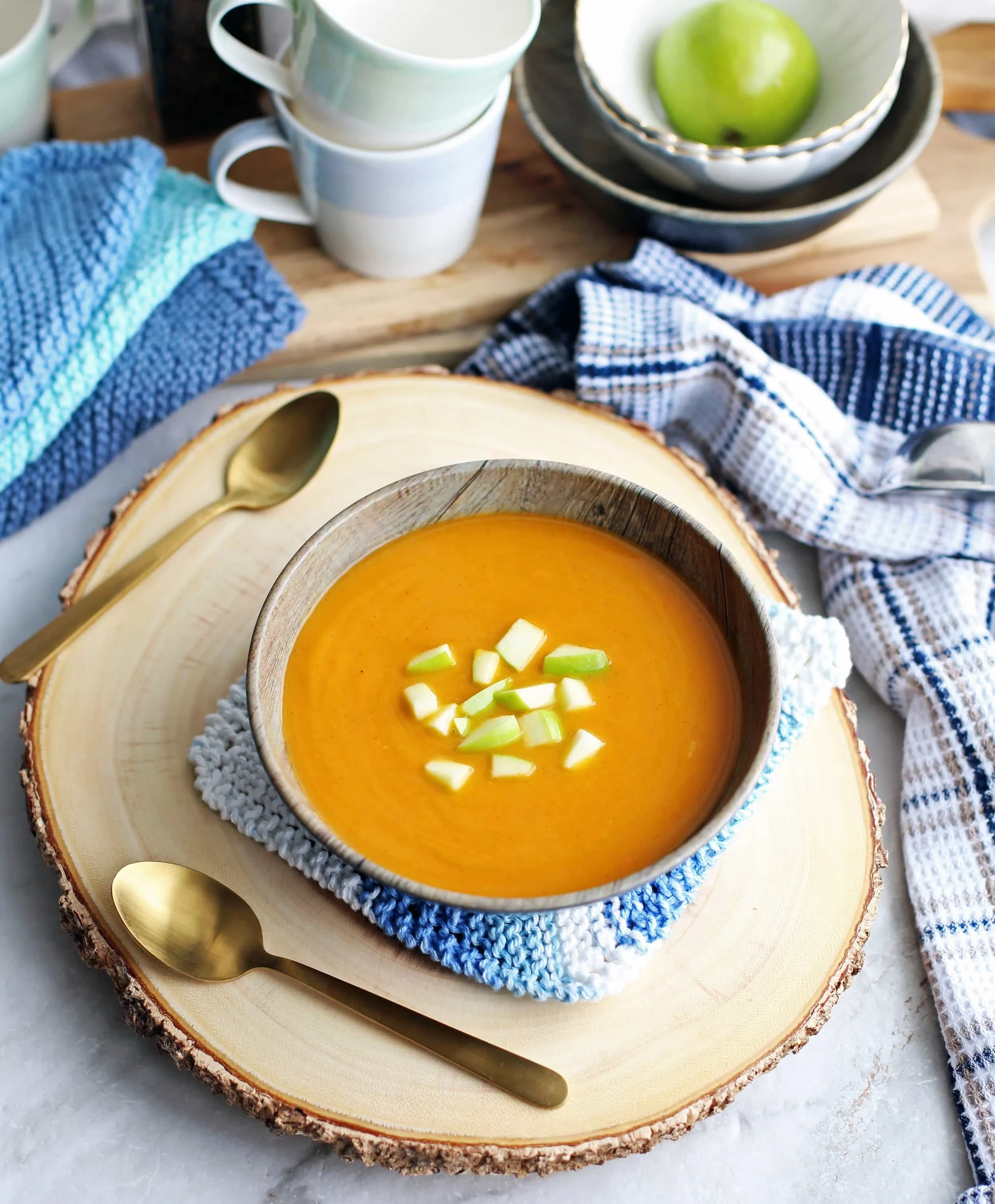 Like most of Canada and parts of the United States, we've been experiencing freezing, blistering temperatures with wind chills of minus 40 degrees!
So cold and dreadful, but luckily, the weather has been a lot warmer lately. What's the weather like in your city? I hope you're staying safe and warm.
For me, wintertime means an abundance of winter squashes (hence the name). My favourite of all the squashes is butternut squash.
Not only is it wonderful all roasted-up to bring out its inherent sweetness and nutty flavour, butternut squash is amazing to use as the main ingredient for a healthy and heart-warming soup especially when it's snowy and super chilly outside.
It's doubly comforting when you have a cold too. Believe me, I've had a cold for over a week that I just can't seem to shake.
Check out these two recipes where using roasted butternut squash: Roasted Butternut Squash and Apple Kale Salad with Lemon Vinaigrette and Roasted Butternut Squash and Brussels Sprouts with Pecan and Dried Cherries.
Of course, I've been Instant Pot-ing (does anyone say this?) away… making warm Instant Pot soups and stews a-plenty (a couple are on this site already: Hearty Vegetable and Brown Rice Soup and Chinese Five Spice Beef and Vegetable Stew and more are on the way) and this recipe is no exception.
I hope you enjoy this recipe for Instant Pot Butternut Squash Apple Ginger Soup!
How do you make this comforting soup?
(Full ingredient amounts and complete instructions below in the recipe card).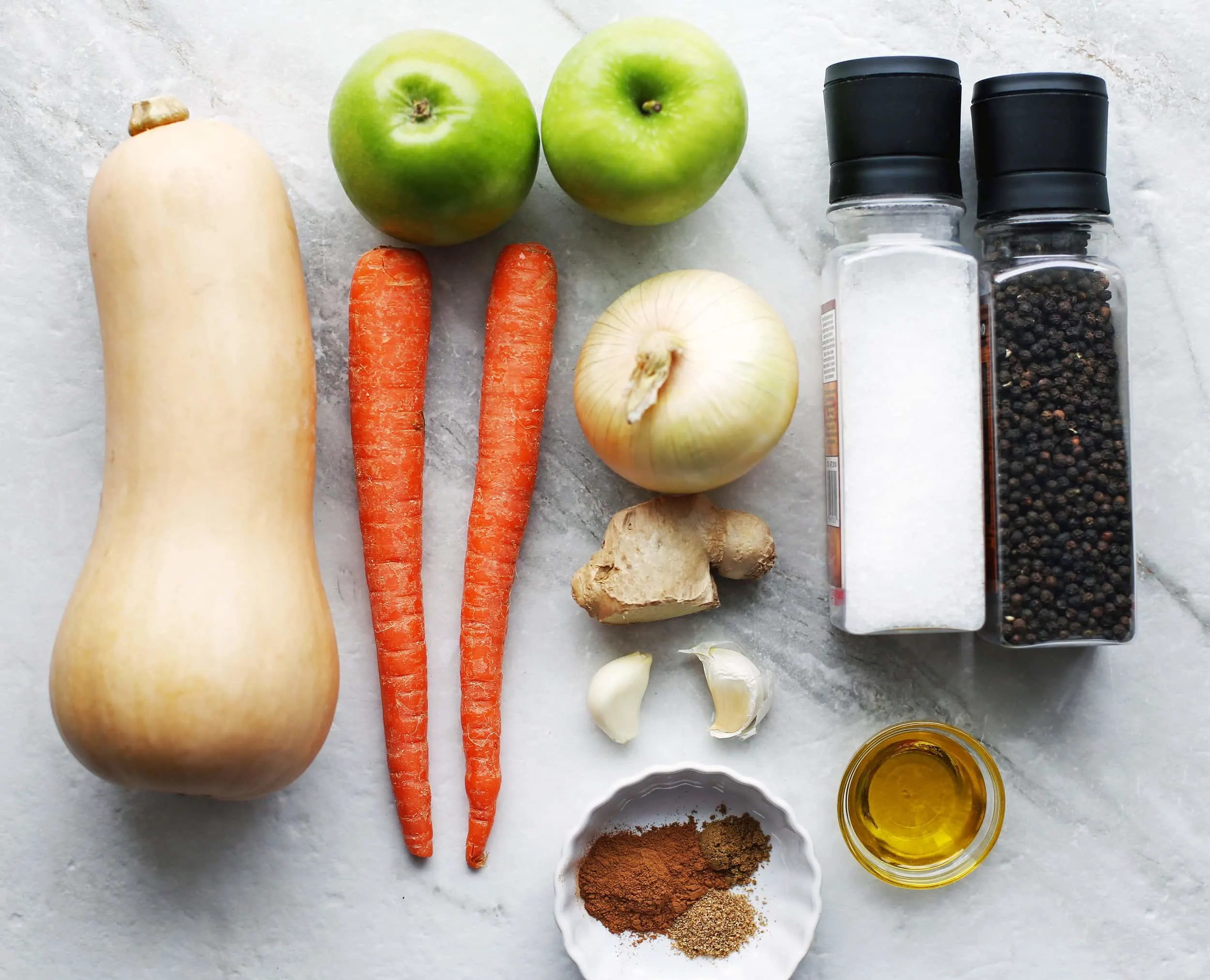 All the ingredients for this soup (minus the vegetable broth/water).
A popular pairing with butternut squash is granny smith apples. The tartness of these green apples goes so well with the squash.
Along with aromatic onion and garlic, there is fresh ginger, ground cinnamon, cumin, coriander, salt and pepper.
These ingredients give the soup a nice warmth that's a little spicy, sweet, citrusy (especially from the coriander) and very aromatic.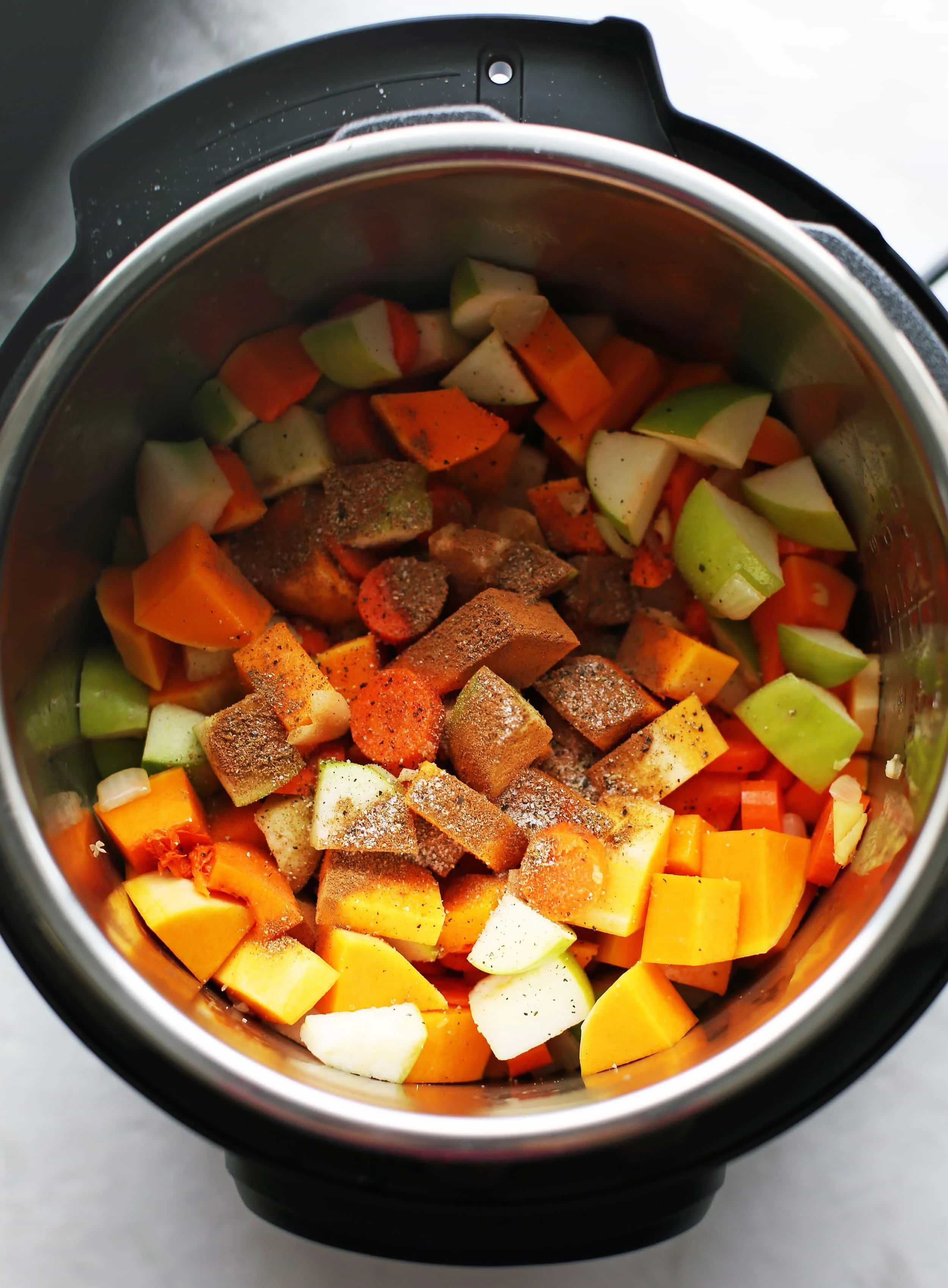 Pour in olive oil and sauté the onion until soft and browned. Add in the garlic and ginger and stir for another minute. Add the remaining ingredients (e.g. spices) into the pot.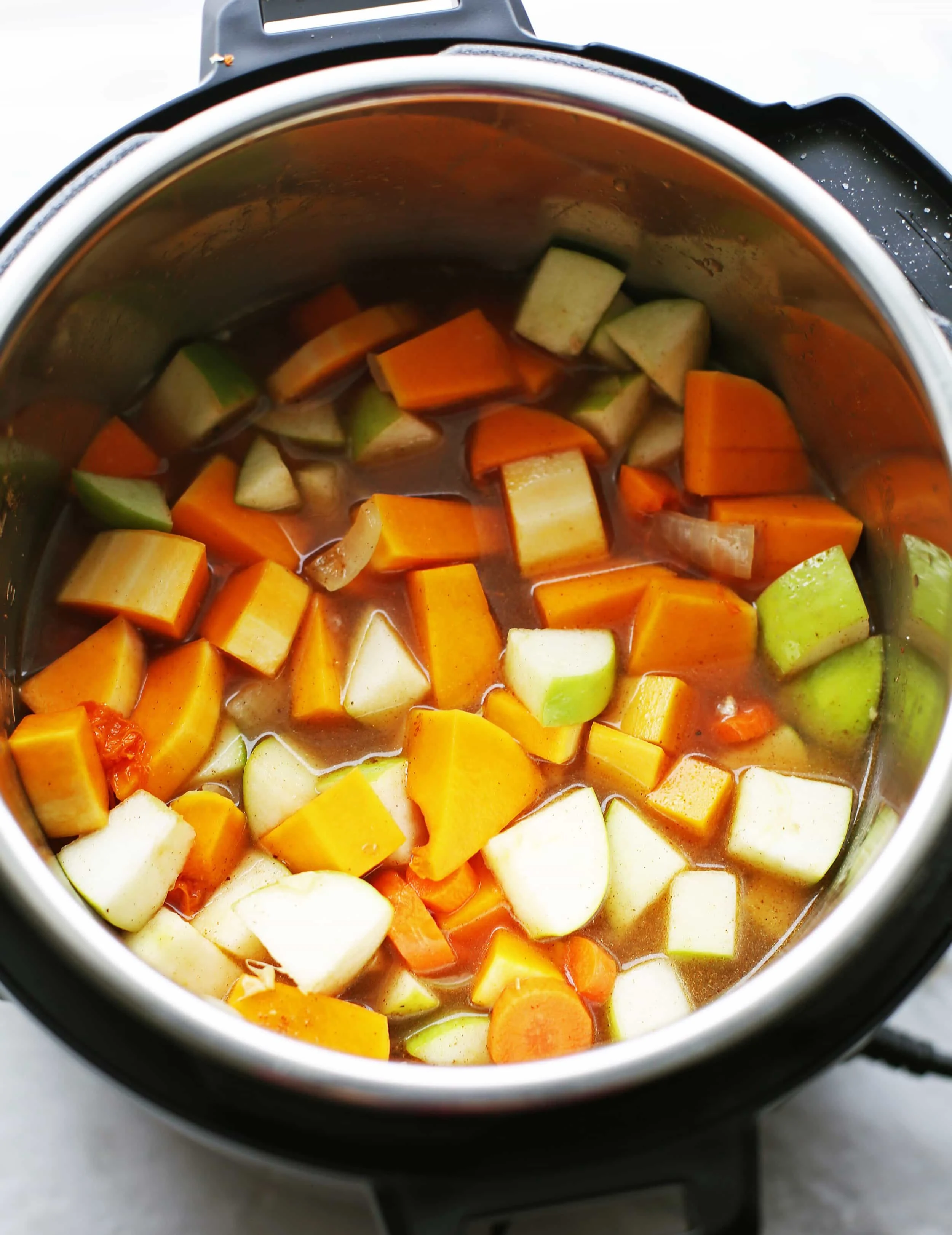 Pour in the broth and season with salt and pepper. Give the ingredients a good stir to distribute throughout the pot.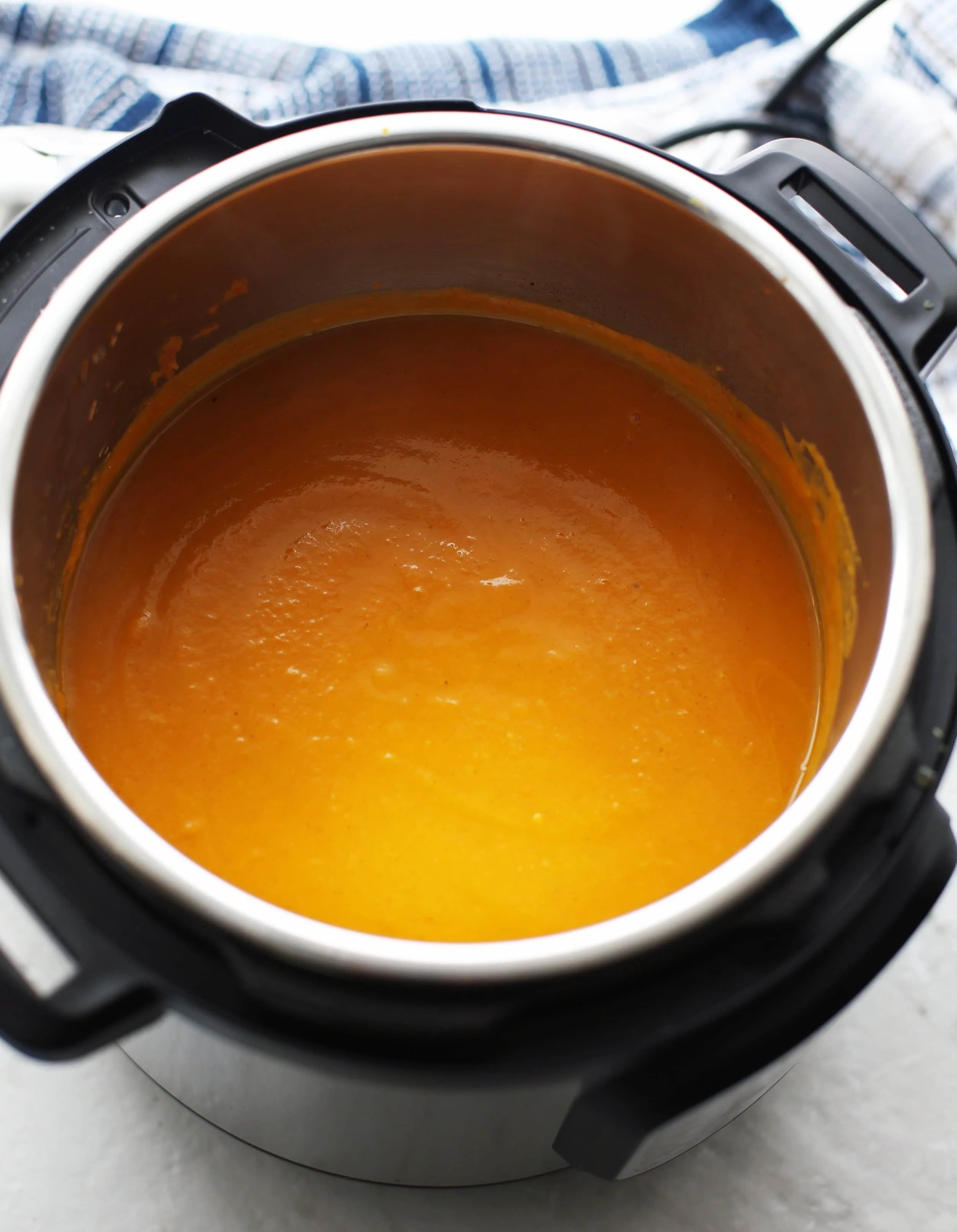 Cook for 8 minutes under high pressure for the vegetables and apple to completely tenderize and for the flavours to combine together. Then it's ready to puree and eat!
Looking for more Instant Pot Soup Recipes?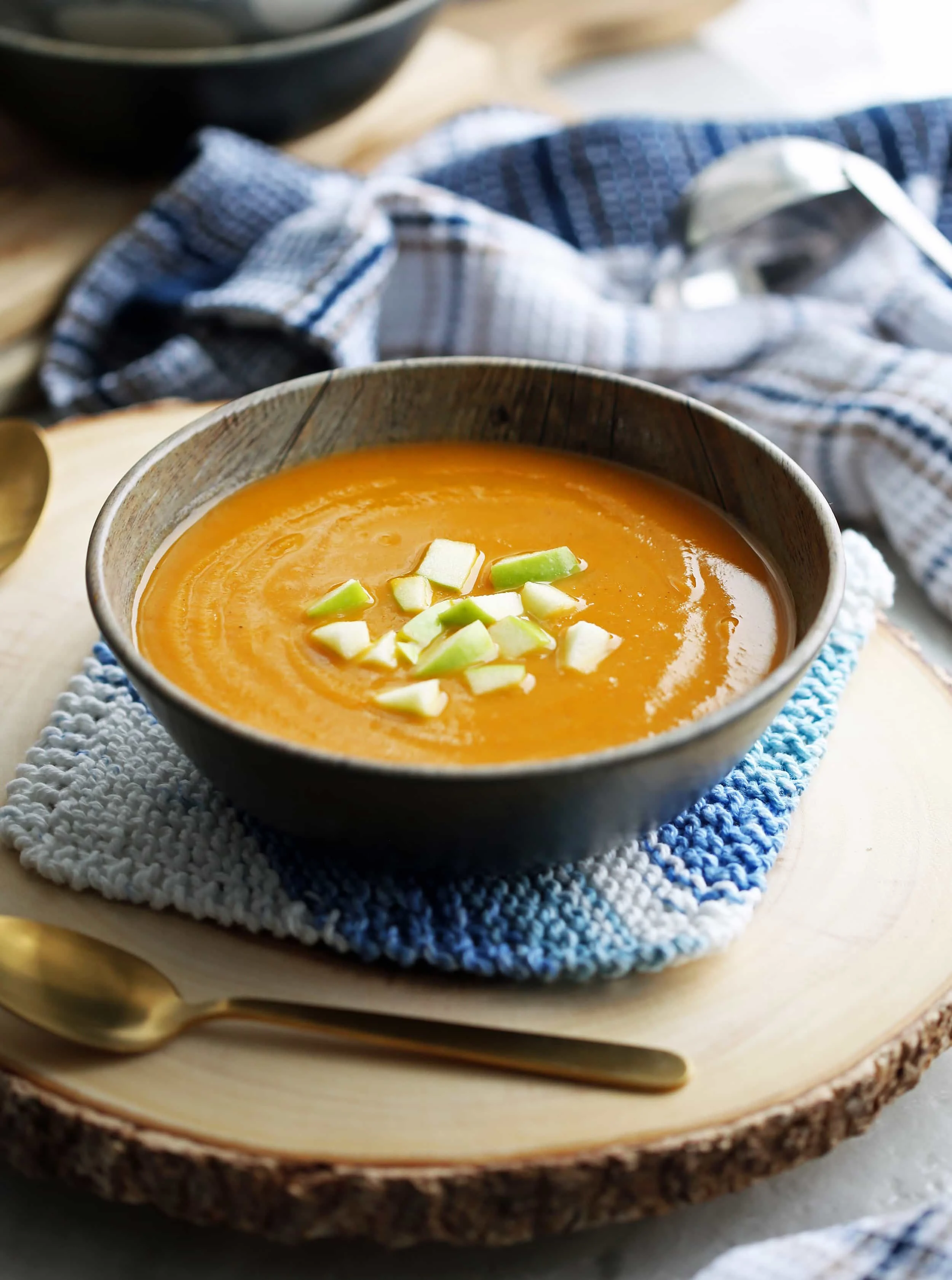 This Instant Pot butternut squash soup is:
Healthy and delicious – it's savoury, has a bit of sweetness and tartness, and a little kick from the spices.
Filling and satisfying, but not heavy.
Thick and creamy (without the cream).
Simple and easy to make.
Vegan and gluten-free.
I hope you try this recipe! If you do, please leave me a rating and comment down below or tag me on any of my social media. I'm @yay_for_food on Instagram. I'll love a picture!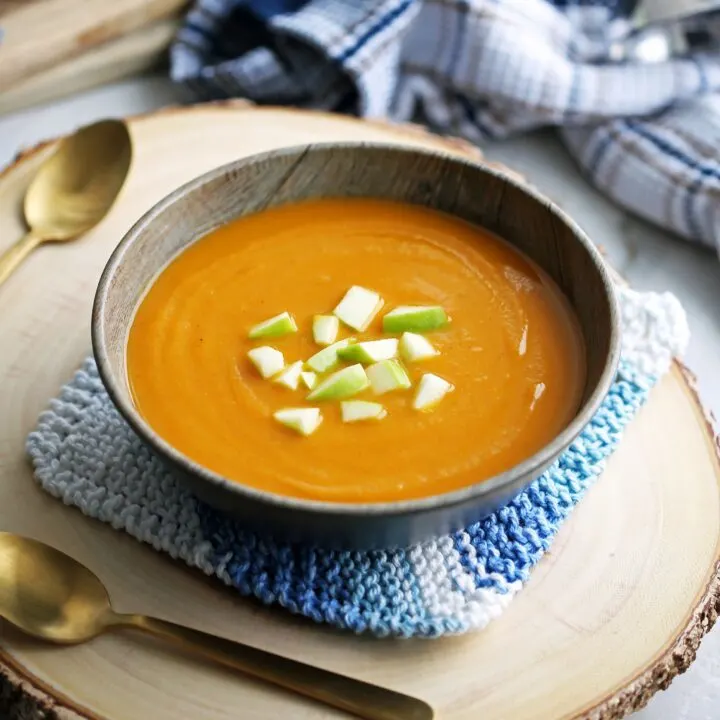 Instant Pot Butternut Squash Apple Ginger Soup
Warm up with a hot bowl of delicious and healthy Butternut Squash Apple Ginger Soup! It's vegan and gluten-free too.
Ingredients
1 tbsp olive oil
1 medium onion, chopped
2 tbsp fresh ginger, minced
2 garlic cloves, minced
2 lb. butternut squash, peeled, seeded, and chopped
2 granny smith apples, cored and chopped
2 medium carrots, peeled and chopped
1 tsp ground cinnamon
¼ tsp ground cumin
¼ tsp ground coriander
4 cups vegetable broth or water (or combo of both)
salt and pepper, to taste
Optional topping:
Instructions
Set the Instant Pot to "sauté". Add the olive oil and onion to the pot, stirring until soft and browned, about 4-5 minutes. Add in the garlic and ginger and stir for another minute.
Press "cancel" to turn off the Instant Pot. Add the remaining ingredients into the pot (except the optional topping).
Season generously with salt and pepper. Give the ingredients a good stir to distribute throughout the pot.*(see first note)
Seal the Instant Pot and cook at high pressure ("manual"/"pressure cook" function) for 8 minutes. After the soup is ready, allow natural pressure release for at least 10 minutes before a quick pressure release to completely depressurize (until floating valve drops).
Open the Instant Pot and give the soup another stir. **(see second note)
Using an immersion blender ***(see third note), blend the soup until it is completely smooth.
Taste for additional salt and pepper (or other seasonings) and top with diced apples if you like. Enjoy.
STOVETOP INSTRUCTIONS: In a large pot or Dutch oven, follow Steps 1-3. Then bring the soup to a boil and simmer on the stove for 30 minutes or until the butternut squash and apple is very tender. Then follow Steps 5 and 6.
Notes
*The liquid should just cover the top of the ingredients. Add more broth or water if necessary.
**If you find that there is too much liquid in the pot, carefully ladle out excess broth before blending. You can always add it back in to thin out the soup if needed.
***You can also blend in a high-powered blender in small batches. Careful as the soup is hot and it may splatter.
Nutritional calories represent one serving (excluding optional toppings) with eight servings total.
Recommended Products
As a participant in the Amazon Services LLC Associates Program, I only link to products that I use and/or highly recommend. As an Amazon Associate, I earn from qualifying purchases if you purchase through these links at no additional cost to you.
Nutrition Information:
Yield:

8
Serving Size:

1
Amount Per Serving:
Calories:

104
Total Fat:

2g
Saturated Fat:

0g
Trans Fat:

0g
Unsaturated Fat:

2g
Cholesterol:

0mg
Sodium:

384mg
Carbohydrates:

22g
Fiber:

6g
Sugar:

8g
Protein:

2g