This Roasted Asparagus and Radish Salad is a really easy to prepare, simple, delicious, and filling!
Roasting the two main vegetables brings out a lovely flavour and crisp-tender texture that you can only get from preparing them this way.
The quick to assemble dressing is super creamy and full of tasty garlic and lemon flavour too! The perfect accompaniment to this spring-time salad.
I hope you enjoy this delicious salad recipe!
How do you make this Asparagus and Radish Salad?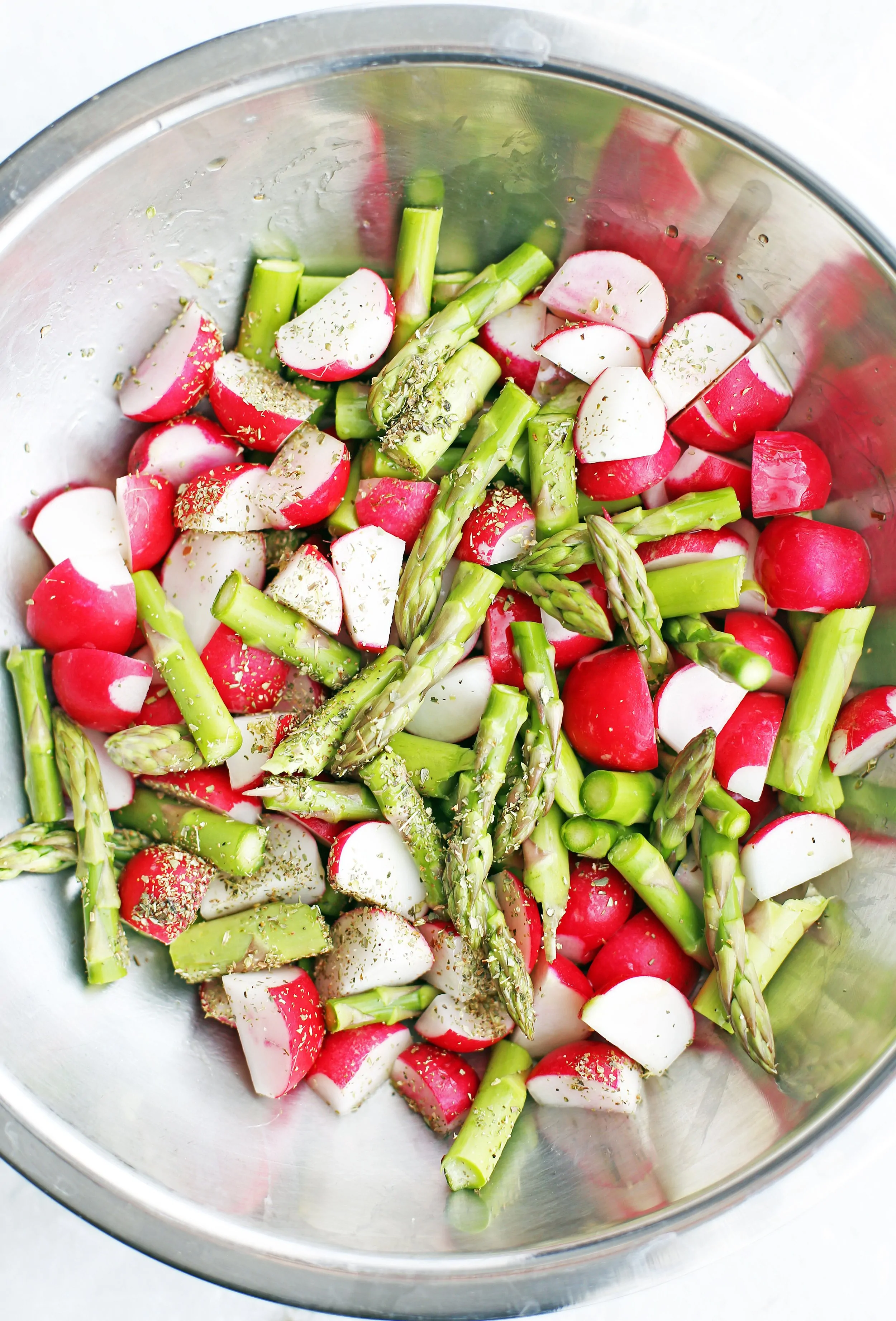 Toss chopped asparagus and radishes with dried oregano, salt, pepper, and olive oil in a large bowl.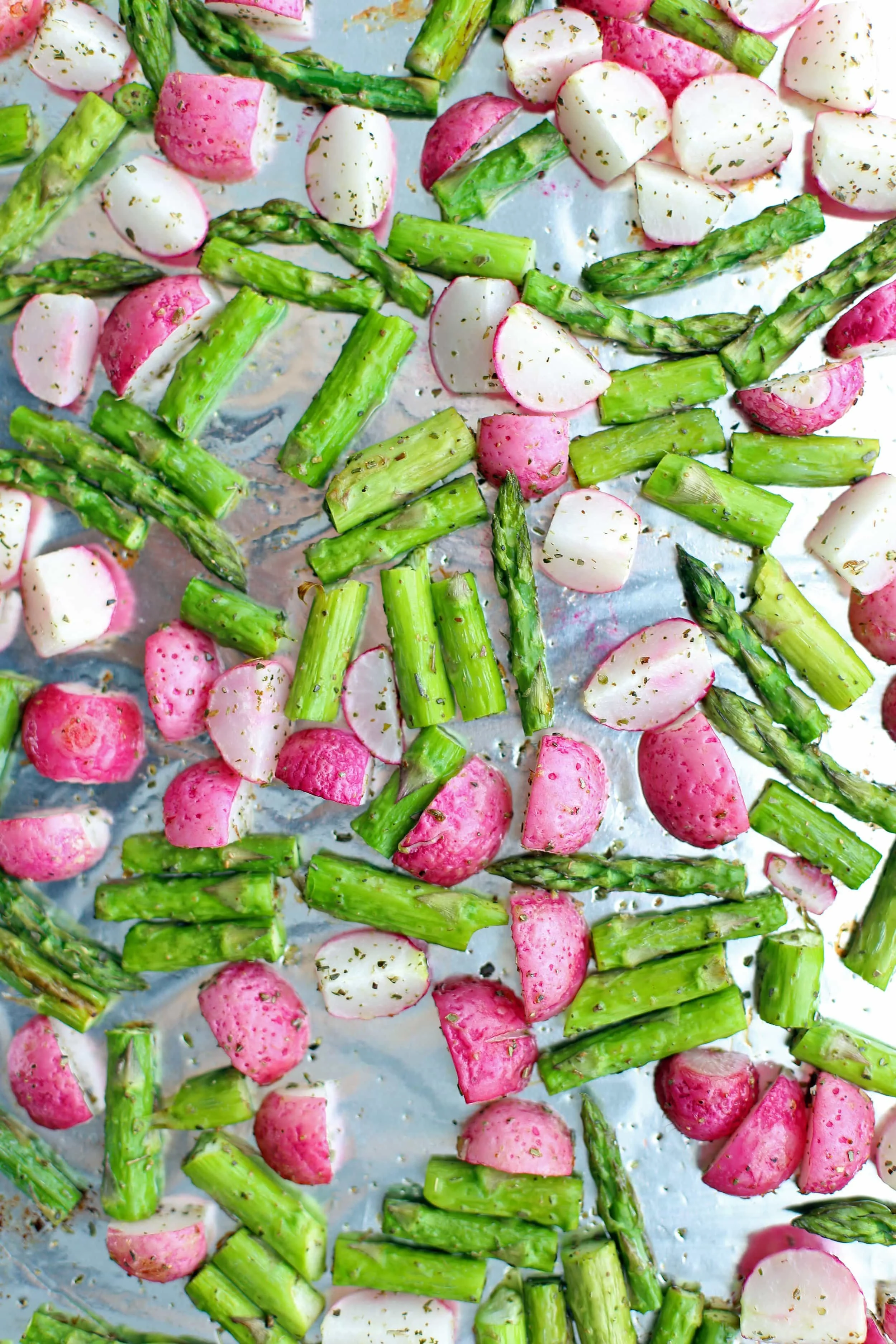 Preheat the oven to 400 degrees F. and roast the vegetables on a baking sheet until tender-crisp, about 12-15 minutes.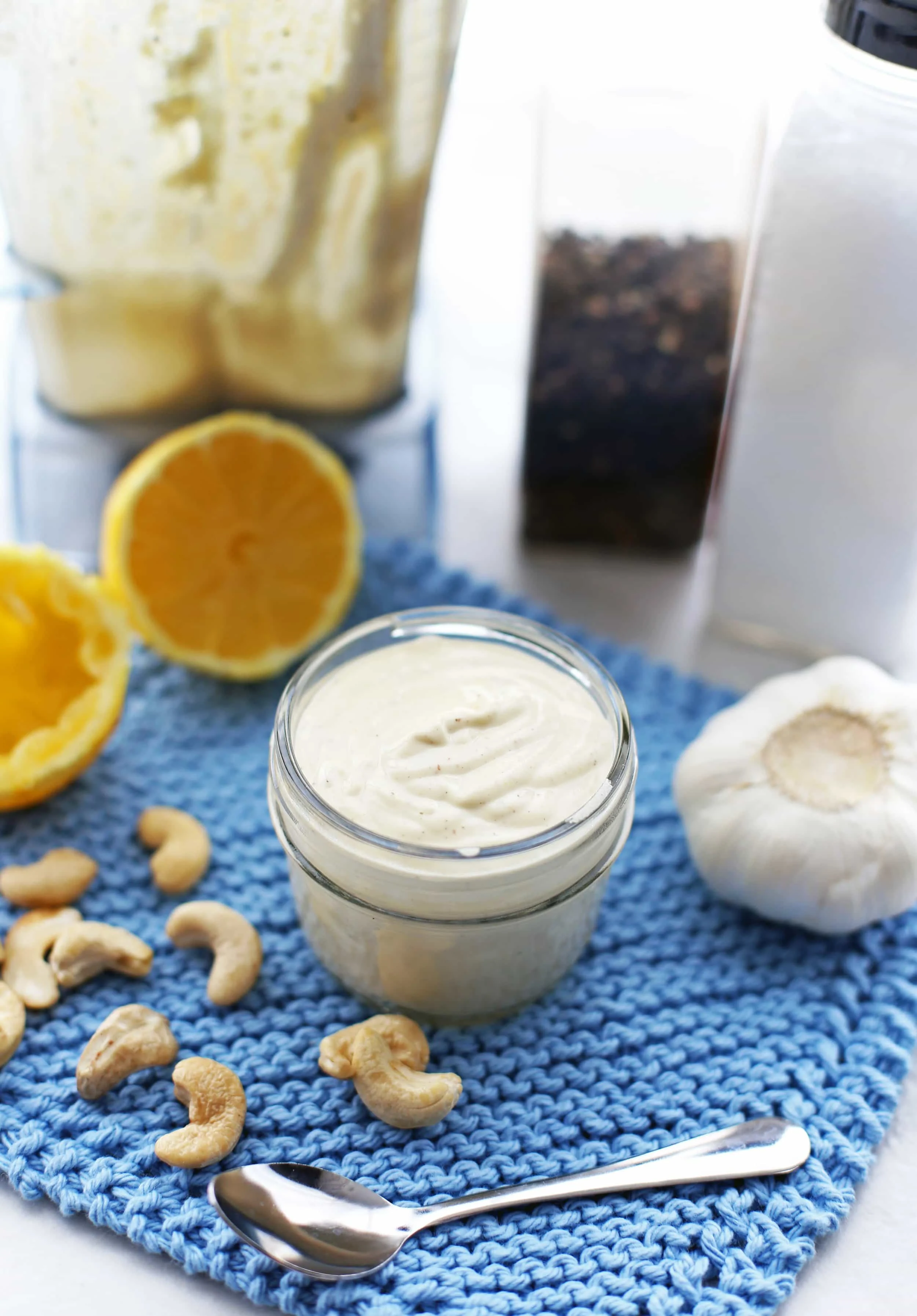 Make the dressing by using a high-powered blender to blend together all the dressing ingredients. The creamy garlic cashew dressing is amazing in all types of salads!
What in this tasty salad?
Asparagus: These spring vegetables are described as having a sweet, bright, earthy (sometimes mildly bitter) flavour.
They can be prepared in a variety of different ways such as eaten raw, boiled, blanched, pan-fried, or roasted.
In this recipe, the asparagus is quickly roasted until tender-crisp and, I think, sweeter in taste.
Health benefits: Asparagus spears are almost fat-free, low in calories, and packed with vitamins and minerals such as vitamins A, C, E, and K as well as calcium, iron, and magnesium.
Did you know that asparagus can also be white or purple? White asparagus is the same as green asparagus except it is grown in the dark and does not go through the process of photosynthesis (to make it green). Purple asparagus is another variety all together, has higher sugar (hence a sweeter flavour) and lower fiber than its counterparts.
Radishes: The taste of these round root vegetables ranges from being from very spicy and pungent to very mild in flavour.
You can eat them raw as a snack or in a salad, as well as cook them in the oven. Roasting them brings out the sweetness and reduces the pungent spicy flavour a little.
They come in a variety of shapes, sizes, and colours. The ones you are likely to see in the grocery store (like the varieties "cherry belle" or "red globe") are small, round, have red skin and a creamy white interior.

These peak in harvest between April and May although you can usually find them year-round at the supermarket.

Health benefits: They are low in calories, rich in vitamin C, and also contain folate, fiber, and iron.
Avocado: Yay! The ever-popular avocado. This stone fruit is creamy and buttery, almost nutty in flavour. Eating it alone is a little boring, but pairing it with other ingredients is magic.
Health benefits: It's nutrient-rich. For example, it's a great source of vitamins C, E, K, and B-6 and contains adequate amounts of riboflavin, magnesium, and potassium too.
Baby Spinach: These green leafy vegetables are tender, mild in flavour and slightly sweet. My personal favourite ingredient to use to make a salad.
Health benefits: It's low in fat and full of healthy vitamins and nutrients such vitamins A, C, K along with magnesium, iron, and folate.
A Homemade Vegan Dressing: No need for mayonnaise or cream to make this creamy dressing.
The secret is cashews. By combining the cashews with oil, raw garlic cloves, and other key ingredients in the blender, you get an immensely delish dressing that's garlicky, lemony, and smooth.
It goes perfect with the other ingredients in this salad.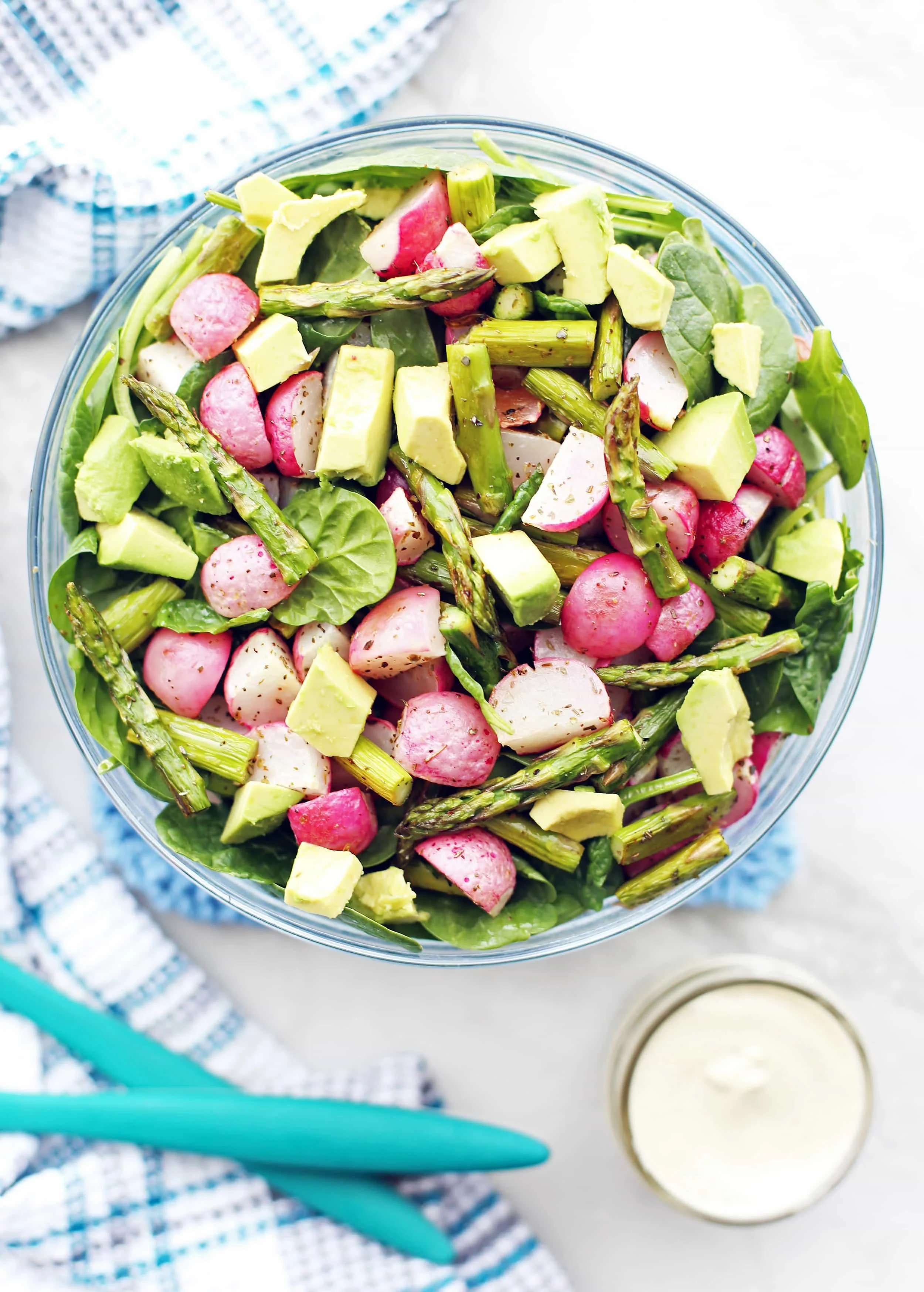 Tips on How to Choose Asparagus and Radishes
How to Pick Asparagus: Look for firm (but not woody) stems with bright green or violet-tinged spears and tips that are compact.
The thickness of the stem is due to how mature the asparagus is (a thick stem is more mature than a thin stem) and not seen as a good indicator of quality or flavour.
How to Pick Radishes: Choose radishes that a small, firm, have smooth, deep red skin, and are heavy for their size.
Avoid radishes that dull in colour, wrinkled, or cracked. If the leaves are still intact, make sure that the leaves are bright green and fresh-looking.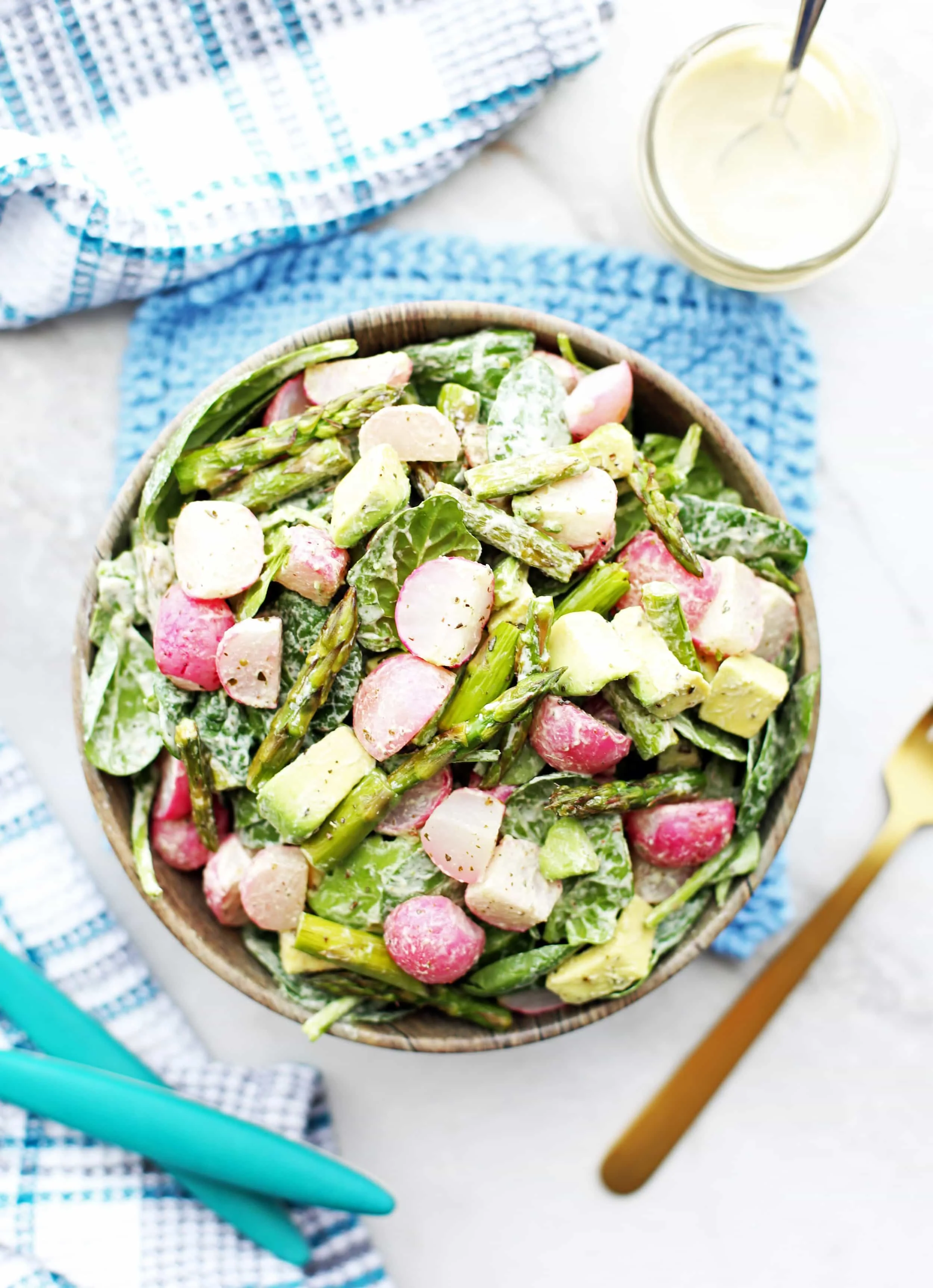 Overall, this Asparagus and Radish Salad:
Is delicious and easy to make.
Is a wonderful healthy meal option.
Can be served with warm or cooled roasted radishes and asparagus.
Is very quick to make: It only takes about 15 minutes! Prepare the dressing while you roast the vegetables for efficiency.
Is easily adapted: Of course, since this is a salad, it's easily customizable. You can always add more or less ingredients to suite your preferences.
Uses a homemade dressing that's versatile. The dressing can be used for other salads, as a dip, or even mixed into a pasta.
Is vegan and gluten-free too!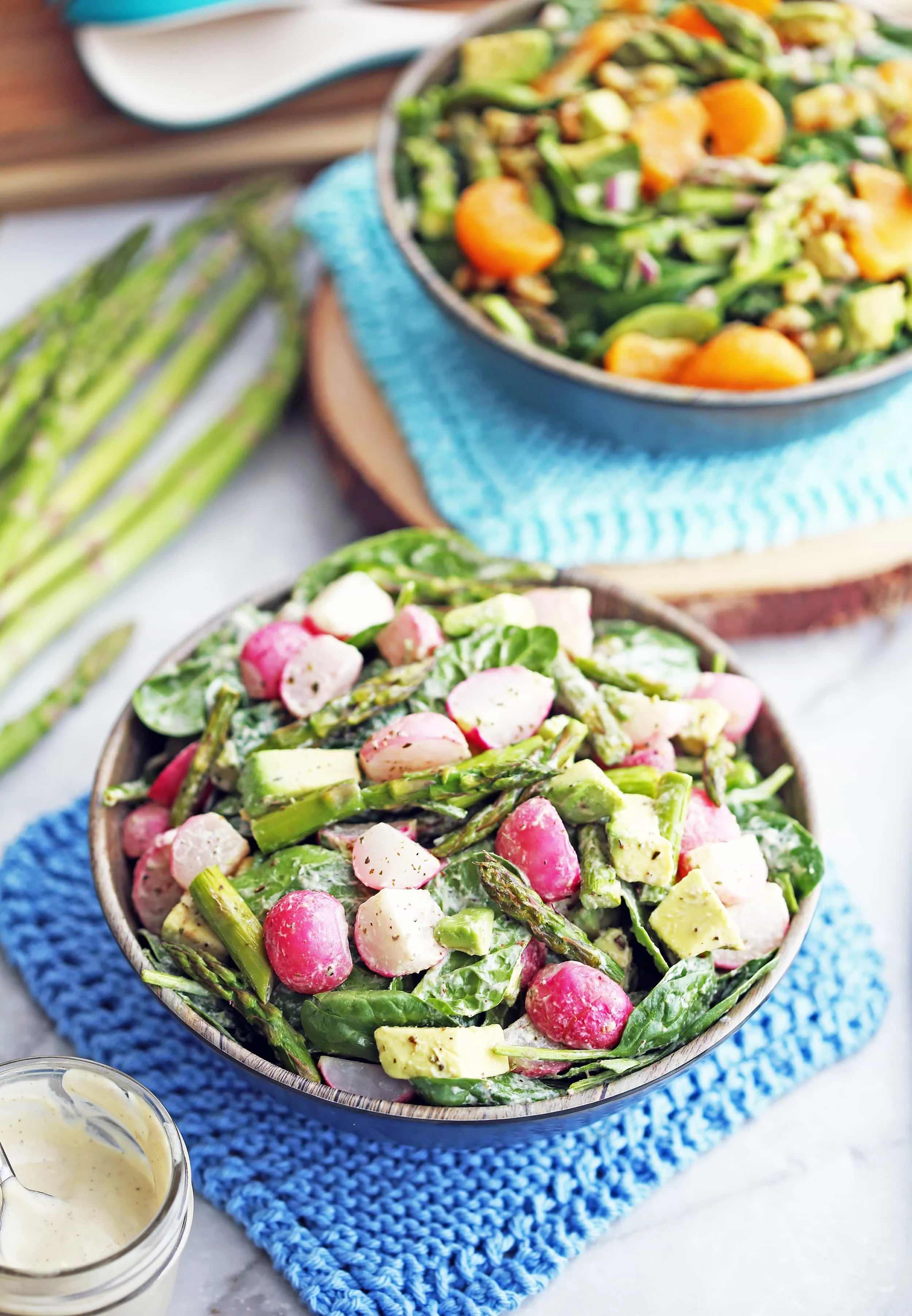 Looking for more vegan salad recipes? Check out these three: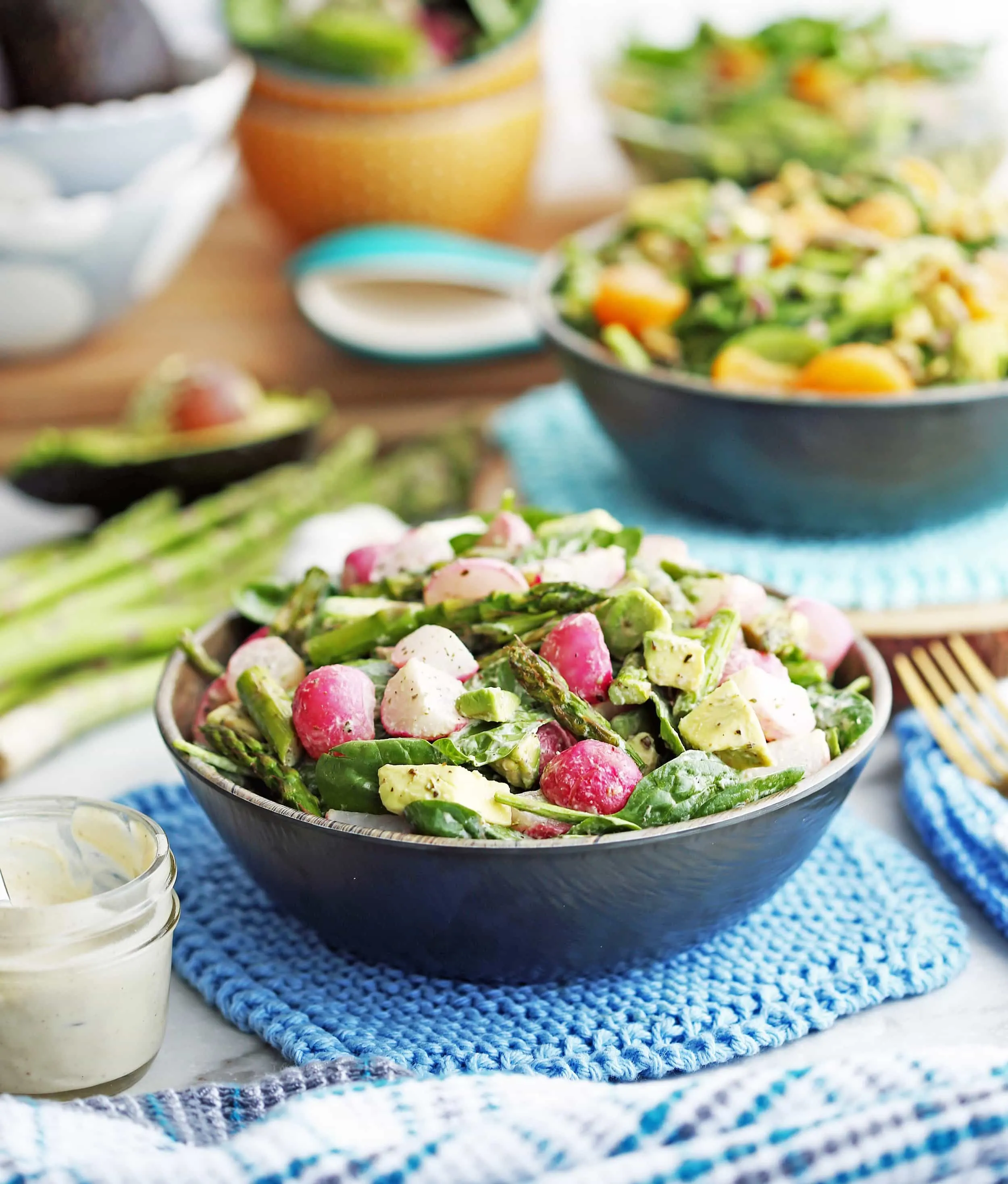 I hope you try this easy salad and dressing recipe! If you do, please leave me a rating and comment down below or tag me on any of my social media. I'm @yay_for_food on Instagram. I'll love a picture!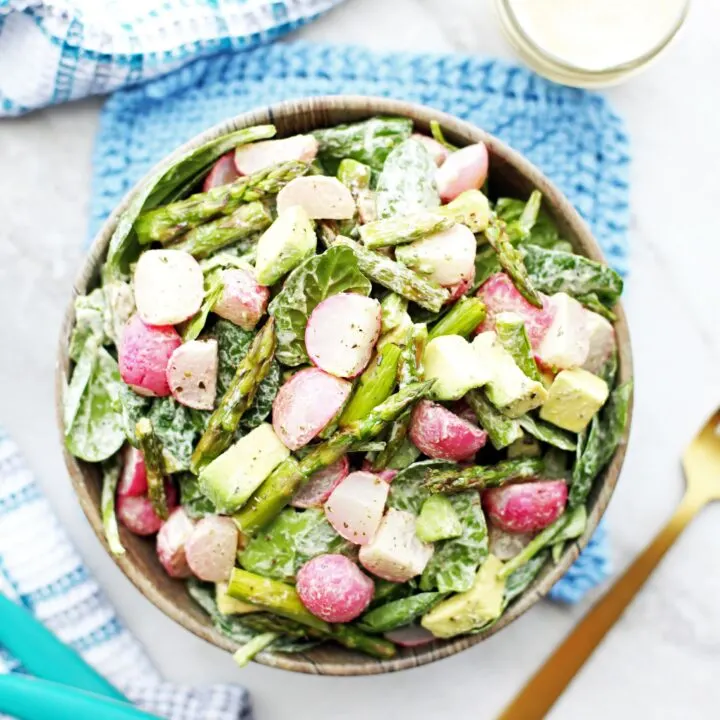 Roasted Asparagus and Radish Salad with Creamy Garlic Cashew Dressing
Yield:
4 as a meal, 6-8 as a side dish
Featuring tender-crisp roasted asparagus and radishes, this fresh spinach salad recipe is loaded with healthy ingredients. Together with a homemade creamy cashew dressing, this salad makes for a delicious vegan meal or side.
Ingredients
For the salad:
1 bunch asparagus (12 oz/18 stalks), hard stems removed and chopped into 1½ inch pieces
2 bunches radishes (10 oz/20 radishes), leaves removed and quartered *(see first note)
1 tbsp extra virgin olive oil
1 tsp dried oregano
Salt and pepper, to taste
5 cups (packed) baby spinach
1 avocado, diced
For the dressing:
½ cup (3oz) raw unsalted cashews **(see second note)
¼ cup extra virgin olive oil
1-2 garlic cloves
2 tbsp lemon juice
1 tsp Dijon mustard (I used whole grain)
Salt and pepper, to taste
¼-½ cup water
Instructions
For the salad. Preheat the oven to 400 degrees F. In a large bowl, combine the asparagus, radishes, olive oil, oregano, salt, and pepper until the vegetables are well coated.
On a large baking sheet (lined with aluminum foil for easy clean-up), spread the asparagus and radishes in a single layer and roast for 12-15 minutes, until vegetables are tender-crisp.
For the dressing. As the vegetables roast, prepare the dressing by placing all the dressing ingredients, except the water, in a high-powered blender and blend until well-combined and creamy.
Slowly add in the water, a couple tablespoons at time, blending in between, until you get to the dressing consistency that you prefer. Taste and adjust to your flavor preferences. Set aside.
Put it together. Place the roasted vegetables along with the spinach and avocado into a large bowl. Drizzle the desired amount of dressing over the salad and toss to combine. Enjoy.
Notes
*Cut radishes in halves, quarters, or more (depending on size) into bite-sized pieces.
** To soak or not to soak: A lot of cashew-based sauces and dressings require you to soak the cashews in water for 4 hours or more to allow the cashews to soften, which would make it easier to blend. If you have a high-powered blender (like a Vitamix), you really don't need to (I didn't), but if you want to ensure that it blends smoothly, plan to soak the cashews ahead of time.
If you are planning to have leftovers, keep the salad separate from the dressing and cover both in the refrigerator for up to 3 days. I would also recommend dicing up the avocado right before eating the salad. When avocado is exposed to air, it will oxidize and turn brown.
Nutritional calories represents one serving for a total of 8 servings.
Recommended Products
As a participant in the Amazon Services LLC Associates Program, I only link to products that I use and/or highly recommend. As an Amazon Associate, I earn from qualifying purchases if you purchase through these links at no additional cost to you.
Nutrition Information:
Yield:

4
Serving Size:

1
Amount Per Serving:
Calories:

289
Total Fat:

25g
Saturated Fat:

4g
Trans Fat:

0g
Unsaturated Fat:

20g
Cholesterol:

0mg
Sodium:

348mg
Carbohydrates:

14g
Fiber:

9g
Sugar:

2g
Protein:

8g