Are you still experiencing winter-like weather where you live? Here in Alberta, we still are getting snowfall and below zero degree Celsius temperatures.
Granted, we also have had a few days of spring weather (yay! sunshine and light jackets!), but I'm really waiting for the snow to completely melt away so I can finally put away my snow boots.
My theory is that if everyone puts away their Christmas decorations, spring weather will come sooner. Haha. Although, I hear from some neighbours that it is still impossible to retrieve their decorations since they are buried underneath the massive snow piles on their lawns… so I will think warm thoughts.
With the cold weather, I've been all about soups. Although, I am a fan of eating soup year-round, just more so when I'm freezing my behind off trying to walk my dog.
Today's recipe is made in the Instant Pot (I have short stove-top instructions down below too) and one of my favourites: Potato Leek Soup with Parmesan and Spinach!
How do you make this Instant Pot Potato Leek Soup?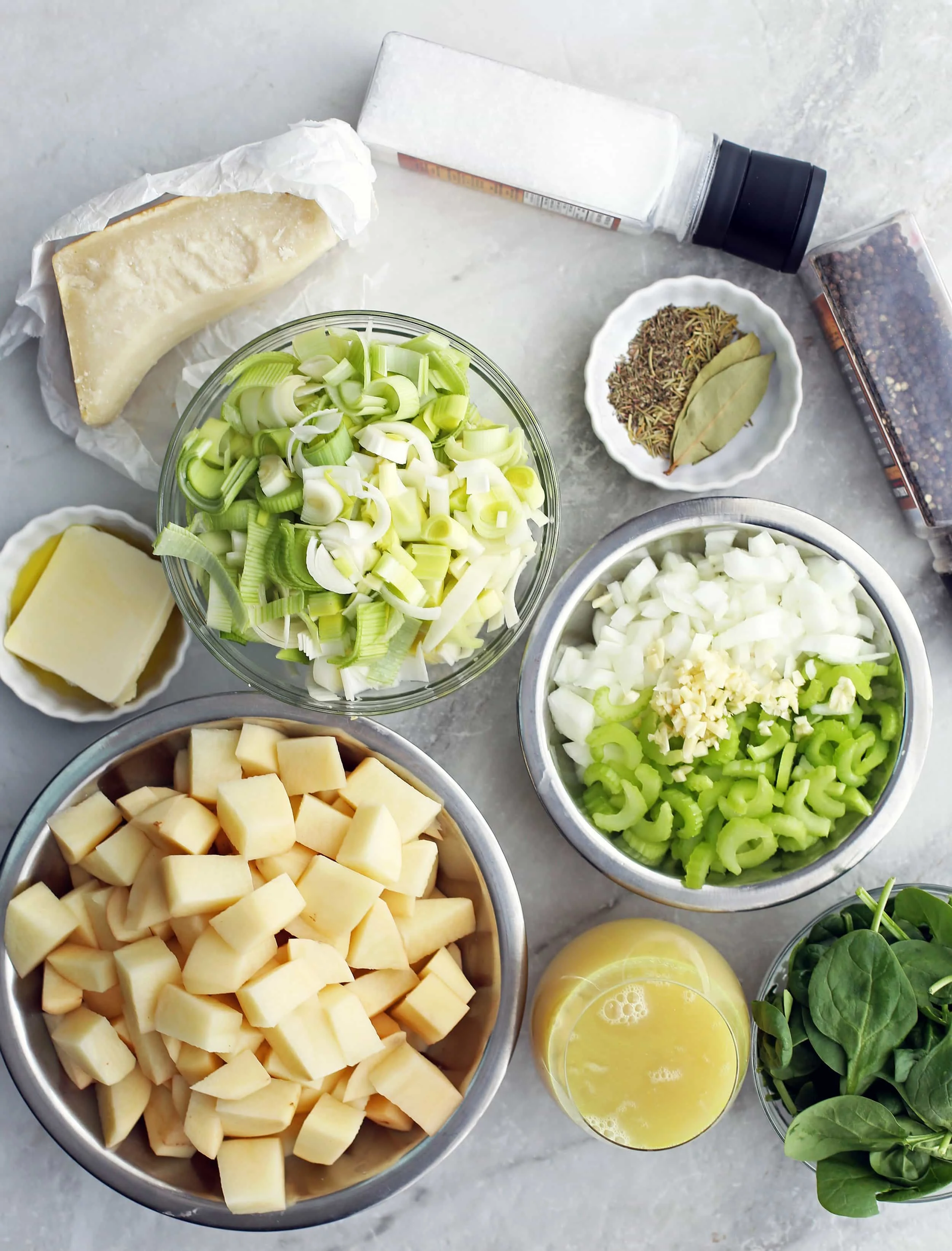 The ingredients in this soup! Full ingredient amounts and instructions listed in the recipe card below.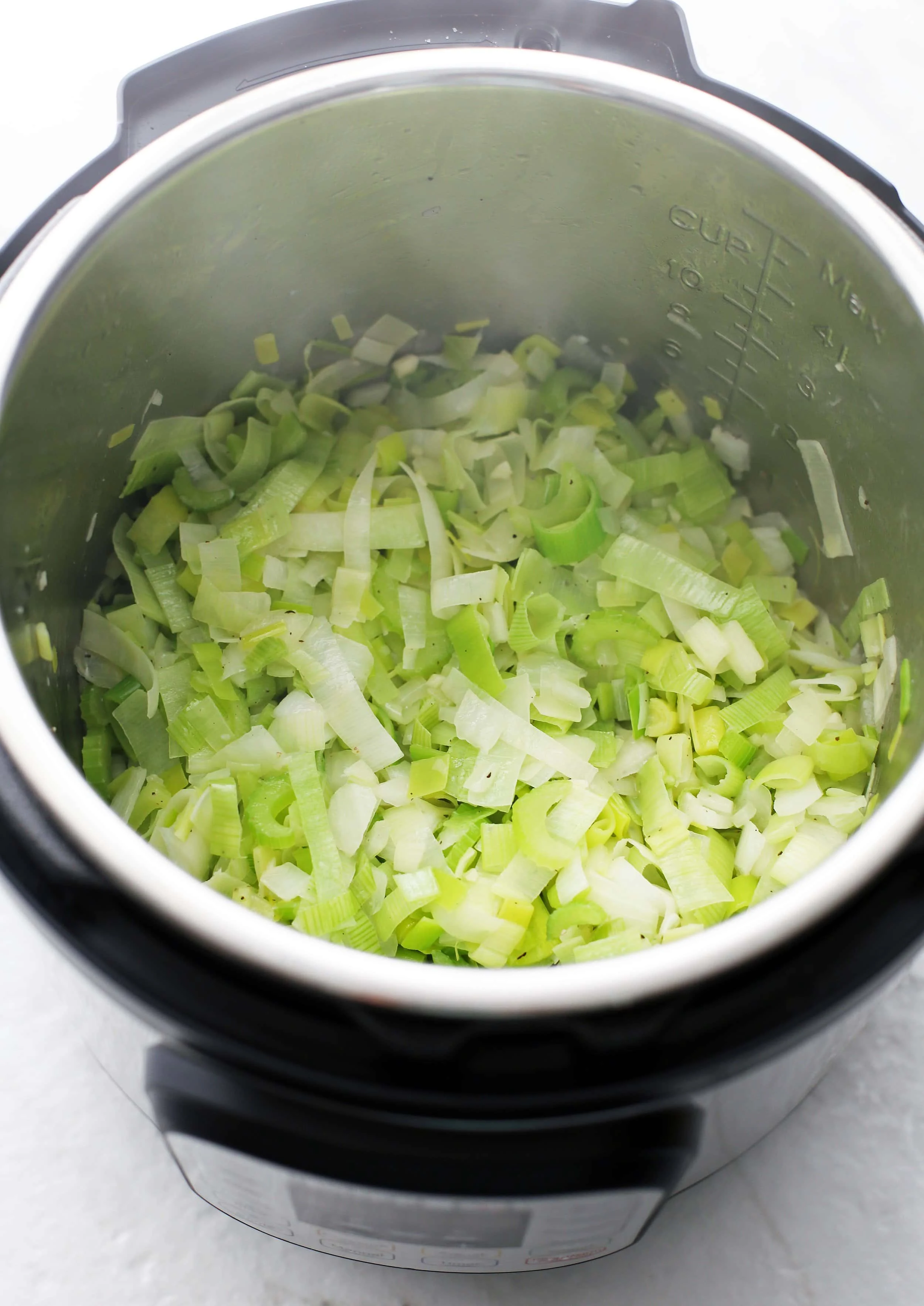 Sauté the leeks, onions, celery, and garlic in the Instant Pot until tender.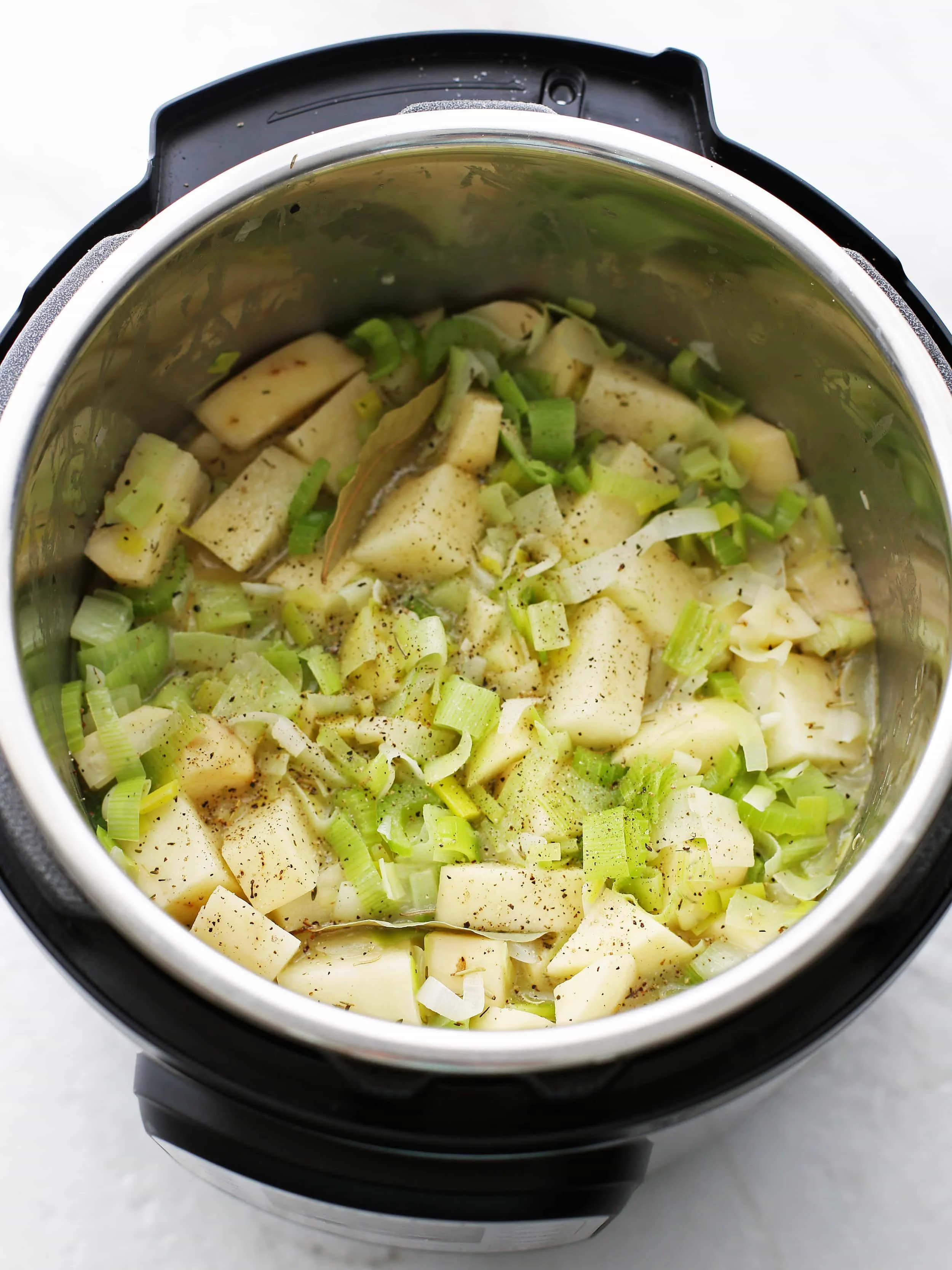 Add in the potatoes, herbs, and broth and give the soup a stir before cooking at high pressure for 10 minutes.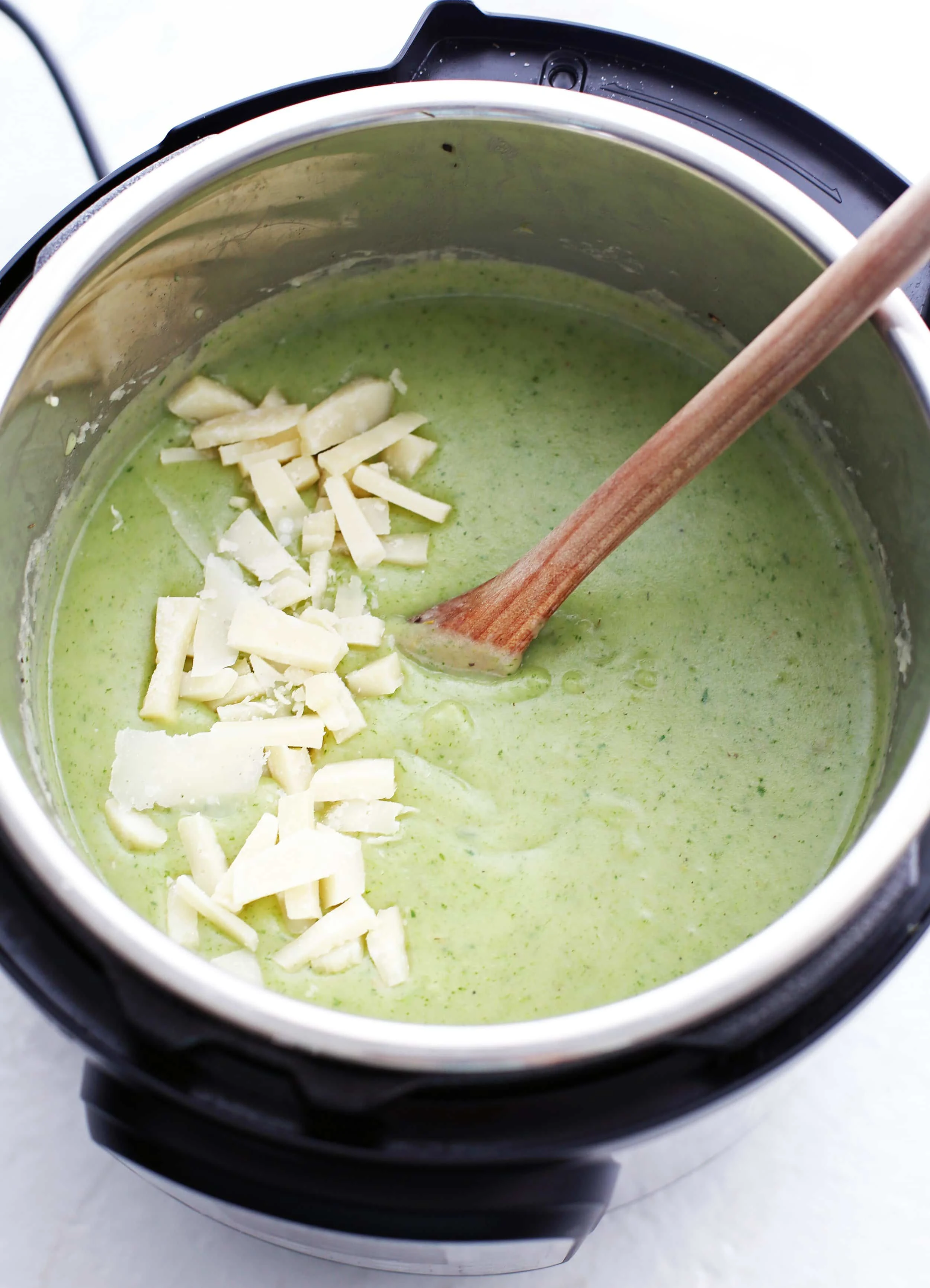 Remove the bay leaves, stir in the spinach and then puree the soup until creamy and smooth. Finally stir in the parmesan cheese until it is melted into the mixture.
Note that my pieces of cheese are quite large. To make it easier on yourself, grate or chop your cheese more finely. I ended up mixing the soup for quite a while to get the cheese to completely dissolve into the soup.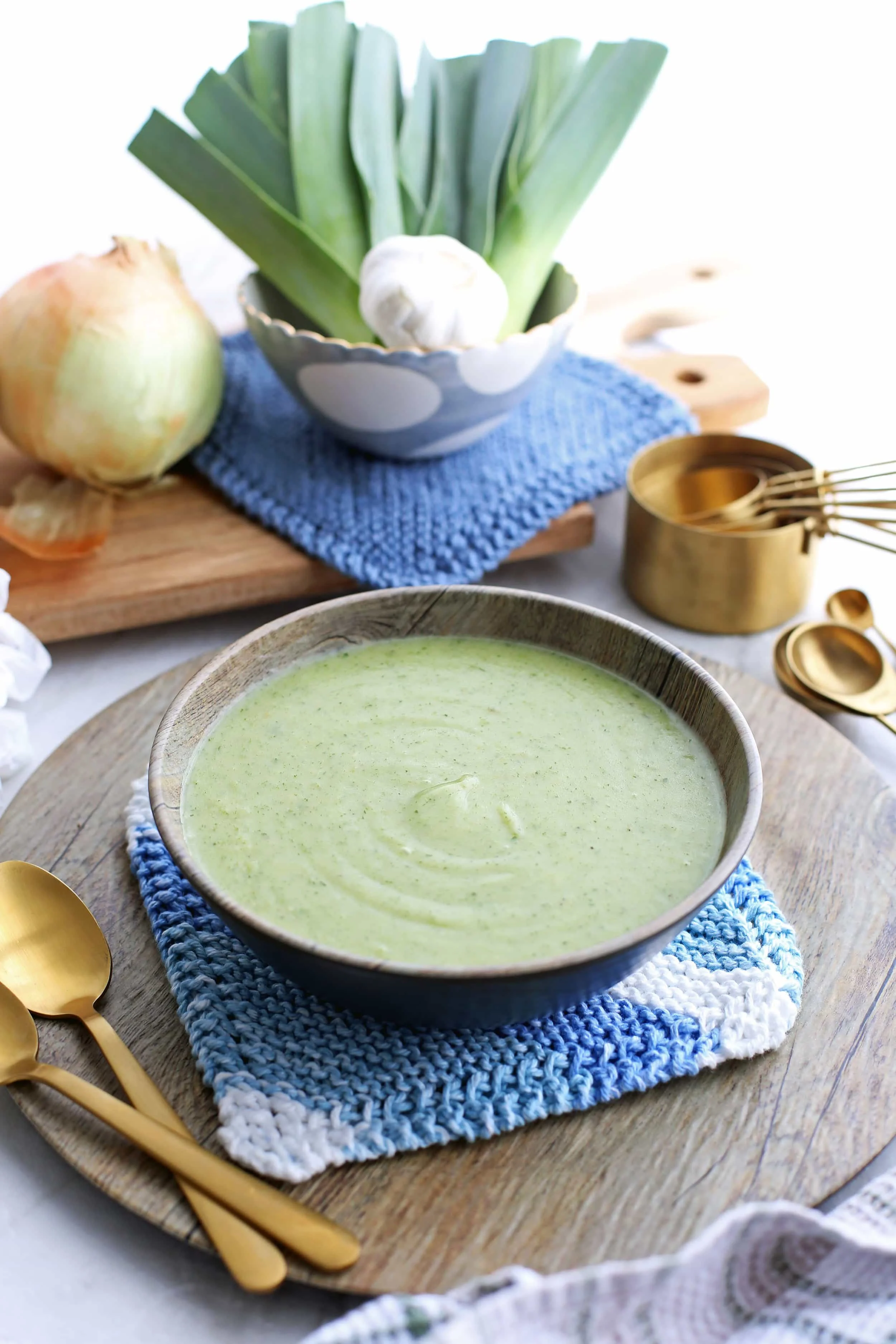 What's in this comforting soup?
The two main ingredients in this soup are potatoes and leeks (of course).
I like to use russet potatoes (often called baking potatoes) because I find, once pureed, it creates a nice thick and creamy texture due to their low moisture content and low starch level.
They have a great potato-y flavour (real descriptive, Marie) that's slightly sweet and earthy (but in a pleasant way).
Plus, it's usually the most inexpensive potato at the supermarket. However, you can use Yukon Gold potatoes if you have them on hand too.
Leeks look like giant thick green onions, have concentric layers, and taste like a mild onion.
Did you know that leeks are virtually fat free and are high in vitamin A and a good source of vitamin C?
TIP 1: The edible parts of the leek are the white and light green parts (basically the stem). The dark green portion has a tough texture that is best saved for making stock or composting. Some people like to sauté it too, but I've never tried doing that.
TIP 2: Remember to thoroughly rinse the leeks to remove the dirt and grit out of the layers. Cut the leeks lengthwise and rinse well under cold water until clean.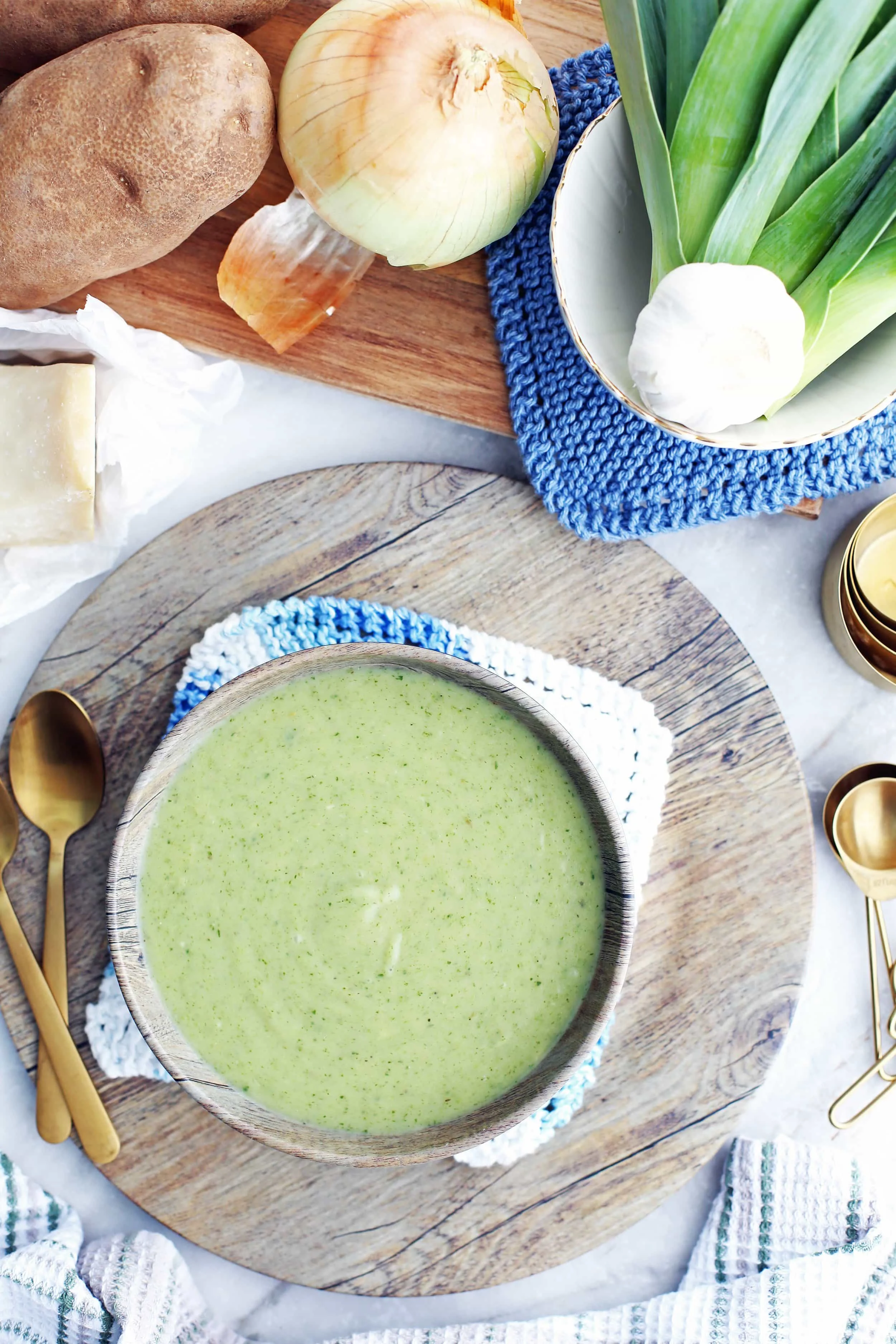 In addition, I included the classic pairing of onion and garlic along with celery to this soup. They give the soup a richer and sweeter flavour base.
The inclusion of bay leaves, dried thyme, and dried rosemary are savoury, aromatic, and compliments the potatoes and leeks so well. Everything is cooked in a chicken broth (or stock if you prefer), which makes it even more delicious.
It's finished by stirring in fresh baby spinach.
I love adding spinach to all kinds of my recipes (especially salads and smoothies) since it has a lovely mild flavour, tender texture, and it's super healthy too. Once pureed, it gives this potato leek soup a pretty light green colour.
Finally, parmesan cheese (use parmigiano reggiano; it's the best!) is stirred into the creamy soup until it melts. It gives the soup that final oomph of umami flavour.
TIP 3: Use cheese from a block to ensure that it melts and creates a smooth texture.

Don't use a pre-grated/shredded cheese, which often has an anti-caking ingredient (or stabilizer) added to it that doesn't allow it to melt well and may form clumps when added to hot foods.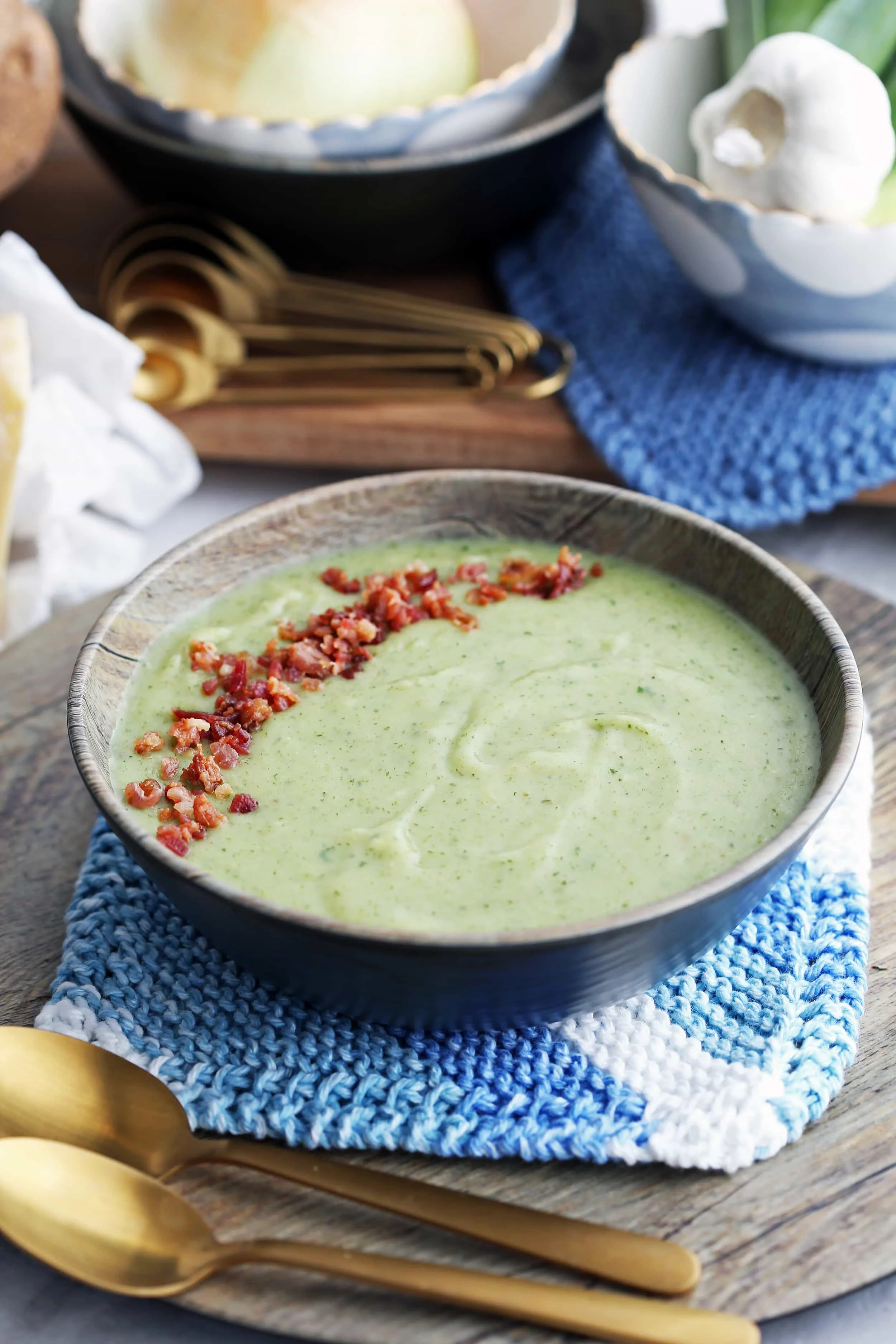 Overall, this Instant Pot Potato Leek Soup is:
Delicious and comforting.
Filling and satisfying.
Thick and creamy (without the cream, but with the flavourful cheese).
Simple and easy to make.
Made in one pot: Everything is made in the Instant Pot so clean-up is easy.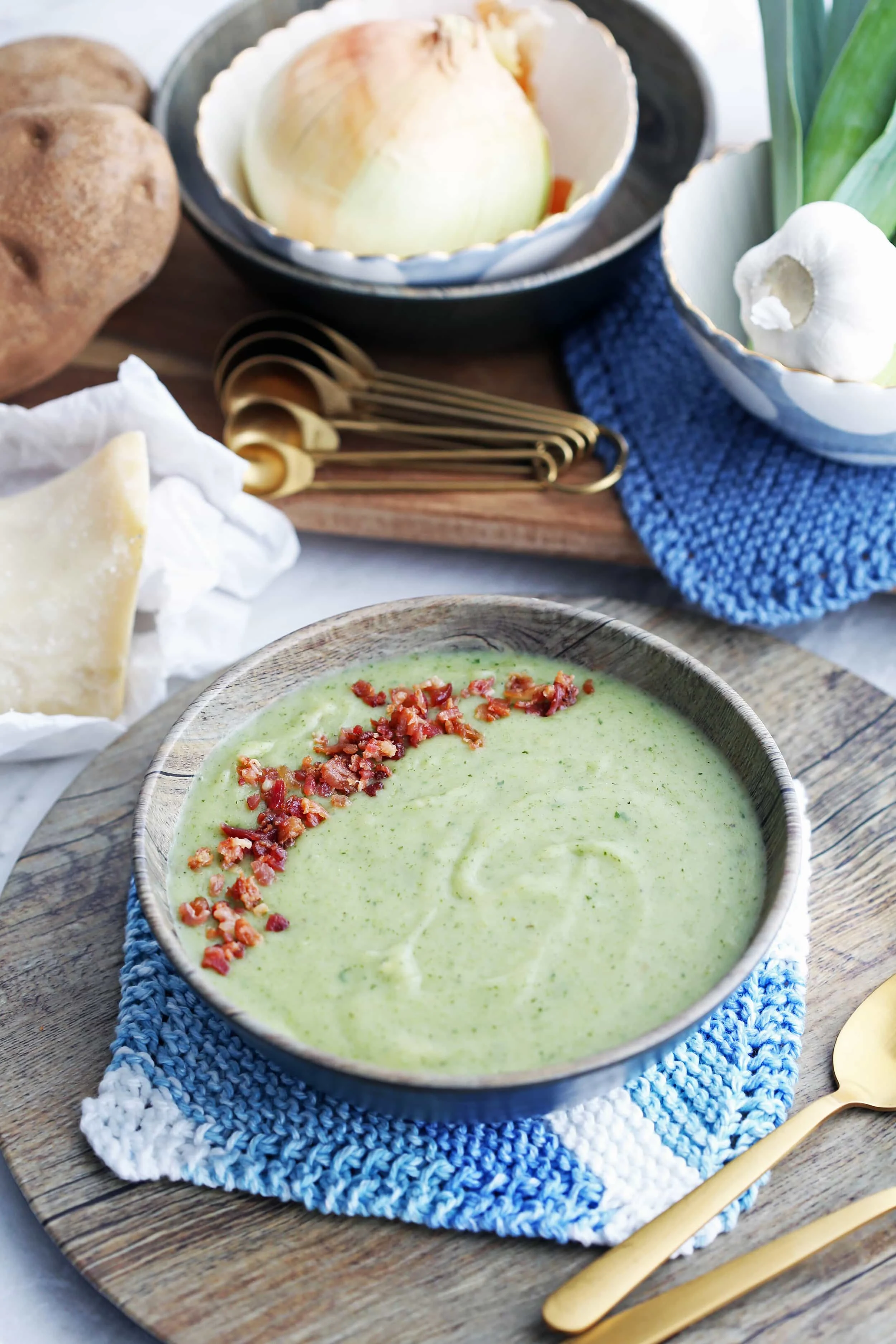 Check out these other Instant Pot Soup recipes!
I hope you try this recipe! If you do, please leave me a rating and comment down below or tag me on any of my social media. I'm @yay_for_food on Instagram. I'll love a picture!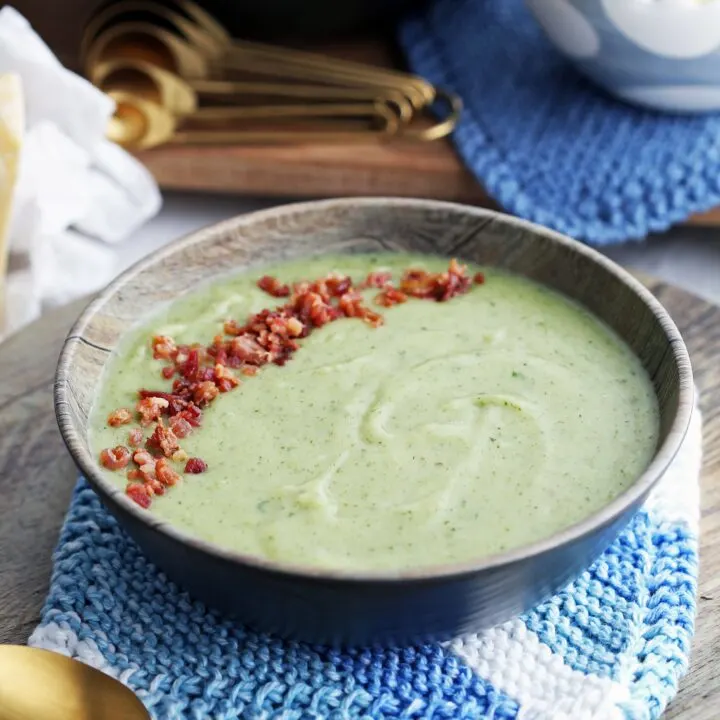 Instant Pot Potato Leek Soup with Spinach and Parmesan
Yield:
4-6 (makes 6-7 cups)
Additional Time:
15 minutes
This is one creamy, filling, and delicious soup! Potatoes and leeks are the star ingredients in this Instant Pot recipe! Spinach and parmesan bring additional flavour and colour to this easy and fast meal.
Ingredients
2 tbsp (1 oz) unsalted butter
1 tbsp olive oil
3-4 leeks (12 oz), light green and white parts, rinsed thoroughly and chopped
3 celery ribs, chopped
1 small onion, chopped
2 garlic cloves, minced
3-4 russet potatoes (2.5 lb), peeled and chopped
2½ cups chicken broth (or vegetable broth)
2 bay leaves
1 tsp dried thyme
1 tsp dried rosemary
Salt and pepper, to taste
2 cups (packed) baby spinach
½ cup (2 oz) parmesan cheese (parmigiano reggiano), finely chopped/grated *(see first note)
Optional topping: bacon crumbles
Instructions
Set the Instant Pot to "sauté". Add the butter, olive oil, leeks, celery, onion, and garlic to the pot, stirring until softened, about 4-5 minutes.
Press "cancel" to turn off the Instant Pot. Add the potatoes, broth, and herbs to the pot. Season generously with salt and pepper. Give the ingredients a good stir to distribute throughout the pot. *(see second note)
Seal the Instant Pot and cook at high pressure ("manual"/"pressure cook" function) for 10 minutes. ***(see third note). After the soup is ready, apply a quick pressure release to completely depressurize (until the floating valve drops).
Open the Instant Pot and remove the bay leaves. Stir in the spinach until wilted. Using an immersion blender ****(see fourth note), blend the soup until it is completely smooth.
Then stir in the cheese until completely melted. Taste for additional salt and pepper (or other seasonings) and top with bacon crumbles if you like. Enjoy.
STOVETOP INSTRUCTIONS: In a large pot or Dutch oven, follow Steps 1 and 2. Then bring the soup to a boil and simmer on the stove for 20 minutes or until the potatoes are very tender. Then follow Steps 4 and 5.
Notes
*Use cheese from a block to ensure that it melts and creates a smooth texture. Don't use a pre-grated/shredded parmesan cheese, which often has an anti-caking ingredient (or stabilizer) added that doesn't allow it to melt well and may form clumps when added to hot foods.
**The broth doesn't have to completely cover the ingredients, but should be visible when you look into the pot.
***It takes 10-15 minutes for the Instant Pot to come to pressure.
****You can also blend in a high-powered blender in small batches. Careful as the soup is hot and it may splatter.
Nutritional calories represent one serving (excluding optional toppings) with six servings total.
Recommended Products
As a participant in the Amazon Services LLC Associates Program, I only link to products that I use and/or highly recommend. As an Amazon Associate, I earn from qualifying purchases if you purchase through these links at no additional cost to you.
Nutrition Information:
Yield:

6
Serving Size:

1
Amount Per Serving:
Calories:

388
Total Fat:

15g
Saturated Fat:

6g
Trans Fat:

0g
Unsaturated Fat:

7g
Cholesterol:

30mg
Sodium:

991mg
Carbohydrates:

55g
Fiber:

8g
Sugar:

7g
Protein:

14g