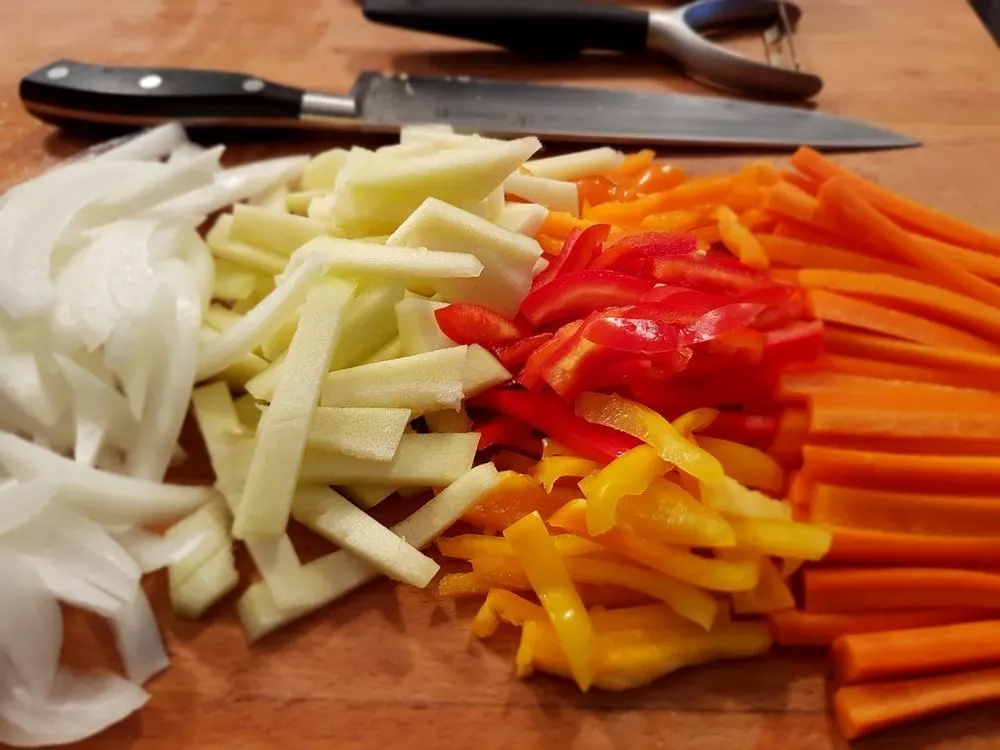 Cut vegetables into 1-inch sticks. Meanwhile: Soak noodles in hot water and drain when ready. Prepare sauce in a little bowl (not shown).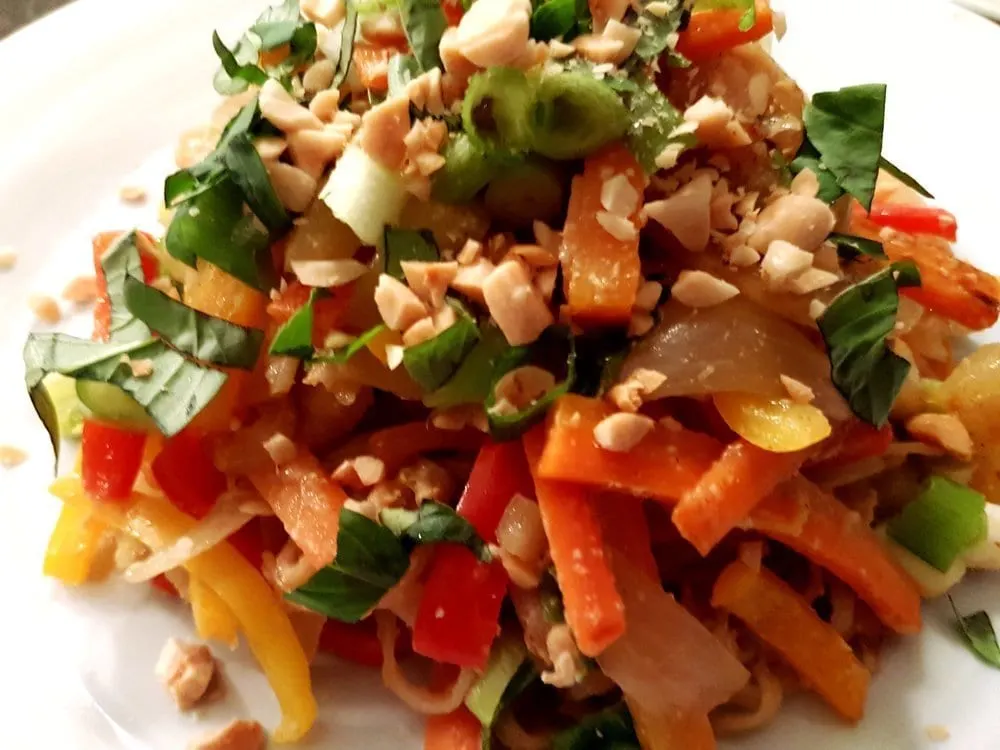 After stir frying ingredients, plate, and top with crushed peanuts and shredded Thai basil. Enjoy!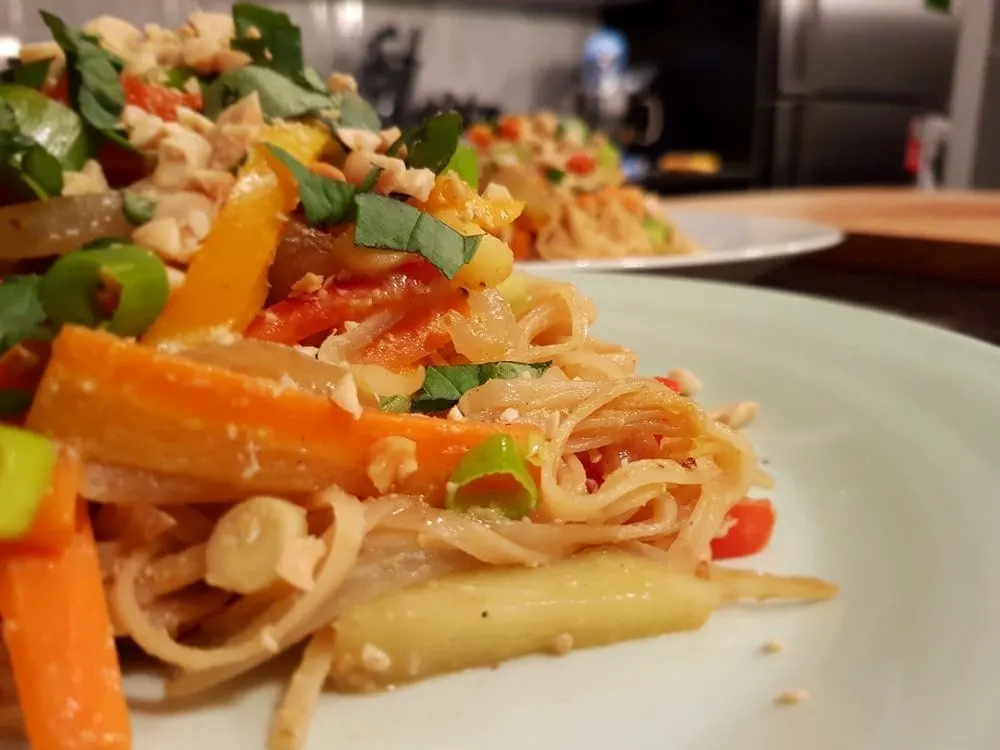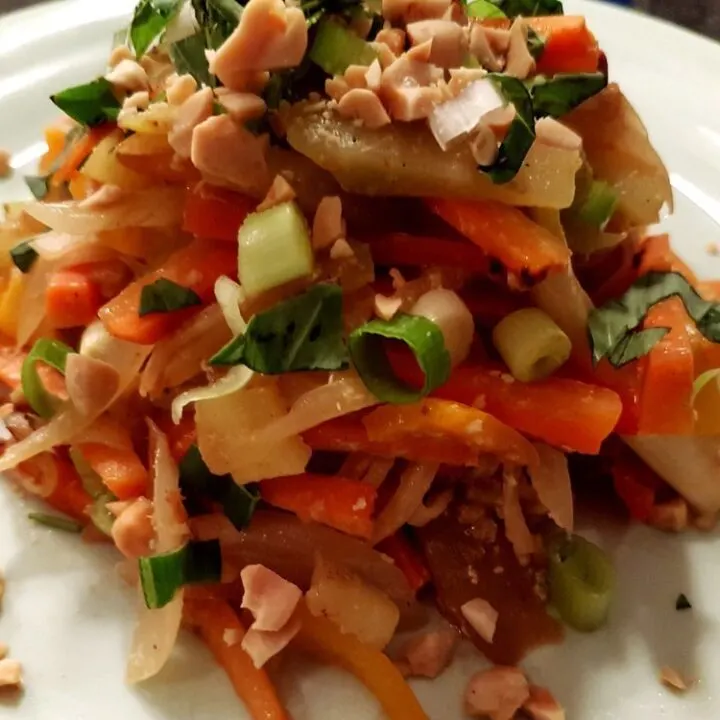 Vegetable Pad Thai with Basil and Peanuts
This vegetarian dish is beautiful to look at with all its different colours, but even better to taste. Adding peanuts and Thai basil to this dish provides crunch and additional freshness to this quick and easy meal.
Ingredients
For the Pad Thai:
4 ounces thin rice noodles
1 zucchini, peeled
1 red pepper or 3 mini bell Peppers, sliced into 1-inch sticks
1/2 yellow onion
2 carrots, peeled
2 tbsp vegetable or canola oil
1 egg, beaten
1/4 cup peanuts, chopped
1/2 cup fresh herbs like green onions, cilantro, and Thai basil, chopped
For the Sauce:
3 tbsp fish sauce
3 tbsp brown sugar
3 tbsp vegetable broth or water
2 tbsp white vinegar
1 tbsp soy sauce
1 tsp green chile paste
Instructions
Place the noodles in hot water to soak and soften. Combine sauce ingredients in a bowl using a fork.
Cut zucchini, pepper, carrots, and onion into 1-inch sticks. Try to keep the cuts relatively similar. You can also use a spiralizer to form noodle-like shapes.
Drain the soften noodles and place it in the wok with oil and stir fry for a minute before adding the sauce. The sauce will thicken and coat the noodles. Note: use tongs.
Move noodles aside and add the egg. Toss all ingredients together. The egg and sauce will stick to everything and it will begin to caramelize.
Add in the vegetables, toss together, and remove from heat. Stir in the peanuts and herbs. Serve immediately.
Notes
This Pad Thai recipe was adapted from Lindsay from a "Pinch of Yum." Find the original recipe here: Rainbow Vegetable Pad Thai.
I opted to cut up the vegetables instead of using a spiralizer as I do not own one.
I had yellow and red baby bell peppers on hand so I used that instead of one red pepper.
Recommended Products
As a participant in the Amazon Services LLC Associates Program, I only link to products that I use and/or highly recommend. As an Amazon Associate, I earn from qualifying purchases if you purchase through these links at no additional cost to you.
Nutrition Information:
Yield:

4
Serving Size:

1
Amount Per Serving:
Calories:

324