Happy Thursday and my first blog post of April!
Can you believe it's already spring? Now if only the weather outside here in Alberta would reflect the season. Snow and cold weather… go away! How is the weather in your part of the world?
Normally, I would have had a post up earlier this week, but a combination of feeling ill and let's face it, procrastinating on writing up these posts… I get distracted so easily… these cat and dog videos aren't going to watch themselves you know.
Anyway, this recipe is a fast and flavourful side dish that's sure to impress: Sugar Snap Peas with Bacon and Parmesan!
My husband has a weird relationship with peas. On the one hand, I never see him order them as a side when we go out to eat and he doesn't often toss them in the shopping cart.
Still, he fondly remembers picking peas from his grandma's garden as a child. Peas, onions, carrots, and all sorts of home grown vegetables straight from the farm in Manitoba.
Thinking back on it, Scott is pretty sure they let him pick the vegetables well before they were ready, but that's part of the fun and Scott really enjoyed this fresh and flavourful side dish.
How do you make this Sugar Snap Pea Recipe?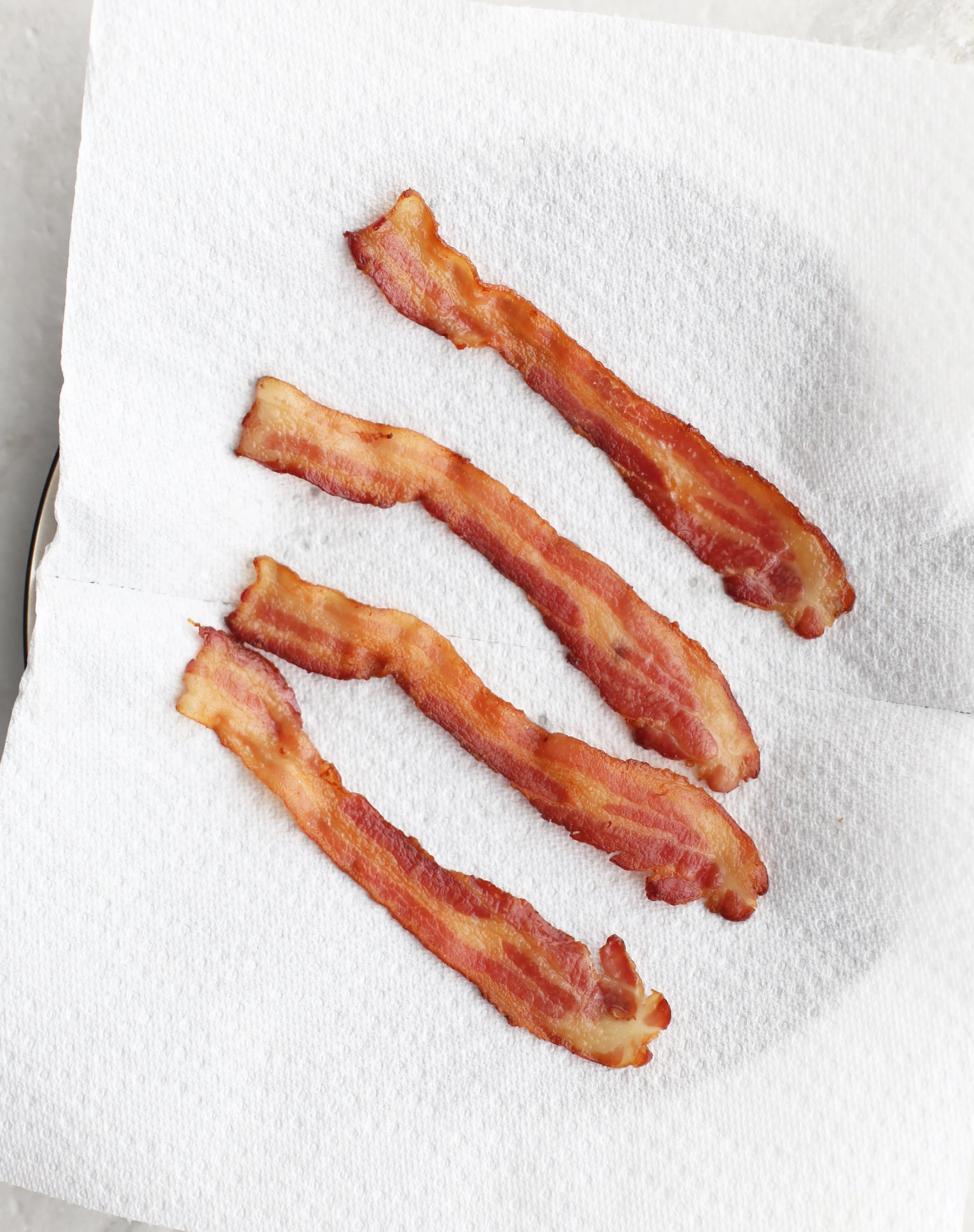 After the bacon is cooked in the frying pan, drain the excess fat off the bacon using paper towels. It will get crispier as it cools.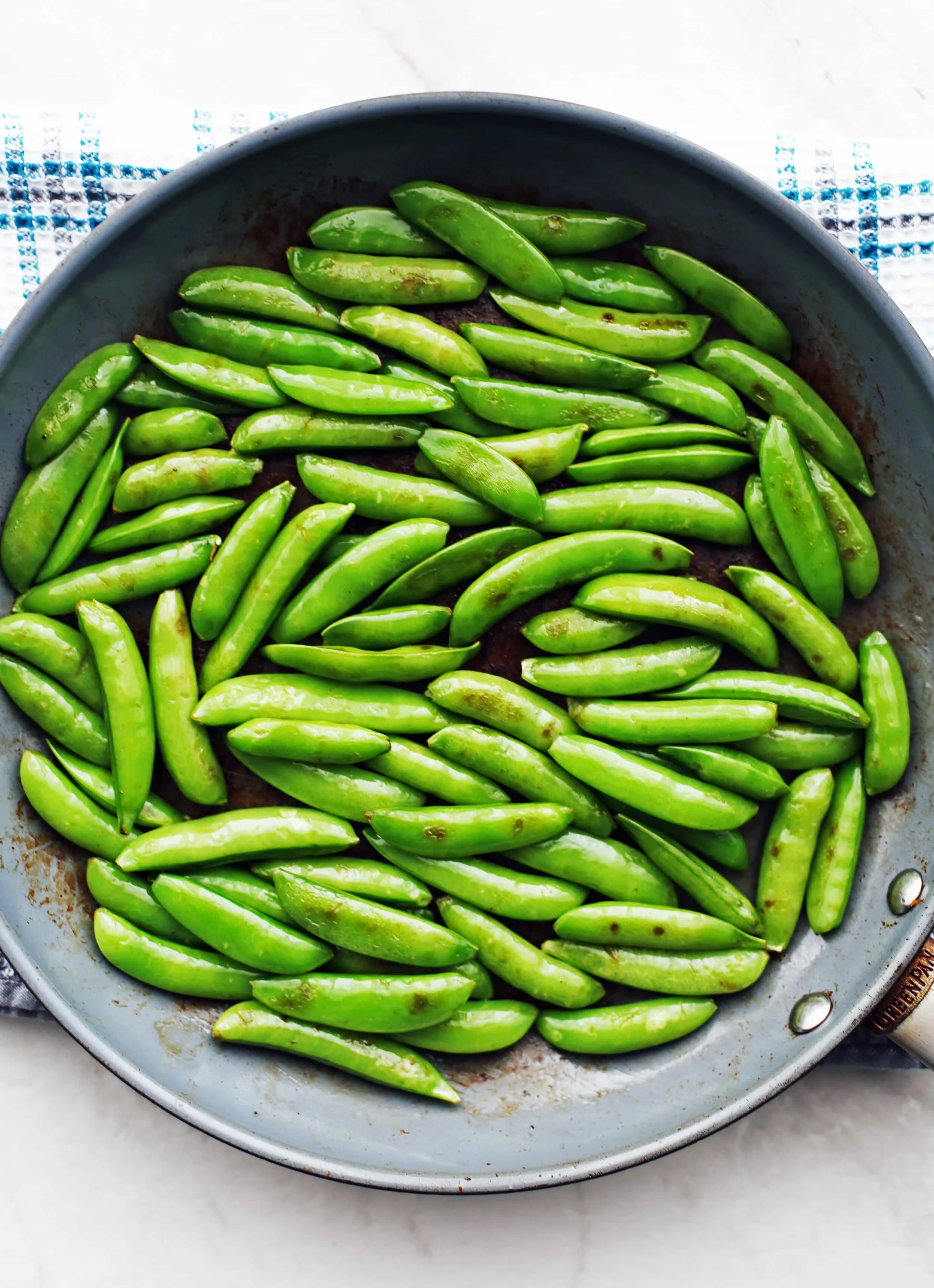 Then sauté the sugar snap peas in the bacon fat! But not all the fat, drain the majority of it into another heat-proof container before adding the peas.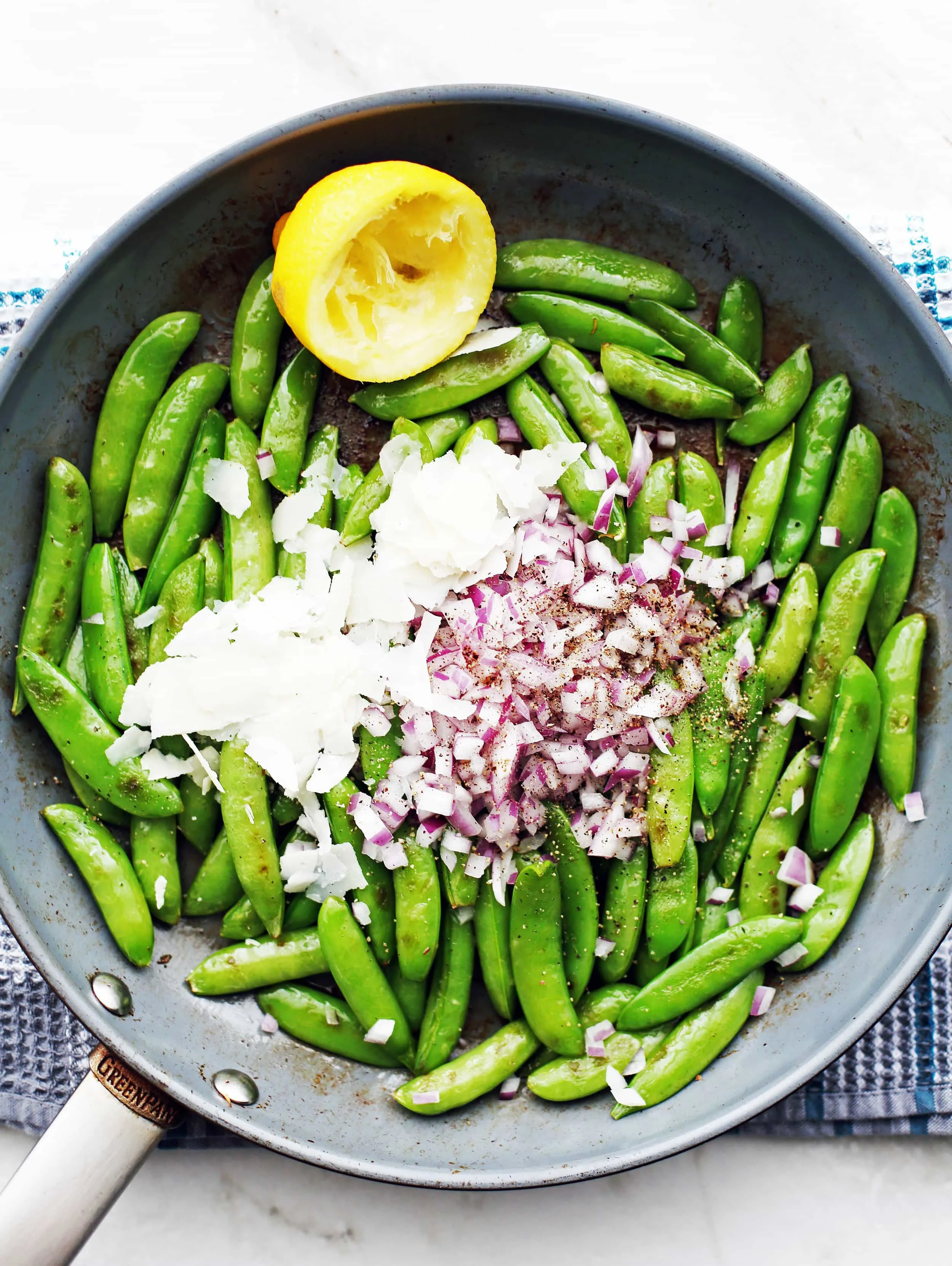 Toss the tender-crisp snap peas with parmesan cheese, red onions, and black pepper! Then plate and crumble the bacon on top!
What's in this easy side dish recipe?
There are only six ingredients in this side dish!
Sugar snap peas: also known as snap peas.
They have a wonderful crunchy texture and naturally sweet flavour that's lovely to eat raw as a quick snack or quickly sautéed, boiled, or steamed for a fast side dish.
Did you know that sugar snap peas are a cross between English (aka garden or sweet) and snow peas?
When choosing your snap peas, look for pods that are bright green, free of blemishes, and crisp. They should make a snapping sound if broken in half.

Also, look for varieties of snap peas that are stringless. It will save time if you don't need to remove the strings ahead of time.
If you happen to get the snap peas with strings, it should be easy to remove using your hands or with a paring knife.
Bacon: Bacon does make everything better.
Crispy, salty, bacon-y flavour that contrasts, yet compliments the sweetness of the snap peas.
For this recipe, I use a thin-cut pork bacon with a good amount of fat to it. As the fat renders in the frying pan, it gets super crispy and so satisfying to eat.
Feel free to use the bacon of your choice, but be aware of that certain seasoned bacon may not go well with the other ingredients in this recipe.
Also, note that a thin-cut bacon strip will result in a crispier strip, while a thick cut piece will be chewier after being fried.
Red onions: It has a nice balance of astringency and sweetness in flavour.
Parmesan cheese: It has a lovely pungent, nutty, slightly fruity, savoury flavour and creamy texture.
Lemon juice: Bright, zesty, and citrusy; it cuts through the fatty flavour of bacon and livens up the side dish overall.
Black pepper: That final touch… a mild spicy heat to go with the salty, sweet, bright flavours of this dish.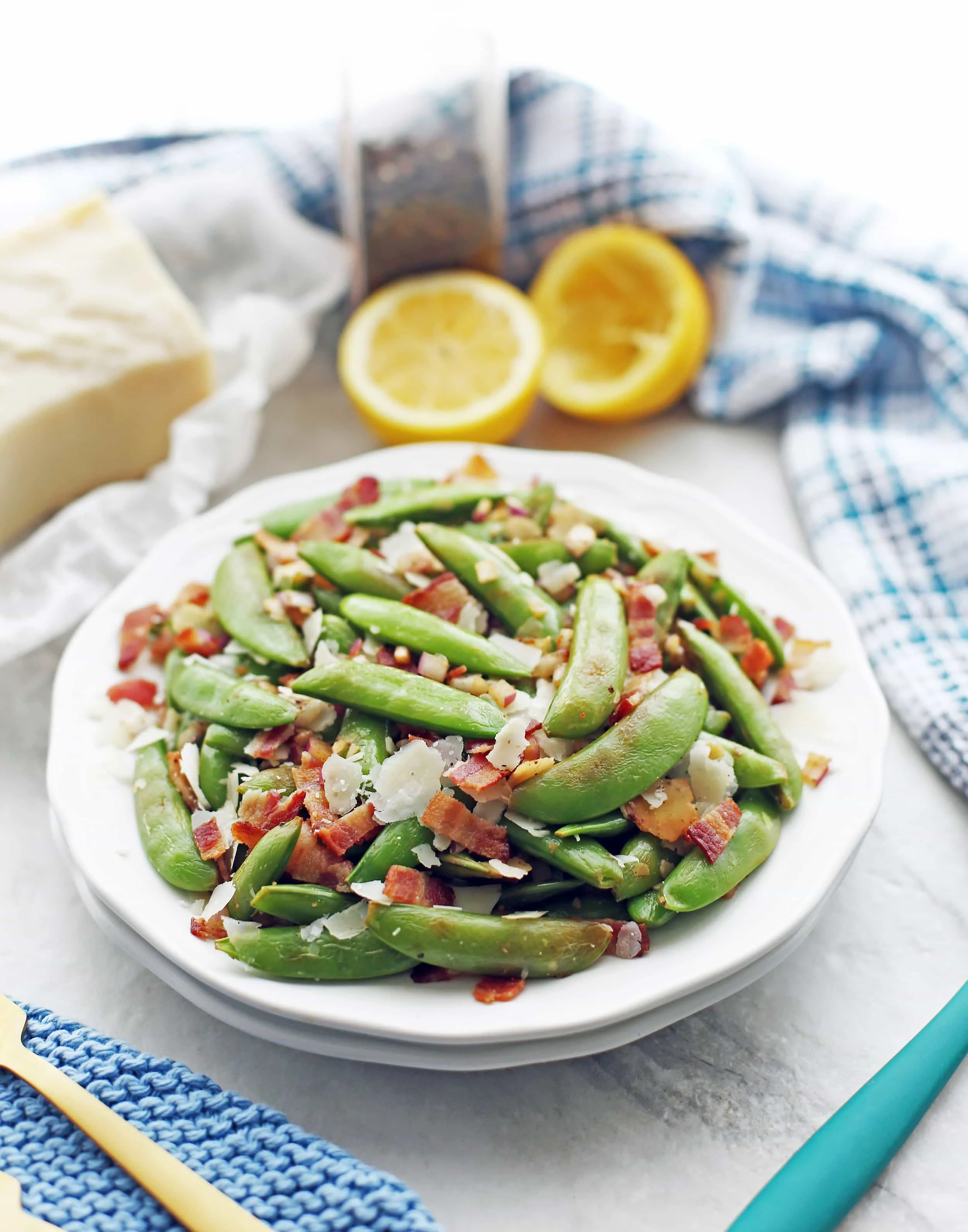 Check out these easy vegetable side dish recipes!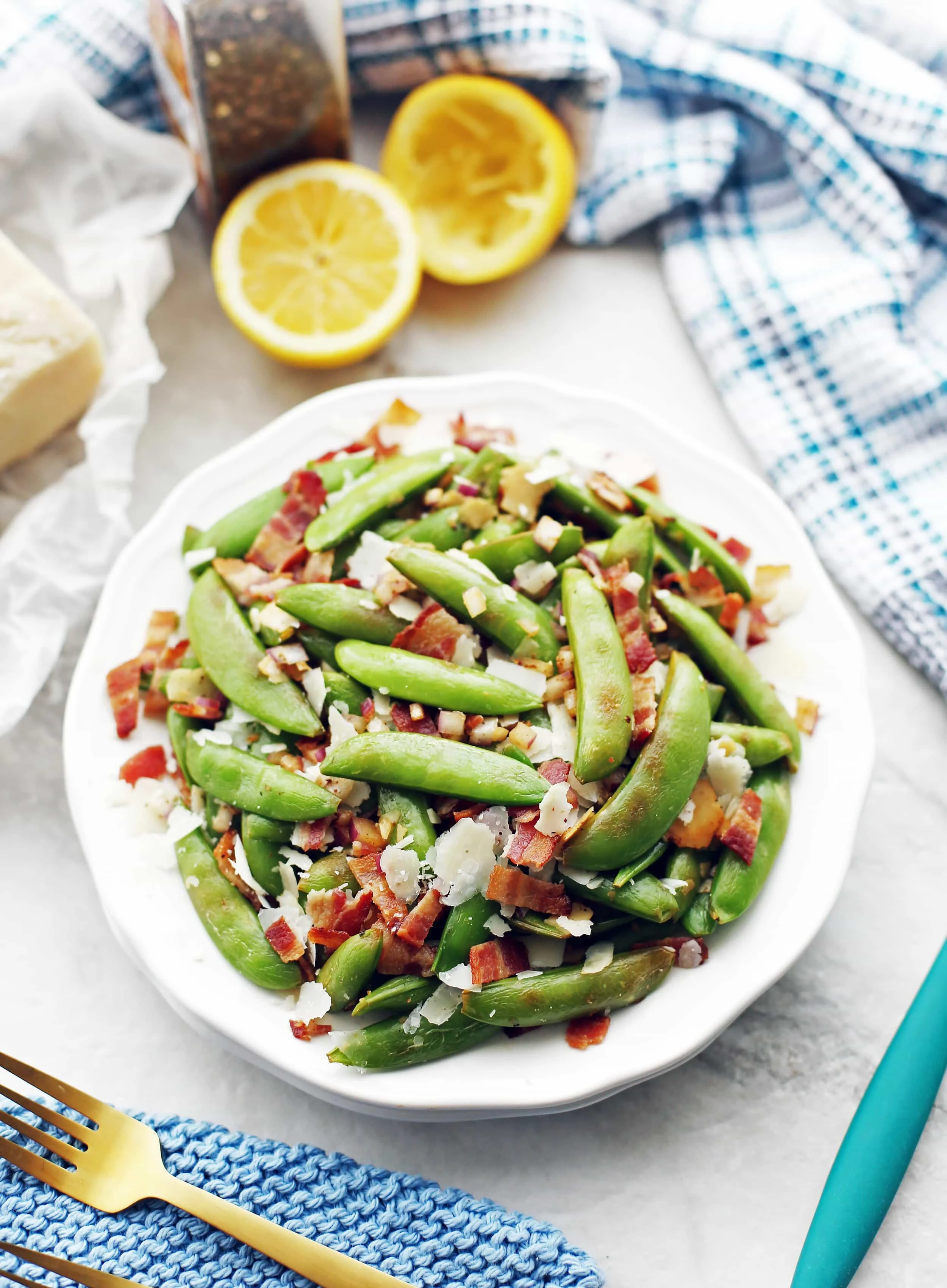 I hope you try this recipe!If you make this recipe, please leave me a comment and rating below or you can tag me on any of my social media. I'm @yay_for_food on Instagram!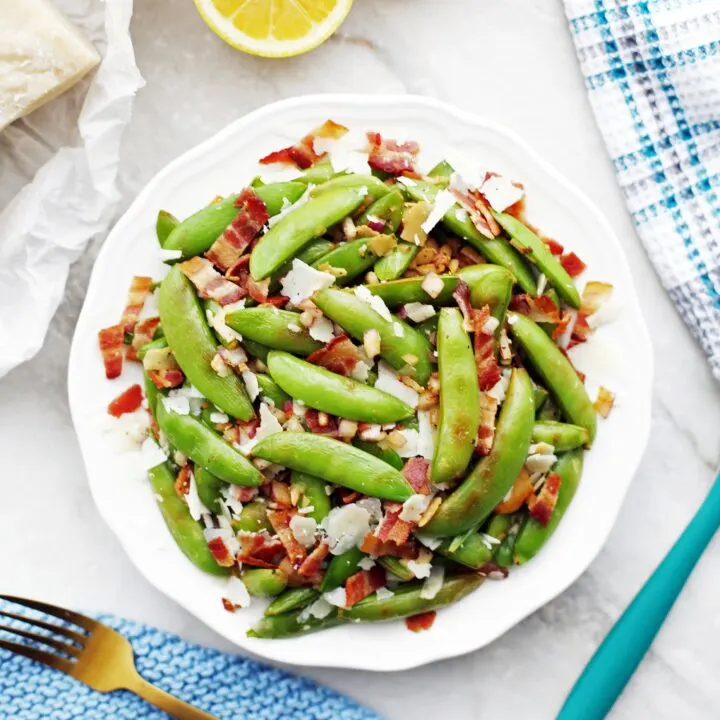 Sugar Snap Peas with Bacon and Parmesan
Yield:
4-6 as a side dish
Enjoy this quick and easy side dish featuring tender-crisp snap peas, crispy bacon, and savory parmesan! Ready in 20 minutes.
Ingredients
4 bacon strips (I used a low-salt thin-cut pork bacon)
1 lb. fresh sugar snap peas, stem ends and strings removed
½ cup (2 oz) red onions, finely diced
1 oz. parmesan cheese (parmigiano reggiano), shaved
1 tbsp fresh lemon juice
¼ tsp black pepper
Instructions
In a large cold frying pan, lay out the bacon strips without overlapping. Turn on the heat to medium and cook the bacon, flipping occasionally (using tongs) until golden-brown and crisp, about 7-10 minutes. Remove from the pan and place the bacon onto a paper-towel lined plate. Set aside.
Pour the excess bacon grease from the pan into a heat safe container for disposal, leaving a thin layer of oil behind. Set the stovetop temperature to medium-high heat and add the snap peas into the frying pan.
Sauté the snap peas until tender-crisp, about 3-5 minutes. Remove from heat and stir in the remaining ingredients (red onions, parmesan, lemon juice, and black pepper).
Place into a serving dish and top with chopped or crumbled bacon. Best served immediately.
Notes
Nutritional calories represents one serving for a total of six servings.
Recommended Products
As a participant in the Amazon Services LLC Associates Program, I only link to products that I use and/or highly recommend. As an Amazon Associate, I earn from qualifying purchases if you purchase through these links at no additional cost to you.
Nutrition Information:
Yield:

6
Serving Size:

1
Amount Per Serving:
Calories:

138
Total Fat:

6g
Saturated Fat:

3g
Trans Fat:

0g
Unsaturated Fat:

3g
Cholesterol:

17mg
Sodium:

326mg
Carbohydrates:

11g
Fiber:

3g
Sugar:

5g
Protein:

10g