Hello there! Today's recipe is a delicious and easy side dish that full of flavour! It's a savoury gratin that showcases cauliflower.
Cauliflower florets are covered with a homemade garlic rosemary cheese sauce and then sprinkled with a cheddar and breadcrumb mix for the topping.
Once baked, the florets are tender and completely coated with the creamy sauce and the topping is golden-brown and crunchy.
It's a satisfyingly scrumptious dish that the whole family will love! I hope you enjoy this recipe for Easy Cheddar Cauliflower Gratin!
How do you make this gratin recipe?
(Full ingredient amounts and complete instructions available in the recipe card down below)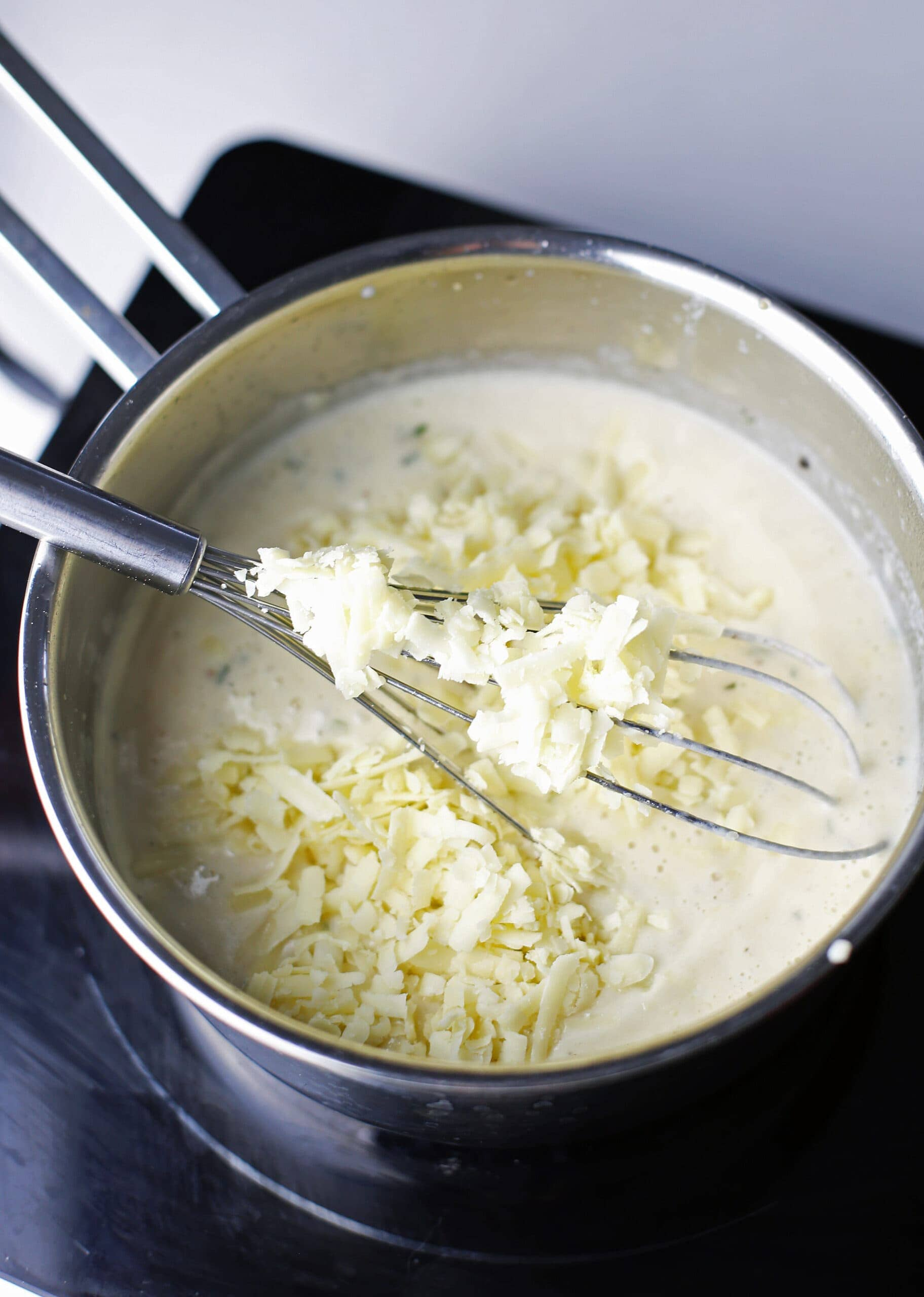 Make the cheese sauce by melting butter and whisking in flour (to create a roux). Then stir in the garlic, rosemary, salt, and pepper. Finally, add the cheese and whisk until a creamy sauce forms.
Important Tip: Prepare all the sauce ingredients (measuring, chopping, and grating) first before starting to make the sauce as the process is quick.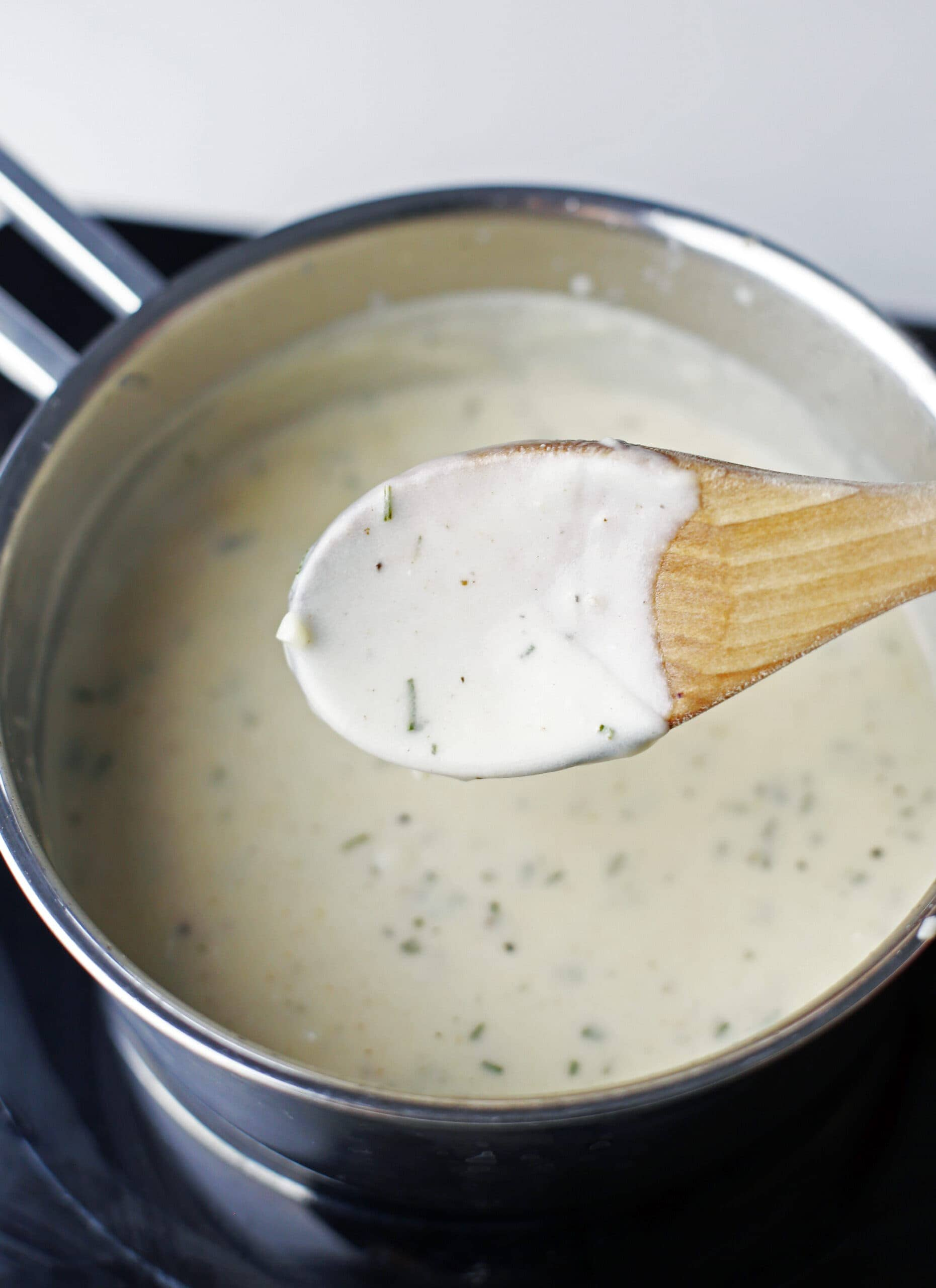 How do you know the sauce is ready? The sauce will be creamy and thick enough to coat the back of a wooden spoon.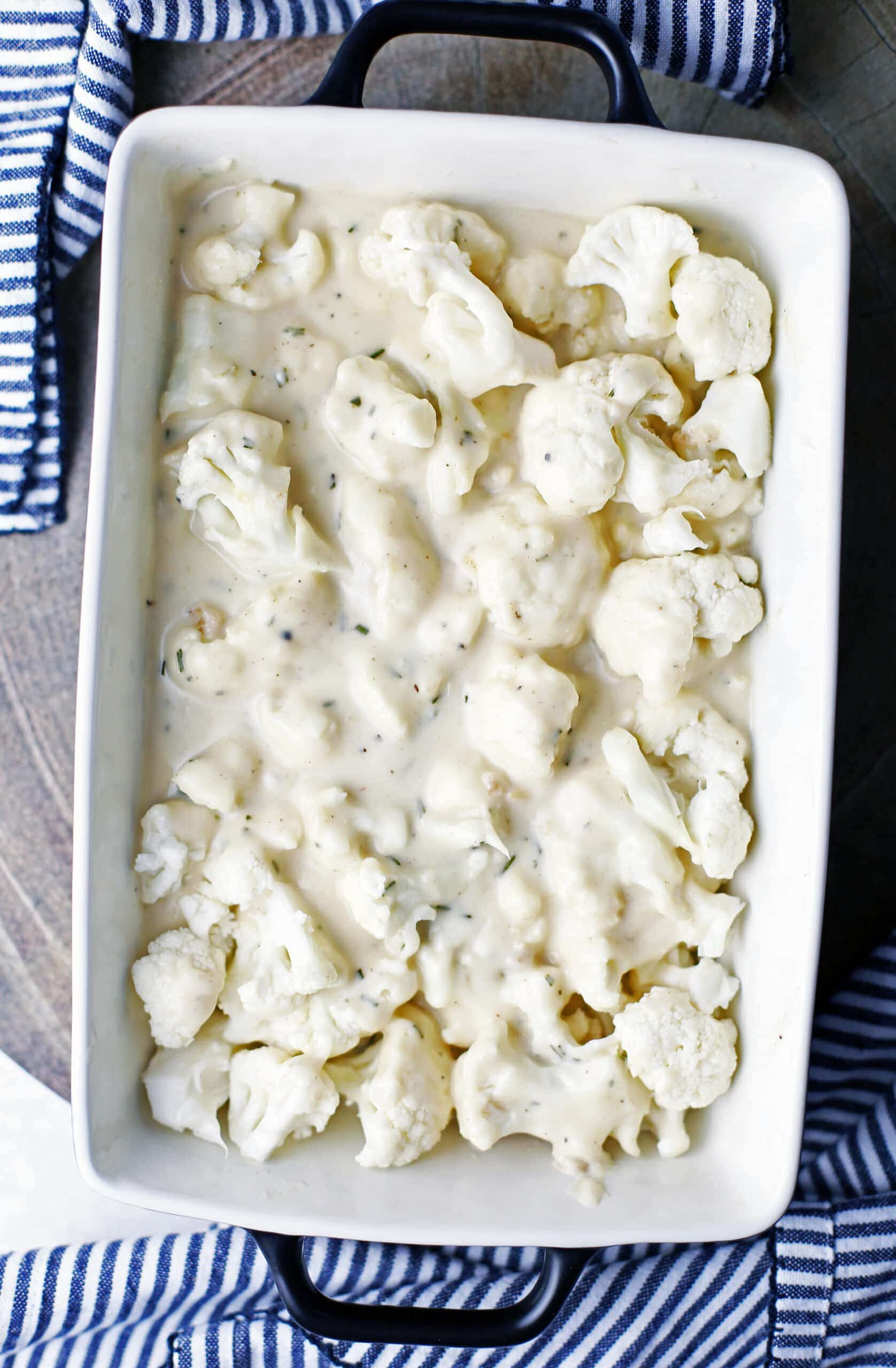 Pour the cheese sauce over the cauliflower florets that were placed evenly in a 8×10 casserole dish.
A quick note: Give the casserole dish a gentle shake side-to-side to evenly distribute the sauce. It's okay if you don't completely cover the tops of every cauliflower floret.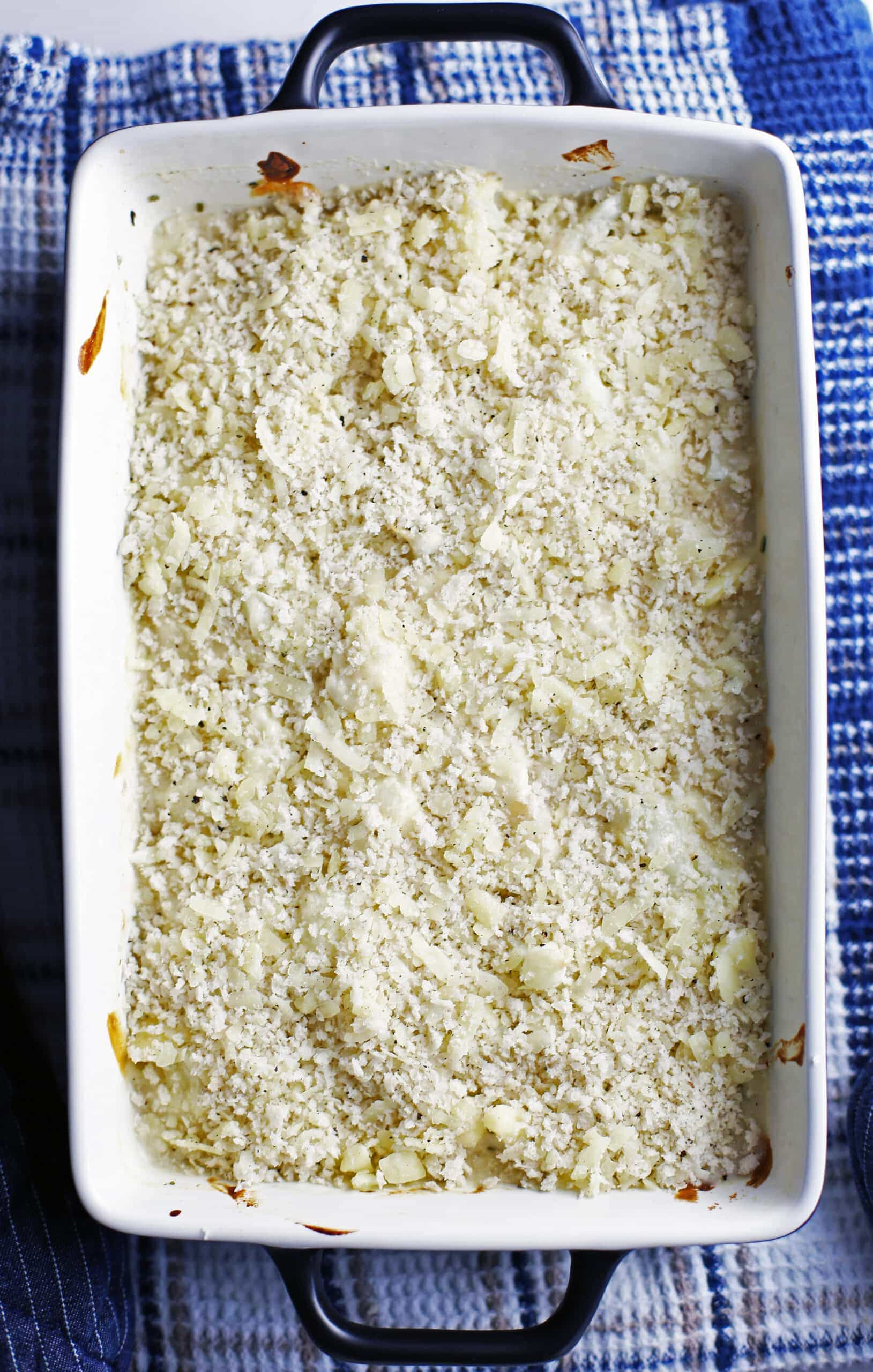 Top with the cheese and panko breadcrumb topping.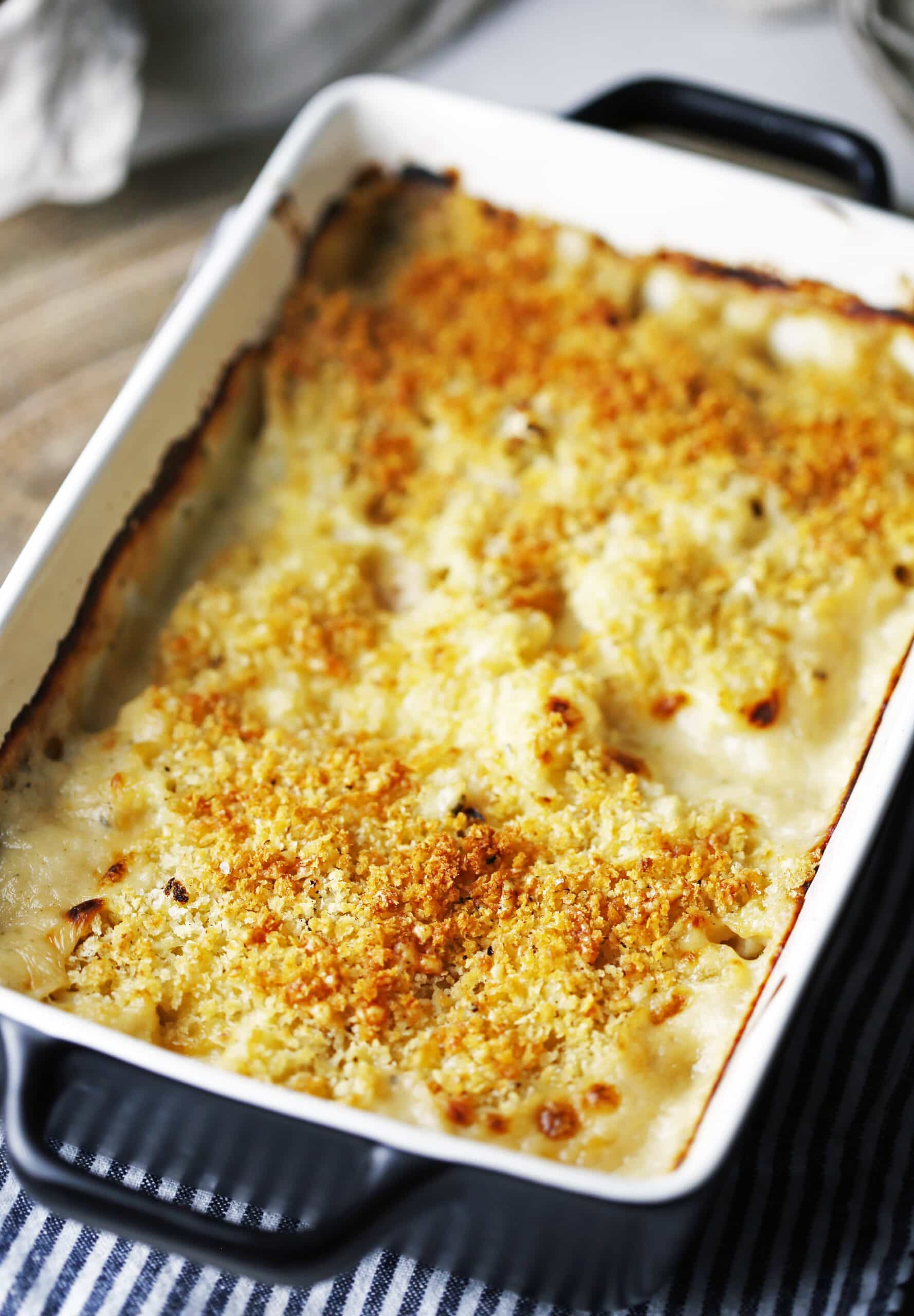 Cover with aluminum foil and bake in the oven at 425 degrees F for 20 minutes. Remove the foil and then bake for another 20-25 minutes until golden-brown on top. Enjoy!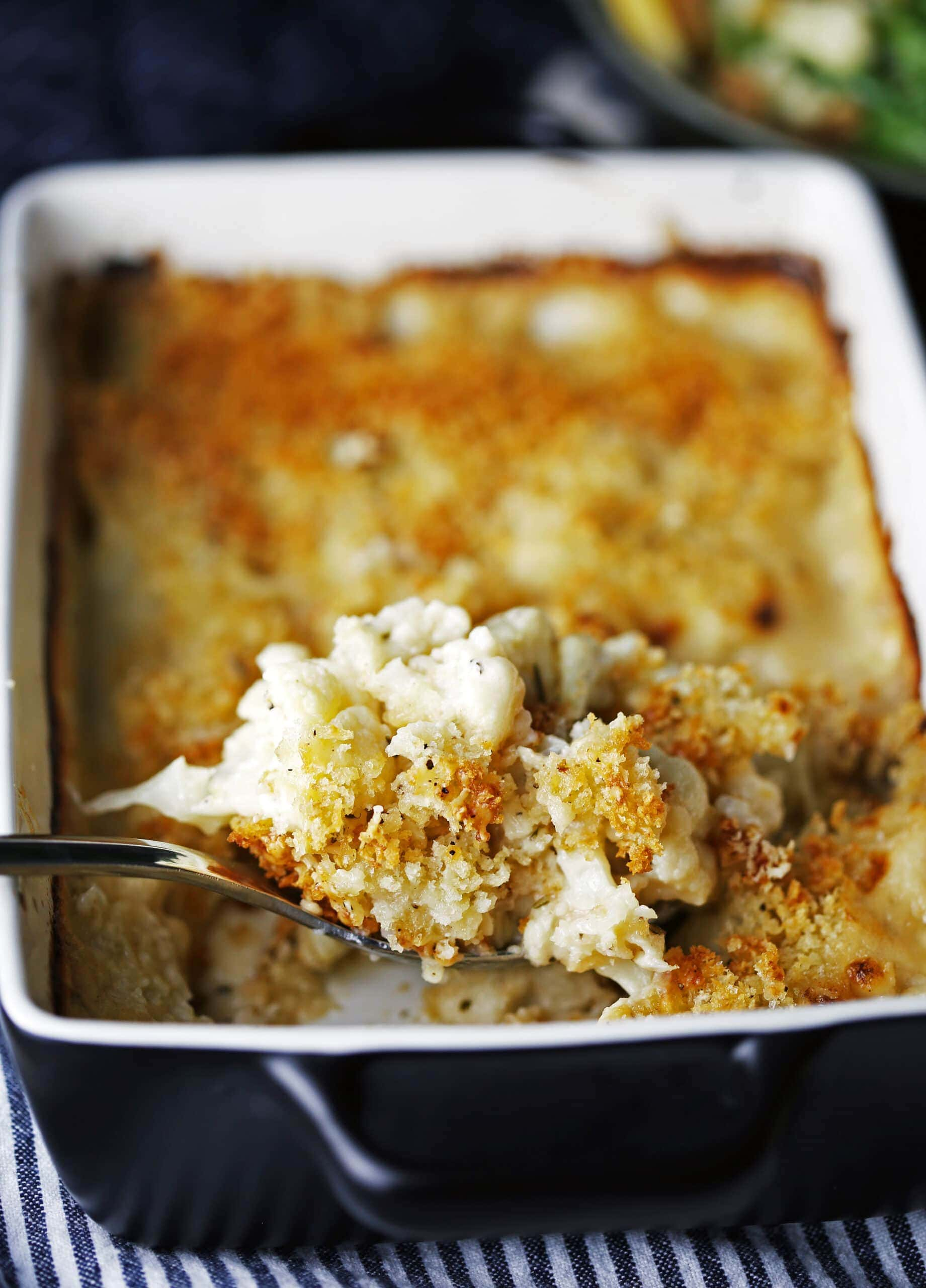 Here are four more easy baked side dish recipes.
In all, this cheddar cauliflower gratin is:
Tasty: Baked cauliflower covered with a simple cheese sauce and topped with panko breadcrumbs is one yummy dish.
Texture-rich: Tender cauliflower, creamy cheese sauce, and a crunchy panko topping all goes well together.
Uncomplicated to make: Just a few easy-to-follow steps to make this gratin side dish. Most of the time is spent waiting for the gratin to bake in the oven.
Uses simple ingredients: This recipe uses pantry staples or ingredients that you can find at most grocery stores.
Vegetarian too.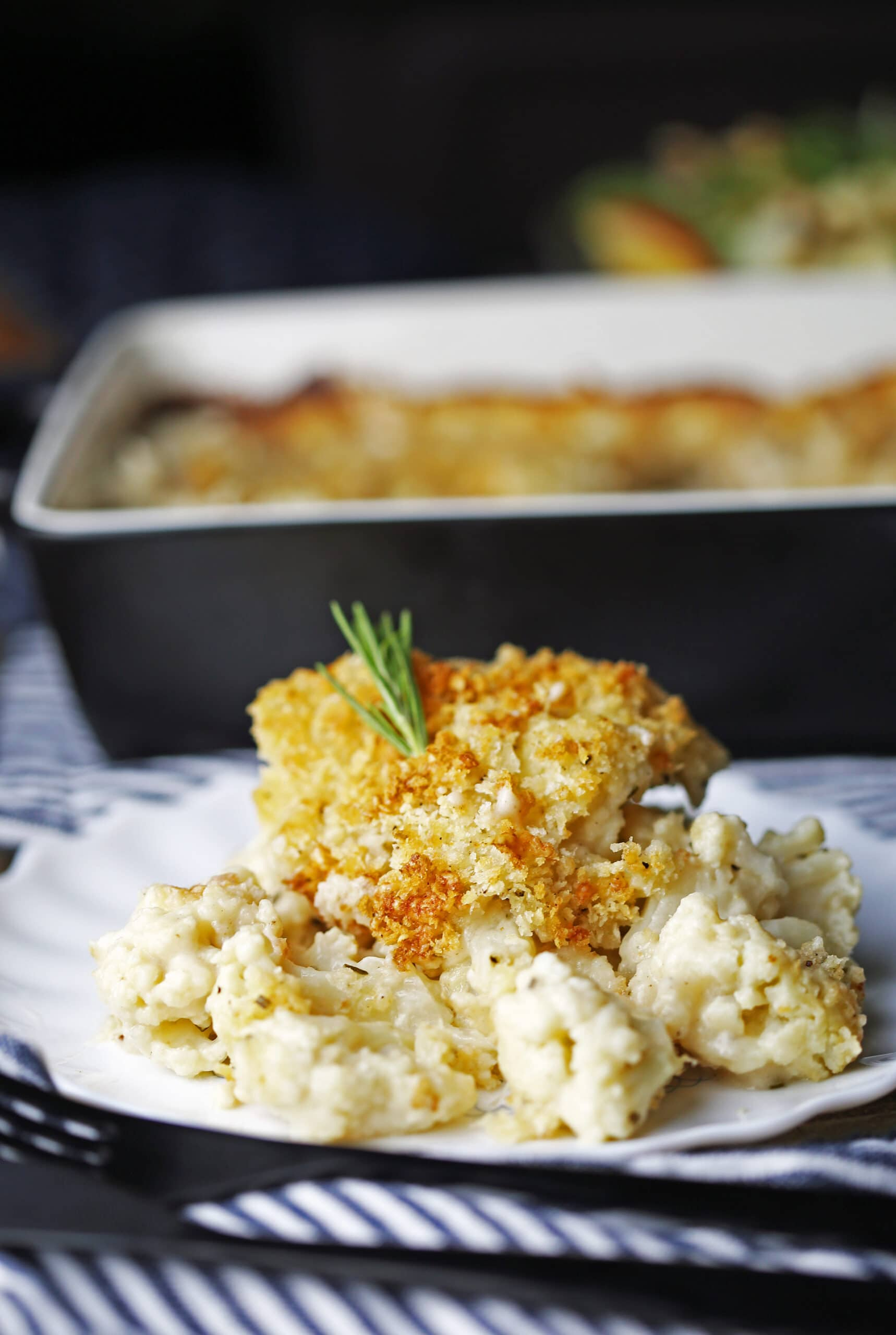 Did you make this easy cauliflower gratin recipe? Leave me a rating and comment down below or tag me on any of my social media. I'm @yay_for_food on Instagram. Please share your recipe pictures!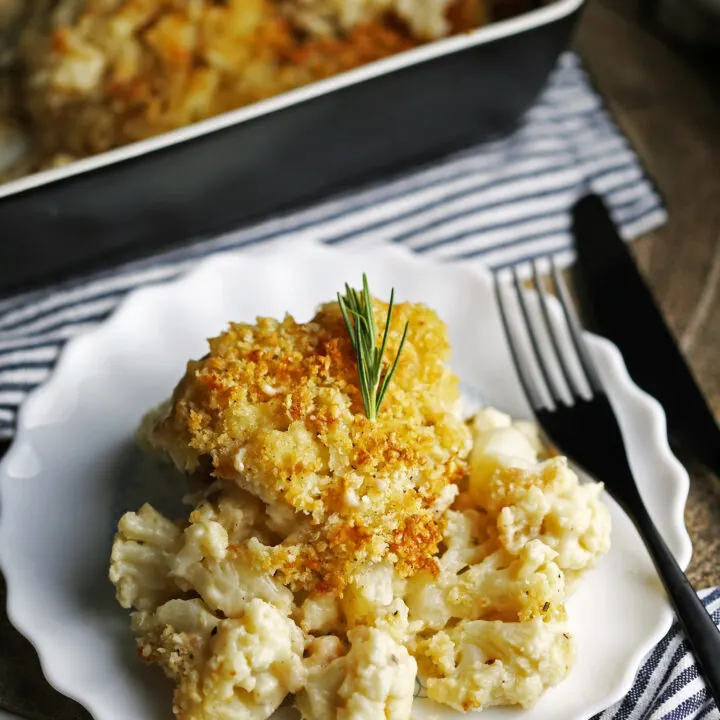 Easy Cheddar Cauliflower Gratin
Total Time:
1 hour
5 minutes
Looking for an easy vegetable side dish with delicious, creamy cheese and a crunchy topping? This cheddar cauliflower gratin recipe has got you covered.
Ingredients
For the vegetable:
1 lb small cauliflower florets (similar size)
For the sauce:
2 tbsp (1 oz) unsalted butter
2 tbsp all-purpose flour
1½ cups milk (I used 2%)
2 garlic cloves, minced
1 tbsp fresh rosemary, chopped
1 cup sharp cheddar cheese, freshly grated
Salt and pepper, to taste
For the topping:
½ cup panko breadcrumbs (or regular breadcrumbs)
½ cup sharp cheddar
Instructions
For the vegetable: Preheat the oven to 425 degrees F. Place the cauliflower florets in an 8x10 casserole dish. Set aside.
For the sauce: In a small saucepan at medium heat, melt the butter, and then whisk in the flour until it is incorporated into the butter. Decrease the heat to medium-low.
While whisking, slowly pour in the milk until the mixture is well-combined. Then stir in the garlic, rosemary, salt, and pepper and whisk for another minute.
Add in the cheddar cheese. Whisk until the sauce thickens into a creamy, smooth sauce (it coats the back of a wooden spoon). Remove from heat. Pour the sauce evenly over the cauliflower.
For the topping: In a small bowl, combine the breadcrumbs and cheddar together, then evenly sprinkle the cauliflower dish with it.
Bake it: Cover the cauliflower gratin with aluminum foil and bake in the oven for 20 minutes. Remove the aluminum foil and then bake for another 20-25 minutes, until the top is golden-brown. Best served immediately.
Notes
Nutritional calories represent one serving for a total of six servings.
Recommended Products
As a participant in the Amazon Services LLC Associates Program, I only link to products that I use and/or highly recommend. As an Amazon Associate, I earn from qualifying purchases if you purchase through these links at no additional cost to you.
Nutrition Information:
Yield:

6
Serving Size:

1
Amount Per Serving:
Calories:

362
Total Fat:

25g
Saturated Fat:

14g
Trans Fat:

1g
Unsaturated Fat:

8g
Cholesterol:

71mg
Sodium:

554mg
Carbohydrates:

16g
Fiber:

2g
Sugar:

2g
Protein:

19g
Nutritional values are estimated based on the ingredients used by the author; your ingredients may differ. These values are calculated using Nutritionix.