Yay! Peaches are in season and peaches and cream are such a classic combination! Does anyone else love the smell of peaches?
For this recipe, the natural sweetness of the peaches is enhanced by roasting the fruit. Combining it with honey and cinnamon gives even more flavour and little bit of that nice warming effect from the spice.
The mascarpone whipped cream is smooth, fluffy, and goes perfectly with peaches! I enjoy using mascarpone cheese because of it's creamy, rich texture and subtle buttery flavour with a slight tanginess,lending itself to both savoury and sweet dishes.
If you do not have heavy cream handy or want a healthier alternative for the cream part of this recipe, you can replace the heavy cream with Greek yogurt. Check out my Fresh Berries with Honey Lemon Mascarpone Creamto see how I put it together.
I also like to top off the whipped cream with small pieces of crystallized ginger. Peaches and ginger compliment each other so well. The spicy zing from the sweetened candied ginger just works so well with the cinnamon spiced peaches.
The presentation is really simple as you can see in my pictures; however, you can change it up by slicing or chopping the peaches and layering them in a bowl with the whipped cream.
Overall, the warm, soft peaches contrasts well with the cool cream, allowing each bite to be so utterly satisfying. Sigh. I hope you enjoy this recipe!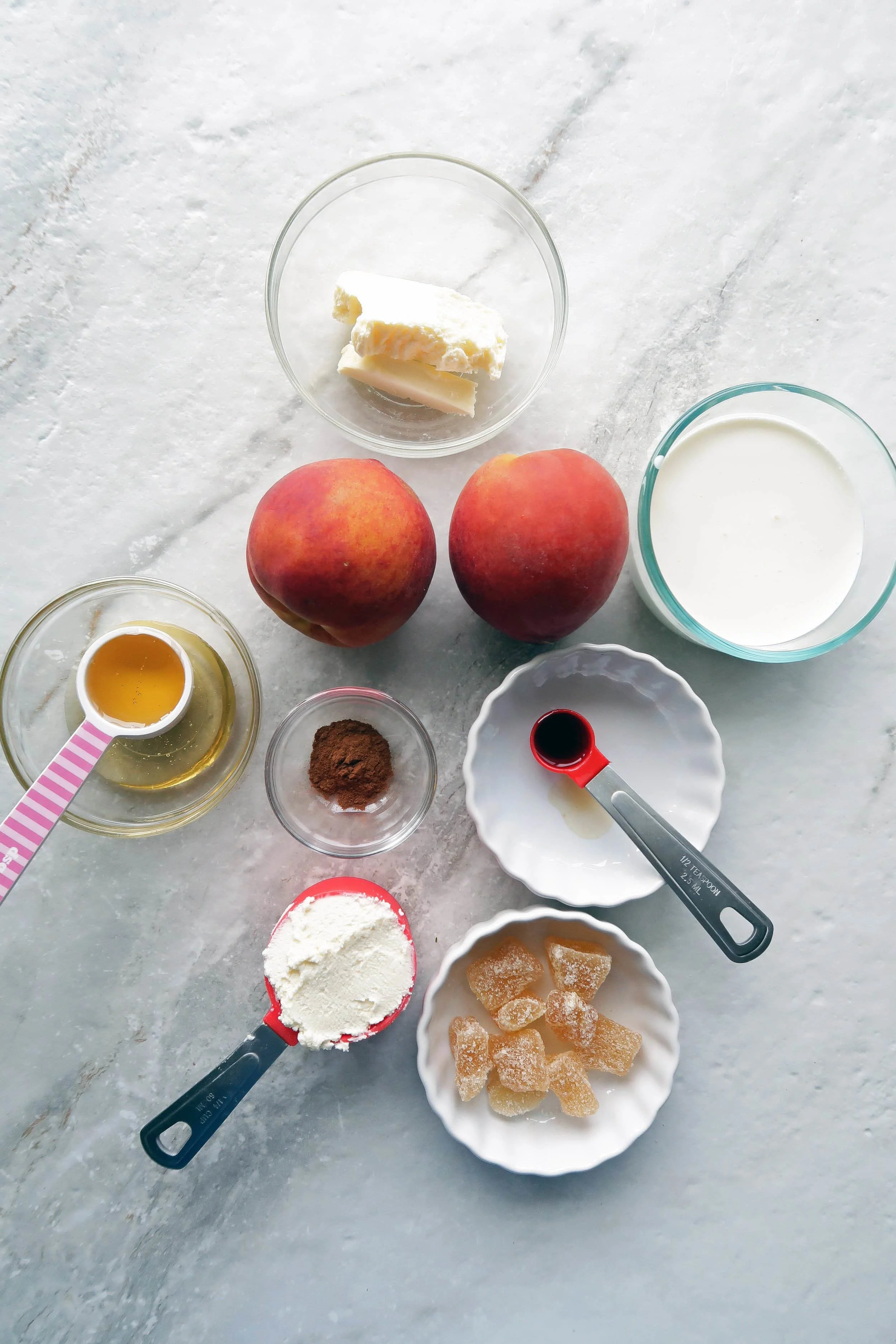 Very few ingredients in this simple and easy dessert.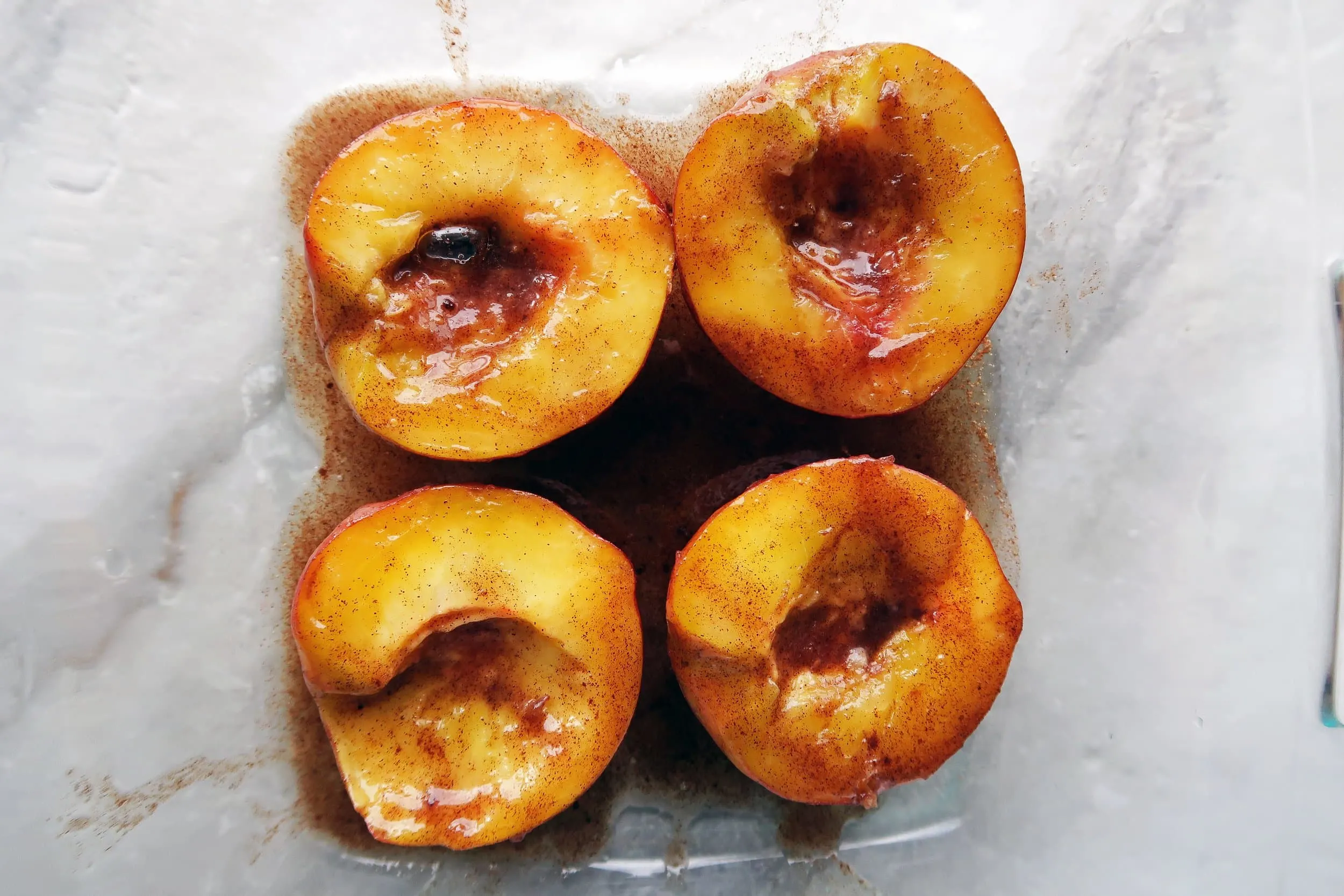 The peaches are halved and placed in a baking dish. Then a honey, cinnamon, and butter mixture is poured on top before it is roasted.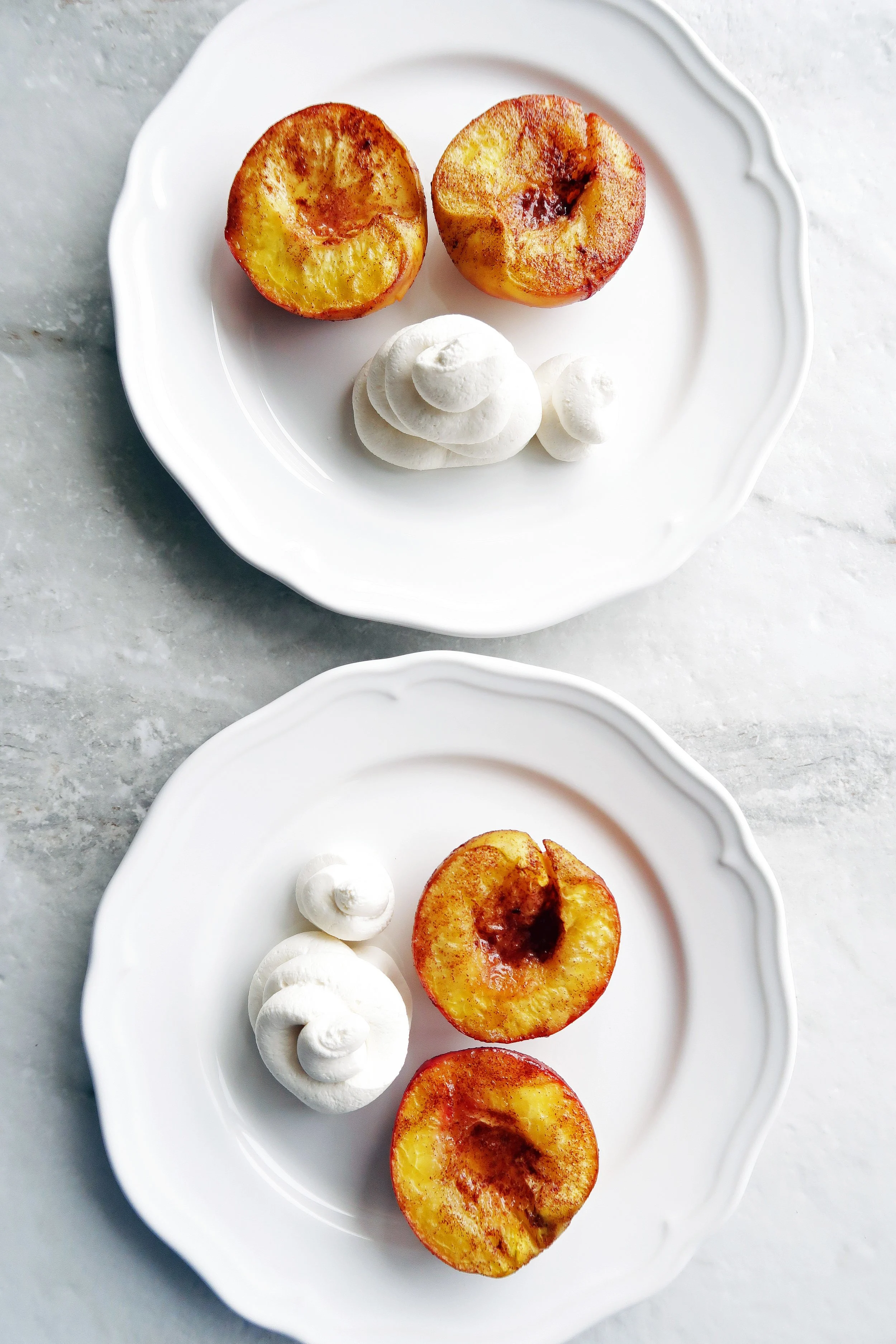 Plate it up! I placed the cream in a ziplock bag, cut off a corner of the bag, and then piped it into mounds of whipped cream.Top it with chewy crystallized (candied) ginger for that extra punch of spicy-sweet flavour if you want!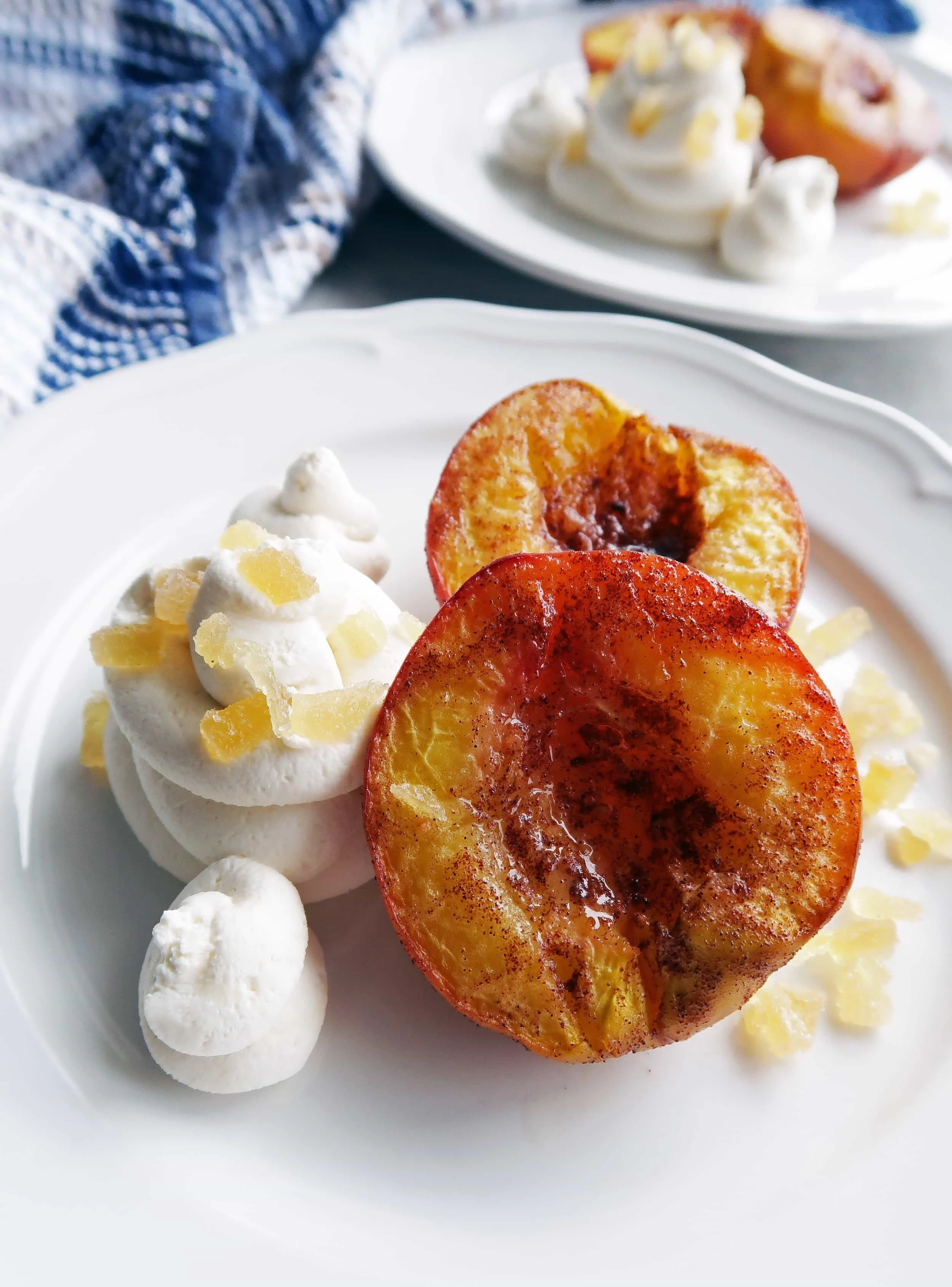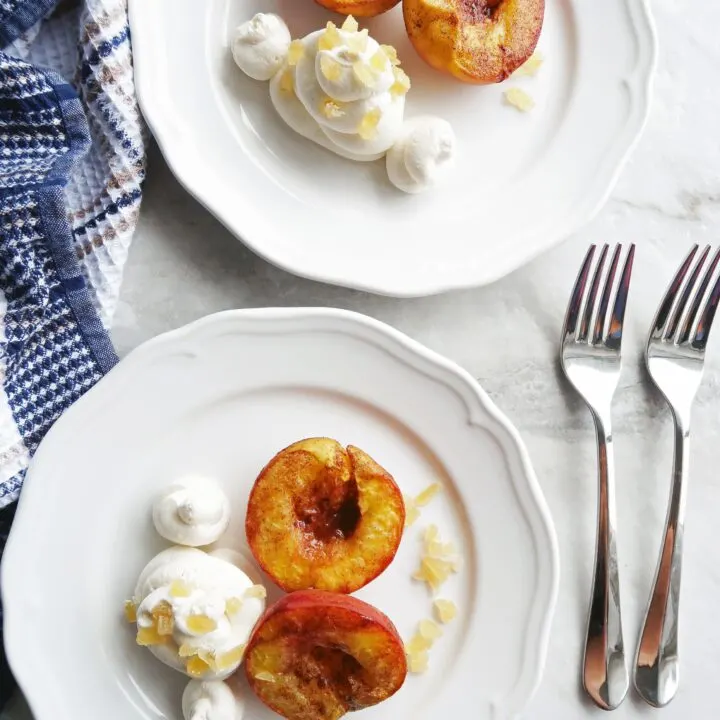 Cinnamon Roasted Peaches with Honey Mascarpone Whipped Cream
A simple and flavourful dessert for two! Try cinnamon spiced roasted peaches with creamy mascarpone whipped cream! Vegetarian and gluten-free too.
Ingredients
For the roasted peaches:
2 peaches, halved and de-pitted
2 tbsp (1 oz.) butter, melted
1 tbsp honey
½ tsp ground cinnamon
For the whipped cream:
½ cup heavy cream (or whipping cream), cold
¼ cup mascarpone cheese
1 tbsp honey
½ tsp vanilla extract
Optional topping:
2 tbsp crystallized ginger, chopped
Instructions
Preheat the oven to 375 degrees F. Arrange the peaches face side up in a small baking dish.
In a small bowl, combine the melted butter with the honey and cinnamon. Then pour the mixture over the peaches; making sure to coat the peaches completely. Roast the peaches for 20 minutes, until the peaches are tender.
Meanwhile, using an electric mixer, starting at low and slowly increasing to high, whisk together all the whipped cream ingredients until stiff peaks form.
Plate the peaches, making sure to drizzle the remaining cinnamon butter sauce left in the baking dish on top of the peaches. Serve with a large dollop of cream. Top with chopped crystallized ginger if you would like.
Serve immediately.
Recommended Products
As a participant in the Amazon Services LLC Associates Program, I only link to products that I use and/or highly recommend. As an Amazon Associate, I earn from qualifying purchases if you purchase through these links at no additional cost to you.
Nutrition Information:
Yield:

2
Serving Size:

1
Amount Per Serving:
Calories:

470